All couples who have tried them will tell you that love eggs are THE ultimate fun sex toy. With a love egg, you can get off the beaten track and experiment with desire in the most unusual placed and locations. Simply insert the egg into your vagina and allow your partner to control your pleasure. From basic models to ones using cutting-edge technology, Dorcel, your pleasure partner, offers you a wide range of love eggs at all price points and catering for all tastes.
Vibrating love eggs: partners in your naughtiest games!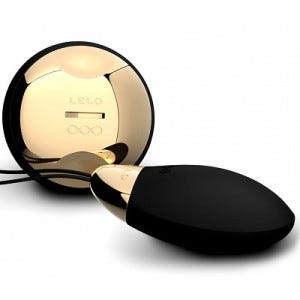 This little object with a motor inside will give you the most incredible sensations. Simply insert it into your vagina leaving the pull cord outside, give the remote to your partner and let yourself be controlled by him. You will then be connected to your other half and he/she will have full power over you and your pleasure. Even before the egg is turned on, you will be turned on like never before. Imagine you are round for dinner at your mother-in-law's, you go and insert the egg, come back and discreetly pass the remote to your other half. Nothing is more exciting than a secret apart from being totally at the mercy of your partner and not knowing what he is going to do or when. You can keep the excitement peaking until you are back alone together. This is then the recipe for guaranteed pleasure with a partner who is more turned on than ever.
To satisfy your wildest fantasies, some love eggs can be controlled from up to 40 metres away. In the evening, at home or even in the supermarket, don't delay, fall under the spell of pleasure and let it devour you.
If you are feeling less daring, you might prefer to try the version with a cord first. Ideal for beginners, the love egg with wire lets you enjoy naughty moments at home or in very dark places such as a cinema.
Love eggs: a sex toy at the cutting edge of technology!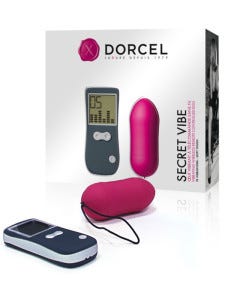 For lovers of sex 2.0 or couples who are frequently apart, the manufacturers have come up with THE solution: the connected love egg. Simply install a dedicated app on your smartphone and control the egg from the other side of the world. Experience real moments of closeness from a distance and spice up your naughty webcam sessions. The Dorcel Secret Vibe Love Egg lets you remotely control the vibrations for unparalleled pleasure.
Had a hard day at work? Have a relaxing naughty break on public transport. You can discreetly control your love egg with your smartphone. Relaxation and well-being guaranteed when you arrive home!
With its 35 years of experience in the world of lust, Dorcel highly recommends the Secret Vibe love egg from among its range of sex toys. Made from soft touch silicone, you can insert it easily with a little specially-made lubricant and it will give you wonderful moments of forbidden pleasure. With its 10 vibrate modes, your partner will have a full range of options for making you tremble and perhaps even climax.
Love eggs: designed for vaginal penetration
Even though you might be strongly tempted, don't use your love egg for anal pleasure, instead use a plug which is specifically designed for anal use. The egg could be sucked up into the colon which would be very painful. In the Secret Vibe Genius version, the love egg comes with a butt plug that it is inserted into, opening up a full range of pleasures. Feel free to switch roles!
After each use, don't forget to thoroughly clean your Geisha balls as you would with any sex toy This is vital for your health and also key to ensuring they last for as long as possible. If you have some, you can use a special cleaning spray for sex toys and a cloth. If not, you can use soap and warm water.