Because a fulfilling sex life starts with a woman feeling good about herself, Dorcel has specially selected for you irresistible items of lingerie. Be sexy by day and by night and drive your partner completely wild with sexy outfits reserved for your most intimate moments.
Be sexy by day and night with naughty lingerie beneath your everyday clothing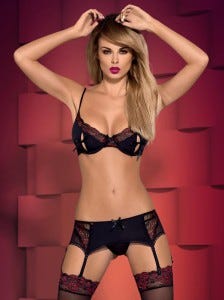 If you think that lingerie concealed under clothing is pointless, it's time to think again. To drive your man wild, forget about a basic two-piece and add sensual and sexy day lingerie to your wardrobe. Your man, like any man, doesn't need to see something to be turned on, he just needs to know and use his imagination.
For example, slip on a sexy bodice or a basque under your usual clothing and you will drive him nuts. Do you often wear skirts? Forget unappealing tights and switch them for stockings and a suspender belt that will make his head spin.
Dare to wear this delightful and sensual lingerie and feel more feminine and self-confident each and every day. You will easily develop your sex appeal and you are sure to leave your man breathless.
Take things one step further and drive him completely wild by sporting open lingerie, there is nothing more suggestive. It will be a lustful invitation that your other half won't fail to take up.
Get your man hooked with sensual night lingerie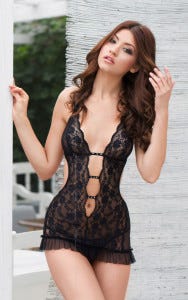 Break from the everyday routine and forget your passion-killing pyjamas. Allow your femininity to blossom by treating yourself to sensual night lingerie that will make you feel beautiful and will leave your partner's head spinning.
To show off all your assets, choose a sexy babydoll. In lace, satin and tulle, our range will certainly have something to tickle your fancy. If you want to reveal your midriff, you can opt for an open-front style that will be as suggestive as possible. If not, the classic babydoll with a mid-thigh or shorter length will be the perfect solution for feeling comfortable while being totally sensual. Generally finished off with a matching g-string the babydoll will be your lethal weapon.
If the babydoll isn't your thing, display your sexuality in a two-piece with a seductive top and matching g-string or tanga briefs. The trick is to feel good in the outfit so your partner can get the full effect.
Do you only sleep well when you are naked? No doubt your other half isn't complaining but day after day nudity loses its appeal and can become routine. Awaken his desire with a sexy kimono that you will be able to slip onto your shoulders and back when you go to bed.
Liven up your sex life with a corset or basque
Spice up your love life and live out your fantasies by donning a sexy outfit reserved for your most intimate moments. Planning a romantic weekend? An evening without the children? Or simply fancy trying something new? There is a vast choice of sexy outfits to drive your other half wild.
Do you want him to feast his eyes on you before undressing you slowly? Opt for a corset or basque with a skirt worn over stockings.
If you prefer outright provocation, choose a combination that shows off your curves.