For lovers of solo pleasure or those who want to spice up their foreplay, we have a full range of male masturbators. Whether it's a pocket masturbator, torso masturbator or blow up doll, there is everything to satisfy your every desire and need. Succumb to the sensations given by Dorcel Girls realistic vagina masturbators, which will fulfil your deepest fantasies. Masturbators perfectly reproduce the feeling of penetration for unrivalled sensations.
Realistic vaginas for a guaranteed penetration effect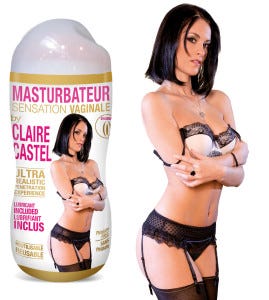 Just like other sex toys, there are manual models and more sophisticated ones that come with a motor. You can even find hands-free ones that will bring you to orgasm with the simple press of a button. Male masturbators are made using materials that reproduce to amazing effect the sensations felt during penetration.
Just like with female sex toys, there are a whole host of possibilities. Male masturbators will let you experience the sensation of vaginal penetration, as well as anal penetration and fellatio. Ideal for a solo climax but with extreme sensations.
Treat yourself to a little pleasure at any time with a pocket-sized vagina-shaped masturbator. You can discreetly take these pocket-sized masturbators with you anywhere. Long and boring day at work? Relax with a mini masturbator that will perfectly reproduce your favourite sensations.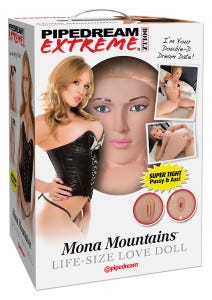 Blow up dolls for ultra-realistic sensations
Like to grab on to a nice round booty while satisfying your deepest desires? Try out a torso for unbelievably realistic sensations. Try out all the positions you want and go wild on this woman's body that will help you live out all your fantasies.
Looking for the perfect woman who will say yes to all your desires? Treat yourself to a blow-up doll! More realistic than any other masturbator, the blow up doll gives a whole body to caress, fondle and penetrate as you wish. A perfect vagina, an ultra-tight anus, hair that you can grab, the blow up doll will satisfy your every desire.
Dorcel Girls replica vaginas: solo pleasure guaranteed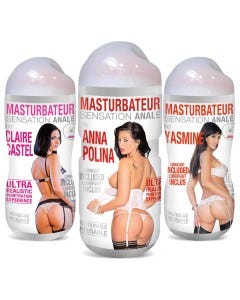 Because Dorcel knows that you fantasise about its girls, the lust and debauchery expert gives you perfect replica vaginas of the Dorcel Girls. Sabrina Sweet, Claire Castel, Yasmine and others will help you live out all your fantasies. These ultra-realistic pocket masturbators are a perfect replica of your favourite actresses' vaginas to give you the sensation of penetrating a porn star. With its ultra-realistic MagicSkin and carefully developed ergonomics for maximum pleasure, these vaginas will provided sensations of unequalled intensity for maximum pleasure.
Use them as a couple! Even though these sex toys are often thought of for solo use, don't put them away when you have a partner. Give her the toy to hold and let her introduce you to new pleasures. She is sure to be delighted with the effect she will have on you with this toy and will no doubt be using it again. It will bring a naughtier edge to your foreplay and you won't regret it.
After using it, always remember to clean your sex toy. This is vital for your health and hygiene and also key to ensuring it lasts for as long as possible. With masturbators, it is generally recommended to clean them with warm water only so as not to damage the material. With blow up dolls, make sure that you follow the cleaning instructions. This will make sure that your playmate lasts for as long as possible.