Ladies, the rabbit is your future favourite playmate. This vibrator, which was made famous by Samantha from Sex and the City, pleasures both the vagina and clitoris With its naughty little ears and vibrating body, the rabbit is the ideal sex toy for reaching orgasm in record time! Dorcel has a range of models, from the most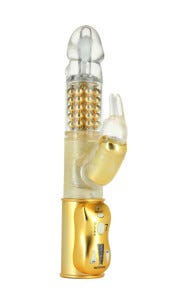 basic to the most sophisticated such as the Dorcel Orgasmic Rabbit.
The rabbit: The vagina and the clitoris join the pleasure party
Even better than a vibrator, the rabbit has an end that is clearly designed for pleasuring the vagina but it also has a second protrusion designed for stimulating the clitoris. It's basically like a man wearing a vibrating cock ring, but perhaps even better. But how come it's called rabbit? The toy was created in Japan, but until recently the depiction of the male member was frowned upon. So manufacturers made it similar in appearance to a rabbit to deflect attention. So originally the two naughty rabbit ears were responsible for stimulating the clitoris.
With a vibrating or rotating head, the rabbit has all bases covered
Available in all sizes and colours, this vibrator with little ears can be put to a variety of uses. Given its success, manufacturers have got even more imaginative and come up with ever more sophisticated models.
So now there are rabbits that come with a vibrating or rotating 'head'. The vibrating version is similar to a traditional vibrator and often has several vibrate modes. The rotating model goes a step further and can stroke the walls of the vagina and therefore tickle the G-spot for truly exquisite sensations. Many of the devices with a rotating head also vibrate. Some come with a "pearl necklace" often located just above the clit stimulator. The pearls turn to massage the entrance to the vagina. That will make you prick up your ears.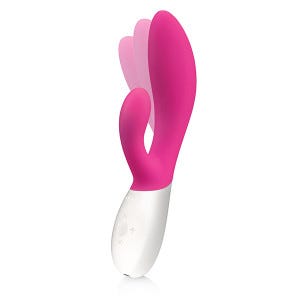 High quality: Dorcel's Orgasmic Rabbit
The must-have for games to go with a bang? Dorcel's Orgasmic Rabbit which will have you in ecstasy with its winning trio of rotating head, rotating balls and clit stimulator. Designed from soft and comfortable material, its 7 vibrate modes and 6 rotation speeds will have you in a complete spin. For guaranteed pleasure right from the start, why not treat yourself to Dorcel's saver packs that include the Orgasmic Rabbit, batteries and special lube. It would be a shame to do without!