It's time to take control or give it away, one of you let yourself go but be completely controlled by your partner. So, why not open the doors of BDSM, of its pleasures and bring your couple back to a new dimension, erotic and lush.
Many combinations are then available to express your most primal instincts as long as your partner doesn't lose the key… If he alone is in control of the situation, keep in mind that you still have the destiny of your next evening a little in hand when you buy. On the DORCEL STORE you will find a whole collection of products to tie, you will then have to choose what you want to play.
Hands, ankles, or tying both at the same time will create the most sensual and intense scenarios. You will be surprised to discover the different opportunities offered by the DORCEL STORE, if you are a beginner or an animal wants to be tied… This fantasy that runs through so many Frenchmen and women often comes with an eye bandage, your indispensable accessory that is available in the DORCEL STORE online shop. In the collective imagination, being tied up and BDSM is accompanied through decades of leather, the sexiest material to wear … Of course, it is used to make perfect handcuffs or accessory to always better attach you …
Before you start, here is a selection of leather accessories to tie you, to be found on the DORCEL STORE. It's time to make new gifts and surprise your partner.
LEATHER HANDCUFFS WITH GOLD RING – DEMONIA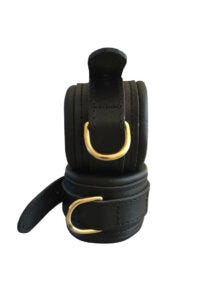 The brand DEMONIA offers you here a very nice pair of leather handcuffs, with a strap with a gold ring. With such a quality product, it will make your partner want to be tied by you even more…
HANDCUFFS ANKLES RED – OUCH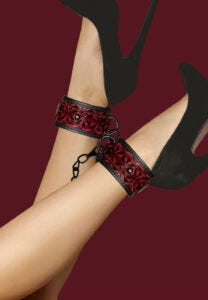 As explained in our article, why tie only the hands? The OUCH brand offers you to tie your partner just above the feet, but always with elegance and charm. Don't forget the quality, with the chain that will keep your partner from trying anything… So you might ask, how are the ankles?
RED ANKLE CUFFS CUFFS SET – OUCH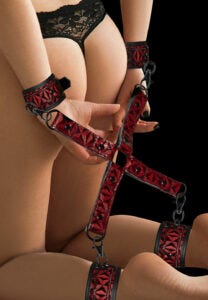 Let's first talk about the aesthetics and the quality of this set. The diamond patterns, neoprene and leather make up your new tool of pleasure and domination. Because here, you or your partner will be bound hand and foot to your desires… Enough to launch into a new experience more than intense thanks to the OUCH brand.
ELECTROSTIMULATION HANDCUFFS – ELECTROSHOCK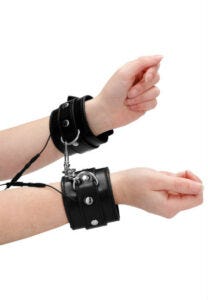 Are you ready for a BDSM experience inspired by the most unspeakable fantasies… These handcuffs from ELECTROSHOCK let your partner to give you electric shocks ranging from a slight tingling to a more striking impact…
You got it… Got any new ideas for your partner? Go to the DORCEL STORE
BDSM ROPE MADE OF HEMP 10 METERS – OUCH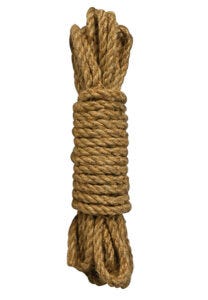 Enough to satisfy your desire for domination or slavery, this OUCH hemp rope will make you live a unique experience. The feeling of the rope on your skin, the total submission to your master… It's up to you to choose your role and tighten it….