"Je m'appelle Julie. J'ai 18 ans et demi et je suis les langues vivantes. Je vis en colocation avec ma meilleure amie Sandra, une très jolie blonde.

J'ai toujours été très timide avec les hommes et c'est pourquoi je suis encore vierge. Sandra elle, c'est tout l'inverse : sûre d'elle, séductrice et très ouverte, elle vit avec le beau Guillaume une relation libre et pratique une sexualité complètement débridée ! Parfois, j'envie Sandra et ses mœurs libertins…

Je lui ai donc demandé de m'aider à dépasser ma timidité. Elle m'a d'abord poussé à aller m'exhiber devant des mecs sur internet. Je n'étais pas vraiment d'accord, mais je dois avouer que cela m'a beaucoup excitée et aujourd'hui, Sandra m'encourage à aller plus loin.
Ce soir, elle m'emmène donc dans un club échangiste où elle a ses habitudes. Elle me dit que je vais pouvoir y regarder des couples baiser comme jamais je n'aurais pu l'imaginer ! J'appréhende beaucoup ce moment mais je me surprends aussi à être toute mouillée en pensant à ce qui m'attend…
Est-ce ce soir que je vais enfin vivre ma première expérience sexuelle ? Je le saurai bien assez tôt…"
My name is Julie and I live with my best friend Sandra, a very pretty blonde.
I've always been very shy with men but Sandra is the opposite: self-confident, seductive and very open, she lives with the handsome Guillaume in a free relationship and practices a completely unbridled sexuality! Sometimes I envy Sandra and her libertine ways...
So I asked her to help me overcome my shyness. She first pushed me to go and show myself off to some guys on the internet. I didn't really agree, but I have to admit that it turned me on a lot and today Sandra encourages me to go further.
So tonight she takes me to a swingers' club where she has a habit. She tells me that I will be able to watch couples having sex like I could never have imagined! I'm very apprehensive about this moment but I also find myself getting wet thinking about what's waiting for me...Is tonight the night I'll finally have my first sexual experience? I'll know soon enough...
More Information

| | |
| --- | --- |
| Playable | Worldwide |
| Director | Kendo |
| Studio | Marc Dorcel |
| Year of production | 2014 |
| Duration (min) | 100 |
| Language | Dutsch, English, French, German, Polish, Spanish |
| Subtitles | Dutsch, Greek, Portuguese |
| Casting | Gina, Cayenne Klein, Alexis Crystal, PussyKat, Tiffany Doll, Shalina |
| SKU | 80897 |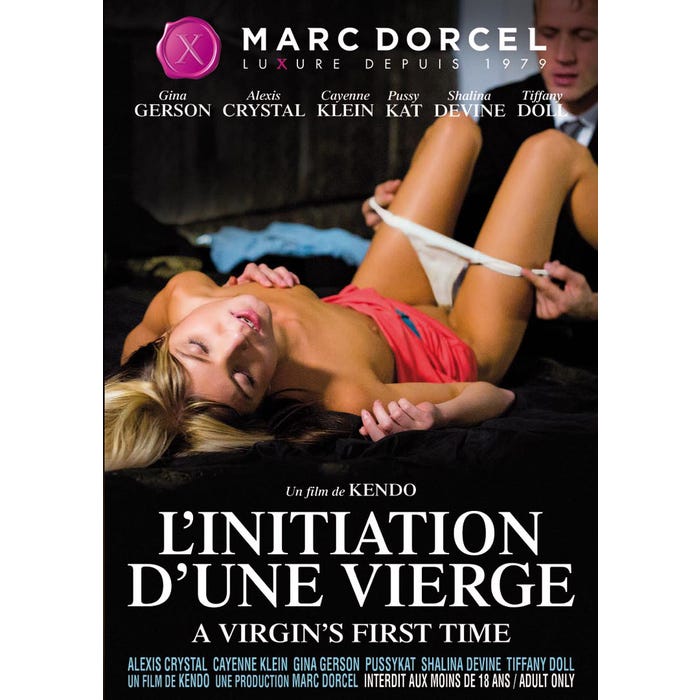 A virgin's first time
-60%
Add to Cart
For a total minimum of purchase of €99.00