Girls at work - the Associates
Non privilege price

€29.99
!
Benefit from 10% now and all year round on ALL products by subscribing to the Privilege Service and many other advantages!
From the creation of the project to the final construction, these beautiful architects give themselves body and soul to satisfy their clients on all levels.
SHALINA DEVINE AND TIFFANY TATUM ARE TRUE PROFESSIONALS IN THEIR FIELD
Shalina Devine and Tiffany Tatum run one of the largest architectural firms in the country, and today they're hosting Kaisa Nord and Kristof Cale, a wealthy client couple, to launch a major project. Shalina loves a job well done and she knows how to motivate new employees. So, while she waits for the couple to arrive, she called the two latest arrivals into her office for a little tune-up. They had heard about their new boss's reputation, but they never imagined they would be able to take advantage of it. Barely had the office door locked so as not to be disturbed, the pretty blonde quickly takes the sex of her two partners in her mouth before revealing her perfect curves. Very excited by this unexpected situation, the two men do not intend to stay there doing nothing and enjoy all the orifices of the pretty blonde, this one even allowing them to take her in double penetration before cumming on her face. Once this important "meeting" is over, Shalina joins her clients and her associate to put the finishing touches to the construction plan.
Shalina's company is known for managing its projects from start to finish without intermediaries. Once the plans are finalized, the entire team goes to the construction site to get a better idea of what the couple's future villa will look like. That evening, as they look at the 3D model of their future love nest again, Kristof and Kaisa are already imagining themselves making the most of all the advantages this home will offer them. For the time being, they plan to enjoy each other's company. Recently married, the couple spends most of their time making love in every conceivable place. Until they take possession of their future home and "inaugurate" all the rooms, their bedroom will be more than enough. Every day, Kristof realizes how lucky he is to have such a beautiful woman with such a strong libido.
FOR ALBA LALA AND KAISA NORD, EVERYTHING CAN BE NEGOTIATED
Although she is relatively new in the company, Alba Lala understands that sex is an integral part of her working days. Also, she takes advantage of her rare moments of relaxation to have her boyfriend come over in secret. Today, the young couple can enjoy the large office bathroom in peace. The two lovers love to film themselves making love so they can enjoy it later and this meeting is no exception to the rule, even if they know they can be discovered at any time. This little risk-taking is part of the game and the excitement is at its peak. To spice up this moment of pleasure a little more, Alba Lala offers for the first time her anus to her partner who certainly did not expect such a surprise.
A few weeks after the finalization of the plans and the visit of the construction site, Tiffany Tatum calls her customers to warn them that unfortunately, the work will be more delayed than foreseen and that the estimated budget will have to be revised upwards. In an attempt to get things moving, Kaisa Nord decides to go directly to the architect's office to ask for an explanation. Although they have not known each other for very long, the two young women quickly fall under each other's spell. So when Kaisa drops her coat to reveal her perfect curves simply covered in an ultra sexy lingerie set, Tiffany knows that the topic of conversation will be much different than she had anticipated. Kaisa is madly in love with her husband but she is also very attracted to women. This should make her job easier during this special negotiation.
ALL'S WELL THAT ENDS... EVEN BETTER THAN EXPECTED
As expected, the two young women finally managed to find a common ground and a few weeks later, the couple receives the architects to celebrate their move in their sumptuous villa. A little surprised to see his wife so close to Tiffany, Kristof realizes that she had to work behind the scenes to make their lifelong dream come true. On her side, Shalina doesn't seem more surprised than that and she quickly removes all the doubts that her client could still have. What better way to celebrate the end of the work and the beginning of their new life, than to take advantage once again of the hidden talents of these special architects? By analyzing the quality of the services provided, Kaisa and Kristof will certainly call upon them again for future expansion projects. In the meantime, they are enjoying each other's company to the fullest.
More Information

| | |
| --- | --- |
| Playable | Worldwide |
| Director | Franck Vicomte |
| Studio | Marc Dorcel |
| Year of production | 2022 |
| Duration (min) | 120 |
| Language | International version |
| Casting | Shalina Devine, Tiffany Tatum, Kaisa Nord, Alba Lala |
| SKU | 84574 |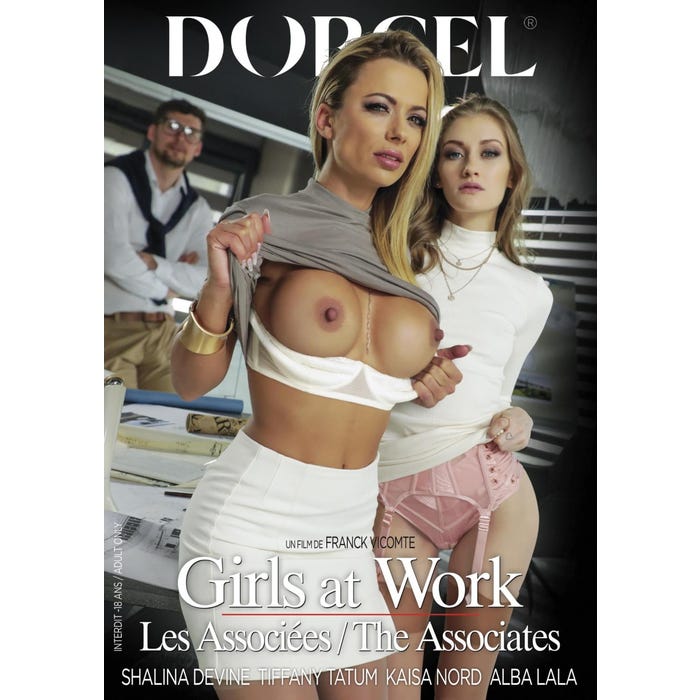 Girls at work - the Associates
-0%
Add to Cart