Hydromax 7 Blue Penis Pump
Perfect for

Man

Penis
Hydromax7 does not only work on the size of the penis. It helps to reduce premature ejaculation problems. It helps men with erection problems. By using the Hydromax7 pump you will get a harder erection. This penis pump allows you to regain your self-confidence and find a fulfilled sex life.
Bathmate has designed the Hydromax 7 penis developer, to give you exceptional results.
If you want to enlarge your penis, you should take a look at this penis pump.
Bathmate is the essential brand when you want to increase the size of your penis. The Hydromax 7 pump is the new hydrotherapy penis developer from the famous brand.
Bathmate uses water pressure to help you enlarge your penis. Whether you're in the bath or shower, Hydromax provides you with the solutions for stronger and more powerful erections.
You may have heard of the previous version: the Hydro7 bathmate. The upgrades to the Hydromax give you 35% more power. Your penis grows faster now.
For the Hydromax 7, Bathmate wanted to offer you a more advanced, more comfortable and above all more efficient version. It is much simpler to use, and according to a study carried out on all users, it offers a satisfaction rate of more than 95%.
The hydromax7 now offers you:
More than 100,000 back and forth motions
360° rotating function
More legible markers
Better adhesion If you use your Hydromax7 bathmate regularly, you will gain up to 30% in thickness and 40% in volume. Bathmate guarantees you incredible results.
More Information

| | |
| --- | --- |
| Diameter in cm | 4.6 |
| Length in cm | 30 |
| Résistance à l'eau | Waterproof |
| Adapté pour | beginner, intermediary, expert |
| Stimulation of | Penis |
| Vibrating or manual | Manual |
| Color | Blue |
| Brand | Bathmate |
| SKU | 97960 |
| For who | Man |
Anonymous customer published 10/12/2020 following an order made on 09/05/2020
le silicone est trop dur et l'étanchéité pas assez forte : même avec le pubis rasé de frais .
Anonymous customer published 09/10/2020 following an order made on 07/29/2020
agréable et de bonne qualité
Anonymous customer published 07/31/2020 following an order made on 05/26/2020
𝘍𝘳𝘢𝘯𝘤𝘩𝘦𝘮𝘦𝘯𝘵 𝘫𝘢𝘪 𝘶𝘯𝘦 𝘥𝘰𝘶𝘤𝘩𝘦 𝘦𝘵 𝘫𝘦 𝘤𝘰𝘮𝘱𝘳𝘦𝘯𝘥 𝘱𝘢𝘴 𝘵𝘳𝘰𝘱 𝘫𝘢𝘪𝘮𝘦 𝘱𝘢𝘴 𝘫𝘦 𝘷𝘰𝘶𝘥𝘳𝘢𝘪𝘵 𝘭𝘦 𝘳𝘦𝘯𝘥𝘳𝘦
Response from dorcelstore.com the 07/21/2020
Cher Client; Nous sommes au regret de vous informer que nous ne pouvons donner une suite favorable à votre demande. En effet, nos conditions générales de vente stipulent que tout article retourné doit être impérativement non utilisé, non porté et/ou lavé, dans son emballage d'origine intact et complet avec les opercules non décollés, non ouvert. Votre produit ayant été ouvert, nous ne pouvons accepter son retour pour des raisons d'hygiène. Nous nous tenons à votre entière disposition pour répondre à toutes vos questions. Bien à vous, Le Service Client Marc Dorcel
The Hydromax 7 allows you to increase the size of your penis by expanding the size of both corpora cavernosa. You can therefore not only increase the length of your penis, but also its thickness. The diameter of your penis will automatically enlarge.
Simply fill the water pump with water in your shower or bath.
Insert your penis into the pump when you it is filled with water.
You can pump with back and forth movements. You will gradually feel the pressure on your penis.
Excess water in the pump will drain out through the upper valve. The aim is to reach the vacuum in the pump.
You will have to pump several times to reach the goal.
Pump every 4 to 5 minutes.
Do not exceed 20 minutes per session.
If the pressure becomes too intense or unbearable, simply press the upper valve to release the pressure.
You'll get quick results if you follow these tips for use.
The hydromax7 pump is suitable for penises smaller than 18 cm.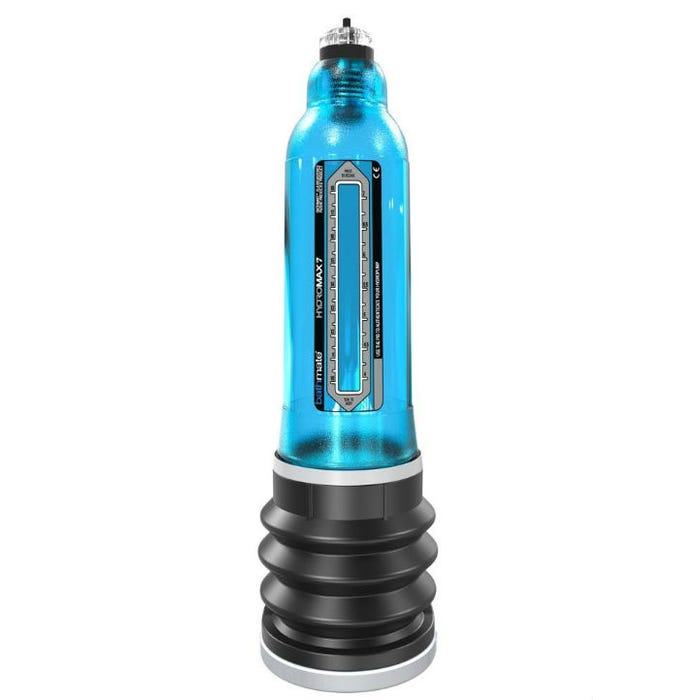 Hydromax 7 Blue Penis Pump
-10%
Add to Cart
For a total minimum of purchase of €99.00