Non privilege price

€29.99
!
Benefit from 10% now and all year round on ALL products by subscribing to the Privilege Service and many other advantages!
Why resist your impulses when all you have to do is satisfy them? All women have more or less intense desires and impulses.
The only difference is that Valentina Nappi, Anna Polina, Tiffany Leiddi, Ania Kinski et Aya Benetti do everything to satisfy them.
These five beautiful women want nothing but uncompromising sex to fulfill all their most intimate fantasies.
THEY GIVE IN TO ALL THEIR IMPULSES, FOR THEIR GREATEST PLEASURE
Valentina Nappi is a fan of private Parisian parties. For some time now, she has regularly met Kristof Cale, a man she finds very much to her liking. The only problem is that he is always accompanied. Although she is generally very sharing, Valentina would prefer to have him all to herself. Tonight is her lucky day, Kristof arrived alone at the party. It doesn't take much for the pretty brunette to take the first step. A simple glance and a smile are enough for the two lovers to meet discreetly in one of the rooms of their host. After long, languorous kisses, Valentina decides to get down to business by gently masturbating her partner of the day, just to raise the temperature. Why rush when they have plenty of time to enjoy each other. Very excited by this foreplay, the couple completely lets themselves go until Valentina discovers that a stranger is looking at them as if nothing had happened. Of course, Valentina could have been satisfied with just one partner, but the young woman is a fan of all the pleasures available to her. So it's only natural that she lets Ricky Mancini join them for a totally improvised but intense threesome, even offering her anus to the two men to end the evening in style.
Behind her shy looks, the blonde Tiffany Leiddi hides in fact a very free young woman who is always ready to realize her deepest fantasies. Today, sitting on the terrace of a café, she surprised Ricky Mancini's phone conversation. While the latter was planning a banal evening with friends, the young woman decides to offer him something much more entertaining. After paying her bill, Tiffany places a piece of paper with her phone number on Ricky's table, without talking to him, without turning around to see his reaction. All she feels is the look of this stranger on her generous curves. It took her less than ten minutes to receive a call from Ricky and to arrange a meeting that same evening. For this first date, Tiffany didn't do things by halves. Dressed in her sexiest lingerie, blindfolded, she was waiting for Ricky to come and fuck her. As expected, the originality of the situation had the desired effect on the couple who didn't know each other just a few hours ago. Who knows what they will do next, but for now, only Tiffany's sexual urges are directing their passionate lovemaking.
PLEASURE IS ONLY WORTH IT IF IT IS SHARED
While they are quietly having a romantic dinner at their favorite restaurant, Valentina and Kristof realize that Ania Kinski, sitting at the counter, is not taking her eyes off her lover. Although they are very much in love with each other, the two young people are also very sharing and never refuse a little fantasy in their relationship. Kristof therefore decides to invite this stranger to join them at their home. While Kristof leaves for a moment to fetch a bottle of champagne, the two pretty brunettes soon start kissing each other passionately. Kristof is very excited by the lesbian show in front of him and soon joins the duo. Although they are not from the same generation, Ania proves to be a true expert in group sex. While they thought they would have a quiet evening, Valentina and Kristof certainly won't regret giving in to their impulses and experiencing such ecstasy for dessert.
Tonight, Anna Polina and Axel Reed invited Joss Lescaf, Axel's colleague and best friend to dinner. After talking about gossip and work, the conversation quickly drifts to each other's fantasies. Although she is madly in love with her husband, Anna admits that she has always dreamed of banging a handsome, muscular, well-hung man like Joss. At first a little surprised, Joss cannot refuse such an invitation to pleasure. It must be said that for his part, he had long dreamed of taking advantage of the young woman's generous curves. As for Axel, he knows that next time he will have the chance to participate in a threesome with Anna and one of his sexy and slutty colleagues. This is the perfect example of a simple evening with friends that turns into an evening of fun in the snap of a finger. Why turn down new experiences when they come naturally to you?
DESIRE CAN BE MULTIPLIED TENFOLD BY AN UNEXPECTED SITUATION
Aya Benetti, a charming brunette with a body to die for likes to seduce but for her, encounters have to take place in the evening, at friends' houses or in clubs. However, her beautician friend manages to convince her that she can also use dating applications to quickly find a man who wants the same thing as she does, to get to the point, without wasting time in useless discussions. At first a little reluctant, Aya finally eventually gives in in. Shortly after she registered on a reputable site, she is contacted by Ryan, a charming young man whose perfect physique immediately makes the beautiful brunette fall in love with him. For her part, Aya has physical assets that would melt any man. That same evening, the two young strangers get together for a long moment of pleasure that would never have happened if Aya had confined herself to her overly classic flirting technique. For this new installment of the Impulse series, director Hervé Bodilis proves once again that giving in to the urge of the moment always brings its share of excellent surprises. Why wait if you can have it all, right now.
More Information

| | |
| --- | --- |
| Playable | Worldwide |
| Director | Hervé Bodilis |
| Studio | Marc Dorcel |
| Year of production | 2021 |
| Duration (min) | 145 |
| Language | English, French, German, Italian, Polish, Spanish |
| Subtitles | Dutsch, Greek, Portuguese |
| Casting | Valentina Nappi, Anna Polina, Tiffany Leiddi, Ania Kinski, Aya Benetti |
| SKU | 84311 |
Helmi K. published 01/20/2023 following an order made on 12/31/2022
Valentine Nappi est une merveilleuse actrice !!
Anonymous customer published 05/14/2022 following an order made on 04/24/2022
Très bien.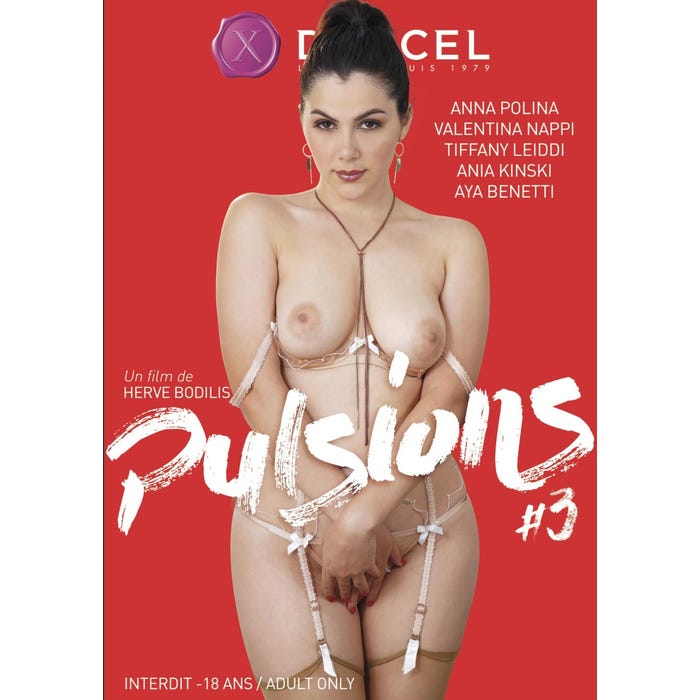 Impulses 3
-0%
Add to Cart
For a total minimum of purchase of €99.00