Their sexual impulses are so strong that they will do anything to satisfy them. An intense project by director Hervé Bodilis with one of the most amazing and exciting cast of the year.
WHY RESIST YOUR IMPULSES WHEN ALL YOU HAVE TO DO IS SATISFY THEM?
All women have more or less intense desires and impulses. The only difference is that Jill Kassidy, Cléa Gaultier, Mariska, Tiffany Tatum and Anna Polina do everything to fulfill them.
On a trip to Paris, the pretty American Jill Kassidy spends most of her time walking around and photographing the capital's most beautiful monuments. One would think that the miles travelled during the day would have tired the young woman, but it is not so. In the evening, alone in front of her mirror, Jill exchanges her casual tourist outfit for very sexy lingerie that she covers only with a loose coat. After hiding her blonde hair under a brunette wig, she goes down to the street to patiently wait for the first man who comes within her reach. Tonight, she wants only one thing: to make love with a stranger, with no strings attached, just to enjoy the moment. In other words, the lucky Kristof Cale will enjoy the charms of the pretty tourist throughout a night of pleasure.
UNBRIDLED SEX FOR THEIR OWN ENJOYMENT
For Lutro, Clea Gaultier is just another booty call. What he doesn't know is that his latest conquest has far greater than average sexual needs. So, when he tells her that he is cancelling their weekly date to spend the afternoon watching a football game with his best friends, the young woman doesn't hear it from him. After dressing very sexy, Clea calls him back to suggest a four-way plan that they will remember for a long time. After joining the three men, Cléa offers herself entirely to them, to her great pleasure.
Mariska, a beautiful and accomplished woman is happily married. Yet, despite her love for her husband, she finds it hard to resist the temptation when Maximo Garcia, a handsome Spaniard, enters her life. So, while her husband is away for one of his company's many seminars, Mariska decides to discover new pleasures with the young man. Thanks to Maximo, all of Mariska's impulses resurface and the routine of the years spent with her husband is transformed into a moment of intense passion and desires she never knew existed.
THEY LIVE ONLY FOR THEIR OWN DESIRES
After too long a period of celibacy, Tiffany Tatum decided to take the plunge and sign up for dating applications. With her dreamlike physique, she doesn't have to wait long to receive numerous dating proposals. Today, she has set her sights on Ricky Mancini. To get off to a good start, they decide to meet in a bar in the capital. Nothing better than a neutral place to get to know each other. Even if the current seems to be flowing between them, Ricky never imagined for a moment that the young woman would offer to come up to her place for "a nightcap". After parking his car in Tiffany's private parking lot, he met her at her home. As he enters the apartment, he discovers with pleasure that she is patiently waiting for him on her bed, almost naked, ready to fulfill all her fantasies and satisfy all her impulses.
Anna Polina has a very full sex life, but she still needs more. Today, she has an appointment with two strangers she met on the internet. During their conversation, the two men promised her intense, strong and unforgettable sex. That's all it took for Anna to ask her best friend to take her to the luxurious country house where her two partners are waiting for her. After a quick foreplay, Anna takes matters into her own hands and takes full advantage of the two men's sex to achieve ultimate ecstasy.
More Information

| | |
| --- | --- |
| Playable | Worldwide |
| Director | Hervé Bodilis |
| Studio | Marc Dorcel |
| Year of production | 2020 |
| Duration (min) | 120 |
| Language | English, French, German, Italian, Polish, Spanish |
| Subtitles | Dutsch, Greek, Portuguese |
| Casting | Tifffany Tatum, Cléa Gaultier, Anna Polina, Mariska, Jill Kassidy |
| SKU | 83909 |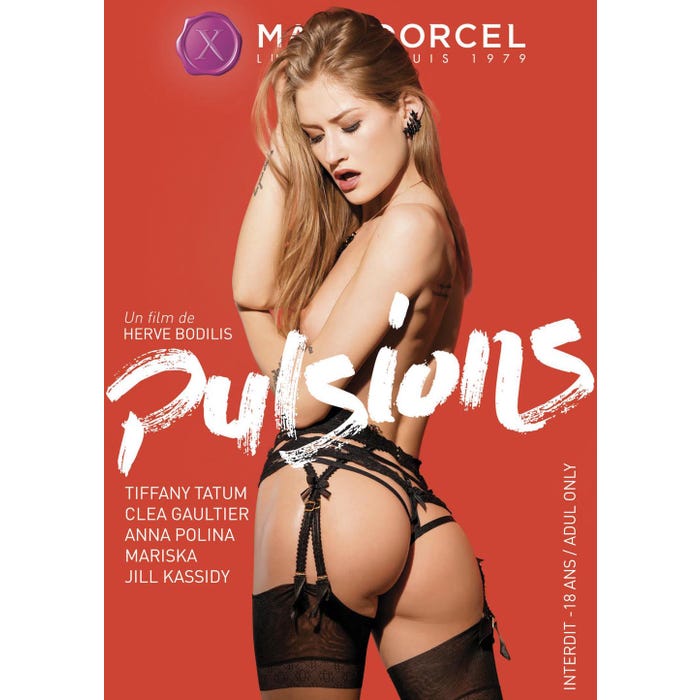 Impulses
-71%
Add to Cart