Lola and Angelika Pornochic
Although very different, Lola and Angelika have a common goal: the search for pleasure in all its forms. 5 hard and chic scenes to discover.
PLEASURE ABOVE ALL
For Lola Bellucci and Angelika Grays, nothing is more important than having fun in everything they do. If they find that pleasure in the arms of a man, another woman or even both, that's even better.
Angelika Grays and J.P.X have been together for a long time but their respective schedules prevent them from really enjoying each other. Angelika is a famous model and J.P.X. runs his international business with an iron fist. Their numerous trips abroad keep them away from each other much more than they would like. Today, they have finally managed to free themselves from their professional obligations and rented a magnificent villa. The couple intends to make the most of this well-deserved rest. While she enjoys the sun at the edge of the swimming pool, Angelika feels the hands of her partner massage her perfect body before his fingers venture in her intimacy. Very excited by the caresses of J.P.X, the young woman ends up giving herself up body and soul before climax fills her whole body. There is strong to bet that the couple is going to use this week of vacations to catch up the lost time.
THESE COUPLES DO NOT KNOW WHAT ROUTINE IS
For Lola Bellucci and Ricky Mancini routine is the worst enemy of a love relationship. Fortunately, they always have an idea to spice up their couple life. Tonight, like every night, when Ricky went to pick up his wife after her work day, he didn't expect her to be dressed only in a new set of lingerie under her coat. Once they arrive at their luxurious villa, Lola doesn't wait until she gets home to thank her husband properly. Barely out of the car, she makes him benefit from her very particular talents in fellatio. Unable to resist to such an entry in matter, Ricky pulls the pretty brunette in the bedroom to finally move on to more serious things. Although they make love every day, their sex life is still going strong.
Tonight, Lola and Tony decided to have a good time at one of their favorite clubs. While they were planning to spend a romantic evening together, the pretty brunette can't take her eyes off the blonde Angelika Grays. On her side, the blonde literally devours her with her eyes from the other side of the dancefloor. After having danced all night, Tony and Lola invite their conquest home for an after party that she won't forget any time soon. Recently single, Angelika was planning to clear her mind by partying, she certainly didn't expect to end the night in her very first threesome with strangers. It's ifficult to choose between the expert caresses of another woman and the hard cock of her lover, so why not try both? Tonight, Angelika has discovered that finally, celibacy seems to have some positive sides when you meet the right people.
THEY LIVE ALL THEIR FANTASIES TO THE FULLEST
A few days later, Angelika joins Cléa Gaultier and Ricky Mancini in the sumptuous villa they recently bought. The two young women have known each other for a long time and they've always shared their conquests. This morning, after having each dressed in their most exciting lingerie set, they decide to reserve a small surprise for the master of the house. While he was thinking of leaving for the office like every morning, Ricky finally decides to cancel all his meetings to take advantage of this totally improvised appointment. It must be said that between spending hours with businessmen in grey suits and two women in lingerie offering themselves to him, the choice is quickly made. The work can wait, not the pleasure.
J.P.X is a longtime friend of Ricky Mancini and Lola Bellucci. The couple has tried numerous times to have him come to spend a few days in their company in their magnificent villa to take a little rest. To celebrate their reunion, they also decided to offer him an unforgettable stay. Just arrived, J.P.X is welcomed by the young woman who quickly undresses to take care of the two men as it should be. Until now, J.P.X had never had the opportunity to take advantage of the curves and the orifices of his best friend's wife. Lola being an adept of shared pleasures the occasion was too beautiful not to take it, for the biggest pleasure of her two partners.
More Information

| | |
| --- | --- |
| Playable | Worldwide |
| Director | Hervé Bodilis |
| Studio | Marc Dorcel |
| Year of production | 2022 |
| Duration (min) | 110 |
| Language | International version |
| Casting | Lola Bellucci, Angelika Grays, Clea Gaultier |
| SKU | 84576 |
michael R. published 10/28/2022 following an order made on 10/01/2022
pornochic lola angelica un bon film des femmes sublimes produit par marc je le recommande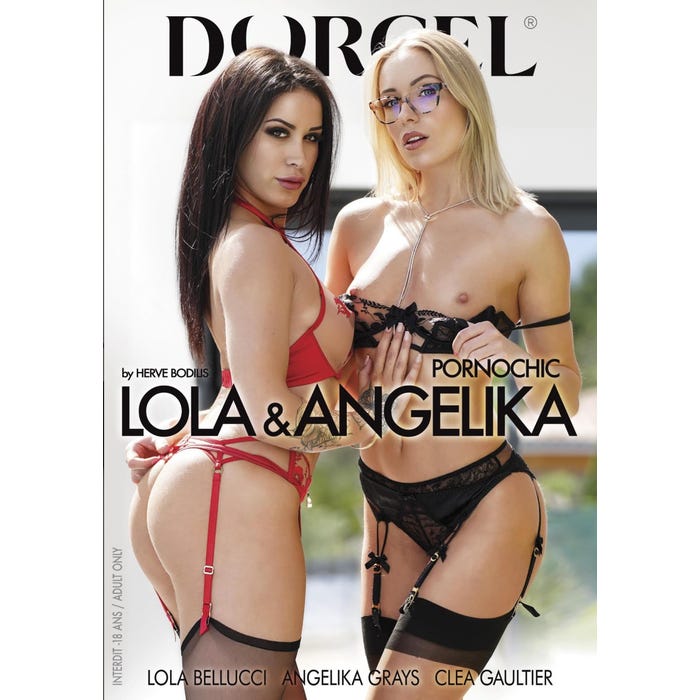 Lola and Angelika Pornochic
-50%
Add to Cart