From €48.59 Regular Price €53.99
€51.97
The Jelly Boy is a semi-realistic sextoy that offers progressive vibrations to the greatest of pleasures. For immediate use, it comes with a lubricant and batteries.
Eclatez vous avec le Pack Jelly Boy Dorcel!
Profitez d'un orgasme plus vrai que nature avec le vibromasseur Jelly Boy de Dorcel !
Le vibromasseur Jelly Boy a tout pour plaire : une couleur rose ultra-féminine et une texture réaliste en élastomère sans phtalate.
Ce vibromasseur possède de belles nervures plus vrai que nature et des mensurations très gourmandes. 22 cm de longueur et 4 cm de diamètre de plaisirs pour atteindre le 7ème ciel !
Son gland ultra doux viendra titiller votre clitoris avec amour procurant des sensations encore plus réelles.
Très vigoureux, le Jelly Boy vous propose des vibrations intenses. Situé à la base de votre vibromasseur, le variateur de puissance vous permettra de nuancer les vibrations pour un plaisir extrême et sur-mesure.
Egalement étanche, vous pouvez faire connaissance avec Monsieur Jelly sous la douche.
En tant qu'expert du sexe, Dorcel a conçu la gamme de Lubrifiants intimes SENSATION pour intensifier votre plaisir sexuel avec votre partenaire comme avec votre sextoy préféré même en silicone.
PURE est un gel lubrifiant ultra glissant à base d'eau pour ceux qui recherchent un produit très efficace et longue durée. Il vous apporte un confort et un plaisir maximum lors de vos rapports sexuels. Nos lubrifiants sont garantis hypoallergéniques, la composition respecte le pH naturel des muqueuses, compatibles avec les préservatifs et le latex.
Egalement économique, ce lubrifiant est très concentré qu'il suffit d'une seule noisette pour décupler son plaisir !
Conseil d'utilisation : pour un usage externe et interne, sans parfum, sans résidu, ne colle pas. Se rince à l'eau.
Testé dermatologiquement. Compatible avec les préservatifs.
Composition: aqua, glycerin, propylene glycol, phenoxyethanol, carbomer, hydroxyethylcellulose, ethylglycerin
Indulge yourself with the Furious Rabbit Dorcel Pack!
Watch out hot rabbit! Discover the Rabbit must have with the Furious Rabbit Pack from Dorcel!
You'll love this triple stimulation vibrator which hides many assets. With the Furious Rabbit, none of your erogenous zones will be abandoned...
With its rotating curved head, coupled with back and forth movements, this Rabbit will glide smoothly and vigorously to your G-spot.
Play with your pleasure, through the 3 modes of to-and-fro movements for very realistic and ultra-joyful sensations.
In addition to your G spot, the 3 rows of rotating balls inside the head will stimulate your vaginal walls.
You want even more? Also excite your clitoris with the 7 vibration modes of the clitoral stimulator and reach ecstasy!
And for even more wet pleasure, don't hesitate to use your Furious Rabbit in the shower as it's fully waterproof.
Don't wait any longer to get your hands on this incredible phthalate-free Rabbit Jelly that's just the right size!
We recommend that you use a Dorcel water-based lubricant for optimal comfort during your hot sessions with the Furious Rabbit.
Features of the Dorcel Furious Rabbit vibrator :
Jelly safe material made of phthalate-free TPE
Triple stimulation rabbit vibrator: G spot, vagina and clitoris
Swivel head and 5 toggle modes for the G-point
7 vibration modes for the clitoral stimulator
Format: 24.5 x ø 3.6 cm (12 cm insertable)- Splashproof.
Batteries: 4xAAAA included
This water-based ELLE lubricating gel is specially created for the well-being of women. Thanks to calendula and Aloe Vera, this highly lubricating gel takes care of your private parts and offers even more softness and comfort during your sexual games. Our lubricants are guaranteed hypoallergenic, the composition respects the natural pH of the mucous membranes, compatible with condoms and latex.
A Dorcel product for your greatest pleasure!
Directions for use: for external and internal use, no perfume, no residue, does not stick. Composition: aqua, glycerin, propylene glycol, phenoxyethanol, carbomer, hydroxyethylcellulose, aloe barbadensis extract, ethylglycerin, calendula officinalis flower extract.
More Information

| | |
| --- | --- |
| Brand | Dorcel |
| SKU | PACK11172 |
| For who | Woman |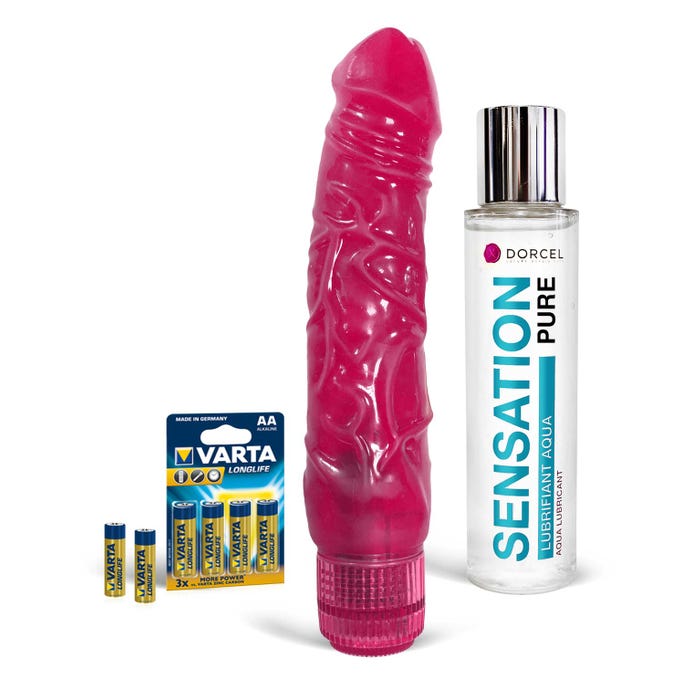 Pack Jelly Boy Dorcel
-10%
From €48.59 Regular Price €53.99
Add to Cart
For a total minimum of purchase of €99.00