From €60.02 Regular Price €78.98
€87.98
The Secret Vibe Egg Pack is the perfect combianison to have fun and enjoy intense moments, as a couple or alone.
Le Pack Oeuf Vibrant Secret Vibe est la combianison parfaite pour vous amuser et profiter de moments intenses, en couples ou seule.
Surprenez à nouveau votre partenaire en la faisant vibrer quand cela vous chante, ne vous préoccupez pas du monde, du lieu ou de l'heure…
Le Secret Vibe 2 de Dorcel est l'oeuf vibrant de tous les instants !


Plus puissant et plus performant que son prédécesseur, l'œuf vibrant Secret Vibe 2 est également très silencieux et waterproof (qualité indispensable pour varier les jeux également dans le bain).
Le design et la taille de la télécommande plaira aux hommes et garantit encore plus de discrétion lorsque qu'il fera jouir Madame à distance. Complicité maximale assurée !
Cet œuf vibrant au galbe élancé sera apprécié par toutes les femmes ! Il est en silicone ultra doux offrant un confort absolu et son design permet d'atteindre toutes zones érogènes.
Doté de 8 puissants modes de vibrations, le Secret Vibe 2 est un indispensable jouet de couple pour un orgasme partagé et de longue-durée.
Rechargeable et avec une autonomie d'1 heure, l'œuf vibrant Secret Vibe 2 aura tout le temps de vous faire plaisir !
Utilisez votre sextoy préféré avec le Lubrifiant 2en1 Plaisir Tahiti Monoi:
Passez un moment sensuel avec notre gamme Plaisir, 4 gels de massage et lubrifiants ultra-glissant aux parfums envoutants. Des parfums aphrodisiaques qui éveilleront tous vos sens.
Lubrifiant 2en1 Plaisir Tahiti Monoi, un flacon qui vous apportera tout ce dont vous avez besoin pour passer une soirée romantique avec votre partenaire.
Le gel 2 en 1 PLAISIR, gel de massage & lubrifiant intime, a été pensé par MARC DORCEL pour vous plonger dans un univers de luxure. Idéal pour les préliminaires, le gel 2 en 1 s'applique sur tout le corps de votre partenaire jusqu'aux zones les plus intimes. A base de silicone, sa texture délicieusement soyeuse permet les massages corporels les plus sensuels, et son pouvoir ultra glissant décupleront le plaisir de la pénétration.
Laissez les mains de votre partenaire parcourir votre corps.
De belles soirées en perspectives avec ce lubrifiant 2 en 1 signé Dorcel !
Gel garanti hypoallergénique, convient à la pénétration anale et vaginale, respecte le pH naturel des muqueuses.
Conseil d'utilisation : pour un usage externe et interne, compatible avec les préservatifs et le latex. Sans résidu, ne colle pas, ne tache pas.
Download instructions here
The Secret Vibe Egg Pack is the perfect combianison to have fun and enjoy intense moments, as a couple or alone.
Surprise your partner again by making her vibrate when you want, don't worry about the world, the place or the time...
Dorcel's Secret Vibe 2 is the vibrating egg for every moment!

More powerful and more efficient than its predecessor, the Secret Vibe 2 vibrating egg is also very quiet and waterproof (an essential quality to vary the games also in the bath).
The design and size of the remote control will appeal to men and guarantees even more discretion when it makes Madame come from a distance. Maximum comfort guaranteed!
This vibrating egg with its slender shape will be appreciated by all women! It is made of ultra-soft silicone offering absolute comfort and its design allows you to reach all erogenous zones.
Equipped with 8 powerful vibration modes, the Secret Vibe 2 is an essential toy for couples for a shared and long-lasting orgasm.
Rechargeable and with an autonomy of 1 hour, the Secret Vibe 2 vibrating bullet will have plenty of time to please you!
Use your favourite sextoy with Plaisir Tahiti Monoi 2in1 Lubricant:
Spend a sensual moment with our Plaisir range, 4 massage gels and ultra-smooth lubricants with bewitching fragrances. Aphrodisiac fragrances that will awaken all your senses.
Plaisir Tahiti Monoi 2in1 Lubricant, a bottle that will bring you everything you need to spend a romantic evening with your partner.
The 2 in 1 PLEASURE gel, massage gel & intimate lubricant, has been designed by MARC DORCEL to plunge you into a world of lust. Ideal for foreplay, the 2 in 1 gel can be applied all over your partner's body right down to the most intimate areas. Silicone-based, its deliciously silky texture allows for the most sensual body massages, and its ultra-slip power will increase tenfold the pleasure of penetration.
Let your partner's hands wander over your body.
Beautiful evenings in perspective with this 2 in 1 lubricant signed Dorcel!
Guaranteed hypoallergenic gel, suitable for anal and vaginal penetration, respects the natural pH of the mucous membranes.
Directions for use : for external and internal use, compatible with condoms and latex. Without residue, does not stick, does not stain.
More Information

| | |
| --- | --- |
| Brand | Dorcel |
| SKU | PACK11201 |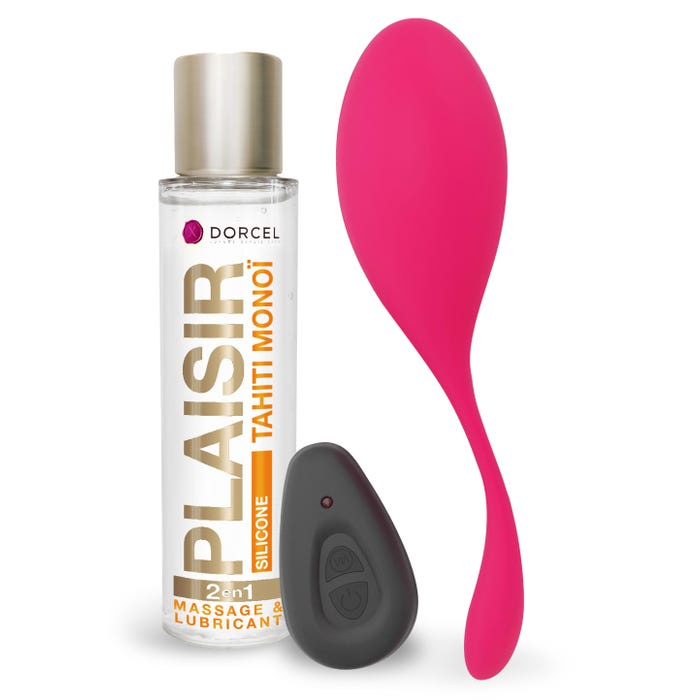 Secret Vibe Egg Pack
-24%
From €60.02 Regular Price €78.98
Add to Cart