Sweet is the revenge... Discover on DVD the Dorcel blockbuster directed by Hervé Bodilis with a simply exceptional cast!
AN ALMOST PERFECT PLAN
Tonight, Emily Willis and Cherry Kiss have a date with Kristof Cale, a charming bachelor on a business trip to Paris who thinks he's hosting two high-class escorts. Although they are experts in all areas of pleasure, the two young women are in fact professional hustlers who take advantage of the influential men they meet to get money or important documents that they can sell to the highest bidder.
After a very exciting beginning of the evening during which Kristof enjoyed the best threesome of his life, Emily took advantage of a moment of inattention from the young man to slip away and go to steal a bundle of money in a briefcase. It is at this precise moment that their meticulous plan went wrong.
During her absence, an armed stranger knocked out Cherry and Kristof before hooding the pretty brunette to take her to an unknown place. In an abandoned warehouse, Emily finds herself face to face with Tony, one of her former victims who has been behind bars for a few years because of her. To get revenge, Tony offers her a deal she can't refuse. Emily will have to pay him back by doing some data theft "work" for him, or else he will take revenge on her sister Candie.
To carry out this mission, Emily will have to reform her former team of professionals composed of Clara Mia, Cléa Gaultier, Anissa Kate, Carollina Cherry, and Cherry Kiss, who has recovered from her violent encounter. At first reluctant to work together again, they eventually put aside their differences with the sole purpose of saving Candie. Even if their targets don't seem to have anything in common, they know that they will have to put their charms forward to carry out this mission.
EMILY WILLIS AND HER CREW TAKE ACTION
Their first victim is Ricky Mancini, a high-level computer engineer. Knowing that the man is very suspicious, they will not be able to break into his home without outside help. Ricky and Tiffany Leiddi, his wife, go out regularly, leaving the custody of their child to Eve Sweet, their regular babysitter. While Clea's mission is to seduce the pretty Eve and invite her to spend a long and pleasant time at her place, Cherry must pretend to be her replacement. At first a little surprised to see a stranger, the couple decides to go out anyway and meet in their favorite private club. While they're away, Cherry has plenty of time to hack into the engineer's computer.
Clara Mia, on the other hand, has been assigned to keep the couple busy at the club for as long as possible. Despite their reputation as a serious couple, they never turn down the chance to have a good time with other women, especially if they are as charming as Clara. So the trio meet in the back of the club, in a quieter place to get to know each other better. Clara is a fan of shared pleasures, whether it's with a man or a woman, so she knows how to keep her new playmates busy, leaving the field open to Cherry and her computer hacker. Meanwhile, the rest of the team prepares all the equipment they will need for the rest of the mission.
Anissa finally decides to get into the game by introducing herself to J.P.X, an entrepreneur who made his fortune creating startups related to finance. His latest fad is to enter the highly competitive cryptocurrency sector, and he must replace his Human Resources Director on short notice because she left "in a hurry" to deal with a family matter.
IN ORDER TO SUCCEED, YOU HAVE TO TAKE RISKS
To finance his new project, J.P.X. has teamed up with Igor, a rich businessman who intends to pocket a big slice of the pie. The latter makes it clear to his French partner that he would like not only to recover the 8 million dollars invested but also a more than comfortable profit.
To relax and think about something else before the big launch party, Igor and Anna Polina, his right-hand womanman/bodyguard, meet in a hammam that they regularly go to discuss hot issues. In this case, it is especially Anna who burns with desire for her boss and she intends to make him benefit from her curves and all her charms.
Meanwhile, Anissa, who has realized that her new boss likes to spend quality time with his HR director, takes advantage of the empty offices to fulfill her part of the contract. While she blindfolds him and promises to give him a night he won't forget, Cherry and Clea break into the office to attack the contractor's computer and steal important data. Even though this operation only took two minutes, Anissa intends to go all the way with her boss to avoid blowing her cover. Her penchant for sex and all its pleasures is no stranger to her desire to finish her mission.
WHO IS DECEIVING WHO?
While Emily's team thinks they're taking all the risks to save Candie, the girls realize that they can get a $30 million payout once their operation is complete. On his side, Tony tries to prove to Emily that he treats his sister well... but she doesn't seem to be that unhappy... And if behind all this masquerade Tony's revenge was only a pretext to rob Ricky, J.P.X and Igor and take advantage of the money with his "captive"? The young woman seems indeed to be very close to her kidnapper and proves it to him on the roof of the yacht on which she is supposed to be kept prisoner.
A few days later, while the launch of the new Cryptocurrency is a success, Anissa Cherry, Clea, Emily, Carollina and Clara manage to be invited to the very private party organized to celebrate the success of this very juicy financial operation. While they divert Igor's attention in a real orgy, Emily, as usual, slips away to hack the businessman's computer and embezzle the huge amount of money collected. And if for once, her plan doesn't work out as planned?
More Information

| | |
| --- | --- |
| Playable | Worldwide |
| Director | Hervé Bodilis |
| Studio | Marc Dorcel |
| Year of production | 2022 |
| Duration (min) | 140 |
| Language | English, French, German, Italian, Polish, Spanish |
| Subtitles | Dutsch, Greek, Portuguese |
| Casting | Clara Mia, Anissa Kate, Cherry Kiss, Emily Willis, Clea Gaultier, Carollina Cherry, Anna Polina, Tiffany Leiddi, Candie Luciani, Eve Sweet |
| SKU | 84200 |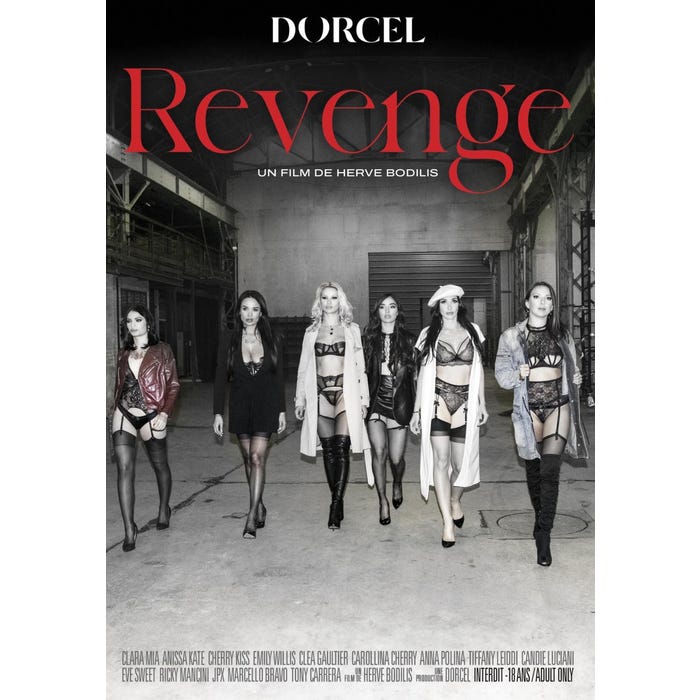 Revenge
-50%
Add to Cart