Russian institute 26 - the headmistress' daughter
The famous Russian Institute reopens its doors for a new year dedicated to pleasure and sex education.
THE RUSSIAN INSTITUTE REOPENS ITS DOORS FOR ANOTHER YEAR OF PLEASURES
The famous Russian Institute finally reopens its doors. Every school year, the richest families in the country rush to enrol their daughters so that they can receive the best possible education. This year, the pedagogical team has been reshuffled and it is Tina Kay, a woman with a dream body and an iron fist who has been appointed at the head of the Institute. Another new addition, Mary Rock, the daughter of the Director, has been admitted to follow the very special courses given by this ultra select establishment. It's only a short step from thinking that her mother used roundabout means to get her admitted.
As soon as they arrive, the two women meet Vince Karter, one of the new teachers. The young man's charisma does not seem to leave them indifferent. After Tina has introduced the new teachers, she calls Vince into her office for a first "pedagogical" meeting. Indeed, as Director, she has to make sure that the men present within the walls of the institute have all the skills required to train the future diplomats or businesswomen of the country. She does not have to wait very long before grasping her partner's tense sex and suck it off before letting him sodomize her deeply on her desk.
YOUNG WOMEN TAKING VERY PRIVATE LESSONS
Mary, on the other hand, is exploring what will now be her new home. Although she knew that not all of her new classmates were as innocent as they seemed, she certainly didn't expect to discover Amirah Adara and Zazie Skymm in the midst of their practical work in the "natural" sciences. Having been friends for a few years, the two young women decided to get down to business and discover each other. At first a little surprised by this very exciting show, Mary soon joins them for an exciting lesbian threesome. It's a great way to make new acquaintances.
During the summer holidays, the pretty Lana Roy met two men with whom she had a lot of fun. To make their story last a little longer, she made an appointment for them at the institute, but she didn't expect them to visit her during class. After asking her teacher to let her out for an urgent reason, Lana joins her two partners in the bathroom. Very excited after their too long separation, the young woman gives each of them a blowjob, which she has the secret of. After this small appetizer, the two men fuck her in turn through all the orifices before ending with a double penetration that the young woman should remember for a long time.
WHO'S HOTTER? MOTHER OR DAUGHTER?
While Tina works overtime to update her administrative files, Vince takes advantage of her absence to visit her daughter Mary. It must be said that from day one, neither of them remained insensitive to the other's sex appeal. As soon as the front door is opened, the young woman takes her teacher into the living room and starts to suck him off before letting him play with her sex soaked with desire. Behind her somewhat haughty appearance, Mary turns out to be as attracted to men and sex as her mother. As they say, like mother, like daughter.
The next morning, the Director calls the beautiful Nikki Fox into her office. Kristof Cale, one of the teachers, has discovered private photos and videos taken with her phone in the institute. According to strict regulations, everything that happens inside the building must not be taken out. To make her understand her mistake, Tina decides to punish the young woman in her own way. Why just film other people's sexual frolics when you can very well implement sex education classes given by competent teachers. Nikki certainly didn't expect such a private lesson in the morning, but she will have made the most of the experience of her two teachers. The years have gone by but nothing has really changed at Russian Institute, to everyone's delight.
More Information

| | |
| --- | --- |
| Playable | Worldwide |
| Director | Franck Vicomte |
| Studio | Marc Dorcel |
| Year of production | 2020 |
| Duration (min) | 115 |
| Language | International version |
| Casting | Tina Kay, Amirah Adara, Zazie Skymm, Lana Roy, Mary Rock, Nikki Fox |
| SKU | 83864 |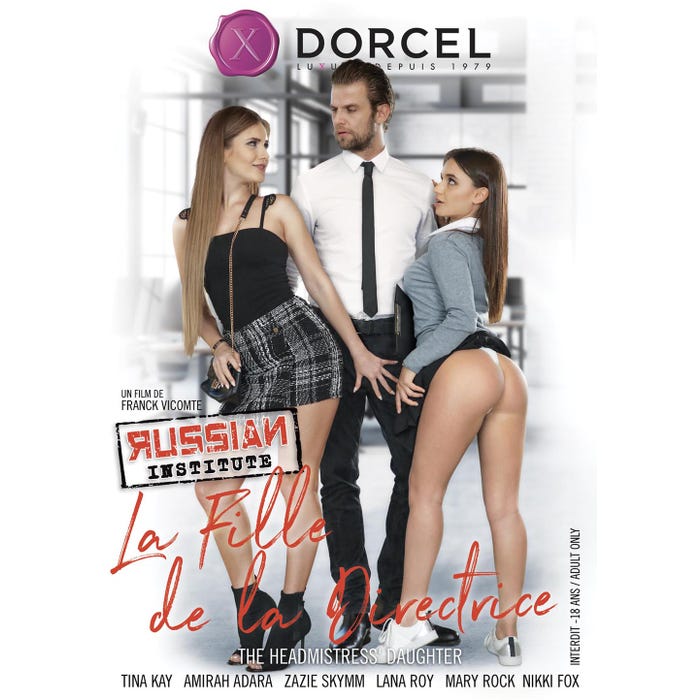 Russian institute 26 - the headmistress' daughter
-60%
Add to Cart
For a total minimum of purchase of €99.00