For the pleasure of the eyes...
For the pleasure of the eyes...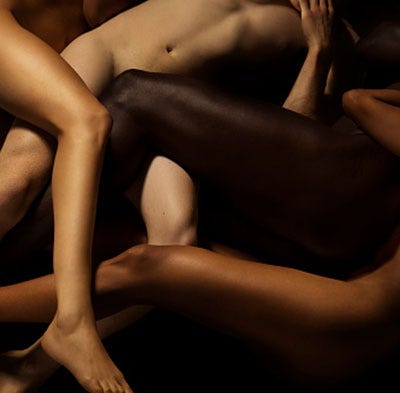 Find out more
TROUVEZ VOTRE BIEN-ÊTRE
Comment définir le bien-être ? La chose étant assez fugace et totalement abstraite, dépendant d'ailleurs avant tout d'un état d'esprit, la définition n'est pas simple. Selon Robert ou Larousse (deux noms qui auraient plutôt bien sonné dans l'industrie X), le bien-être est un état agréable résultant de la satisfaction des besoins du corps et de l'esprit. Deux constantes sont donc à satisfaire, la première étant physique, définie par une bonne santé physiologique grâce à la satisfaction des besoins du corps ; et la seconde étant un processus psychologique apportant des satisfactions diverses liées à notre état d'esprit.
LE BIEN-ÊTRE PASSE PAR LE PLAISIR
Prendre soin de soi tant physiquement que mentalement est, de nos jours, une préoccupation pour un nombre de plus en plus important de personnes. Que l'on choisisse de pratiquer des techniques de yoga, de méditation ou des thérapies holistiques, ou tout simplement d'apprendre à gérer son stress au quotidien, tout est bon pour que l'on se sente mieux.
Dans le couple, cette même recherche de bien être, est également au centre des pensées de chacun. Alors comment faire pour allier cette félicité du corps et de l'âme aux plaisirs intimes d'une vie de couple harmonieuse ?
Avant toute chose, il faut être soi-même, dans un bon état d'esprit et de corps, il ne faut donc pas hésiter à associer plaisir et produits bien être. Et là, vous avez le choix dans une large gamme d'articles dédiés au bien être que vous propose les spécialistes de chez Dorcel Store.
L'INCONTOURNABLE MASSAGE
Qui n'apprécie pas un bon massage, qu'il soit pratiqué par un(e) spécialiste ou par son partenaire ? Quel délicieux moment propice à la détente, au lâcher prise et aux préliminaires de vos jeux amoureux ! Faites-vous plaisir ! Sentez vous, touchez vous, et ressentez l'énergie de votre partenaire.
Si vous débutez, munissez-vous des huiles et crèmes de massage de la collection Shunga. Elles sauront vous faire découvrir les plaisirs issus des techniques ancestrales japonaises pour votre plus grand bonheur et celui de votre moitié. Ces produits sont 100% naturels et hypoallergéniques, leurs textures non grasse ne laissera pas de résidus sur votre peau, et les parfums enivrant vous apporteront un bien être des plus appréciables. A vous de choisir la fragrance qui vous attire le plus : thé vert, monoï, cerise, framboise…
Pour les plus gourmands, vous pourrez associer les délices d'un massage « traditionnel » à celui d'un massage érotique, en utilisant les huiles comestibles. Celles-ci apporteront une touche plus torride à un simple massage, qui n'utilise que le sens du toucher ! Un léger souffle sur la partie où vous avez utilisé l'huile gourmande, ou bien même un baiser savoureux, auront un effet aphrodisiaque qui saura vous surprendre. Ces produits bien être et de plaisirs partagés s'appliquent sur toutes les parties du corps, qu'elles soient externes ou internes. A vous les embrassades savoureuses, polissonnes et érotiques !
Quant aux romantiques, vous pourrez également utiliser les bougies de massage qui, en plus de créer une ambiance romanesque aux odeurs suaves, sauront être un atout non négligeable, en les utilisant comme produits bien être pour effectuer des mouvements sensuels lors de massages coquins sur le corps abandonné de l'objet de vos désirs naissants. Laissez la bougie fondre et utilisez la cire fondue en la versant chaude (pas brûlante) sur la peau de votre cobaye coquin(e), et profitez des arômes suaves qui passent par le classique ylang ylang, la framboise, le caramel ou encore le monoï. A vous de choisir l'odeur que vous appréciez le plus parmi le large choix de la gamme de bougies de massage proposée.
Treat yourself with aphrodisiacs!
Aphrodisiacs help increase the quality, length and sensations felt during lovemaking. They are also a way of arousing desire: whether yours or your partner's, you can fulfil your every desire. Desire will never have been so intense. Whether to improve performance, have better erections or simply to enhance your pleasure, discover our range of products that will add spice to your sex life!