CUSTOMER AREA AND DORCEL SERVICES
Access to my personal data
We respect the privacy of our customers, which is why we undertake never to communicate your personal data to any other merchant than the Marc DORCEL group.
Your data remain totally confidential and you will never receive Spam or emails from other companies that you would not have wished to receive unless the customer has ticked the box: "receive partner offers".
Only you have access to your data on a page secured by encryption and password protection. You can save them without fear on your account. Only the delivery address, telephone number and e-mail address will be transmitted to the carrier.
The mandatory or optional nature of the fields to be filled in is clearly indicated.
In accordance with the French law "Informatique et Libertés" n° 78-17 of 6 January 1978, updated by the law of 6 August 2004, the customer has the right to access, rectify, oppose and delete data concerning him/her.
In accordance with the law "Informatique et Libertés" n° 78-17 of 6 January 1978, updated by the law of 6 August 2004, the customer has a right of access, rectification, opposition and deletion of data concerning him/her.
From your Marc Dorcel Customer Area, you can modify the sections: < Account information>, <Address book>, <Newsletter subscription> at any time.
We inform you that a modification of the delivery or billing address is impossible once the order has been validated. In this case, please make your request via this form (by selecting in particular the information: My order > For a modification). In order to provide you with the best possible satisfaction, please indicate the new complete address in your email.
Deletion of your Customer Area will also result in the deletion of your Dorcel account, making it impossible to access all sites of the Dorcel group.
If, despite this, you wish to unsubscribe, send us your request by email via this form (by selecting, more particularly, the information: My Customer Area > For the deletion of my Dorcel customer account). All your personal data will then be deleted.
If you have forgotten your password, you can retrieve it quickly and easily using the e-mail address associated with your Marc Dorcel customer account.
To do this, when you identify yourself, click on Forgotten password > Enter the email address associated with your Dorcel account > then Validate.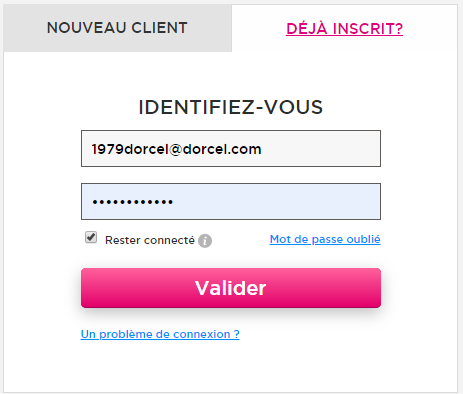 You will receive a message in your mailbox containing a link allowing you to reset your password.
The Privilege Service in detail is:
without obligation

10% discount on all your orders, all year round

Free delivery

to the nearest relay point to you
Your dematerialised birthday gift (sent by email)
Withdrawal period extended to 30 days (instead of the usual 15 days)

Priority processing

of your order
Privilege service valid in our Dorcelstore Boutiques
Access to Privilege Sales Days

in

the Boutique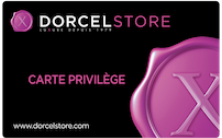 The Boutique Privilege Card is also valid on dorcelstore.com
The Privilege Card is only available when subscribing in the shop.
Dorcelstore : The shop of all pleasures for Her and Him
DORCELSTORE is a trendy shop concept with a fun and elegant setting.
These department stores offer one of the largest selections of sexy products with more than 2500 items (Lingerie, Sextoys, body care, games, accessories, DVDs, etc.) for couples, women and men of all ages.
The DORCELSTORE teams are at your disposal to advise you and guide you towards a selection of products with the best value for money that will bring you the greatest pleasure.
To find the contact details and access maps of our Boutiques, click here .
Every month, Marc Dorcel publishes a mail order catalogue called "Le guide d'achat du X".
For many years, a team has been selecting for you the latest DVD releases from the Marc Dorcel studio but also from French studios (JTC, Fred Coppula Prod...) and American studios (Blacked, Tushy, Hard X, Lesbian X, Brazzers, Reality Kings...).
You can receive your catalogue every month in your mailbox in complete discretion.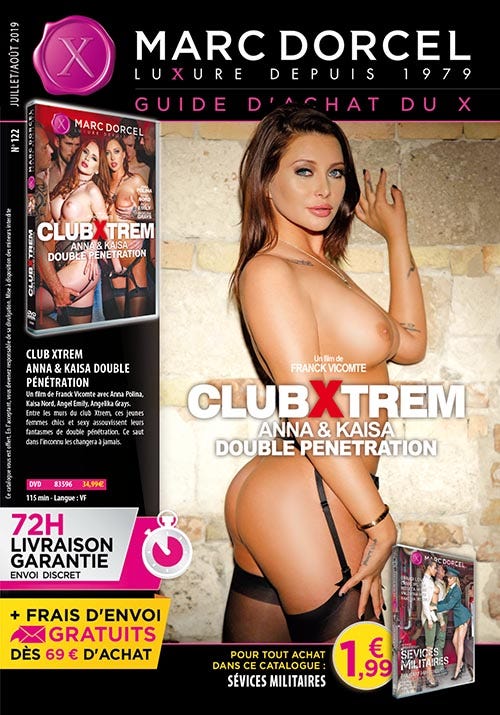 What is the content of the catalogue?
The latest Marc Dorcel productions
The latest novelties selected by Dorcel.
The latest releases from the main American studios, directly imported from the USA.
Promotions and special prices on nearly a hundred DVDs
A selection of the best aphrodisiacs and sextoys for men to discover other pleasures.
The exclusive offer of the month: an unbeatable price on a DVD or DVD box set for any purchase in the shopping guide
Please note that no other catalogue is currently available.
How to receive the Dorcel catalogue (advice and instructions)
Registration is very simple. You can choose from the following options:
Fill in the form

here

with your Surname, First name, Postal address for delivery and a scan of your proof of majority (*).
Send a letter to Desjardins Securities Customer Service - 102 avenue du Président Kennedy 75016 PARIS with your Surname, First Name, Mailing Address for delivery and a photocopy of your proof of majority.
(Only one copy of your identity card/passport/driving licence will be accepted).
Once you have registered, you will receive the "X Buying Guide" in your mailbox every month with a letter with no visible distinguishing mark.
(*) Marc Dorcel attaches fundamental importance to the protection of minors, which is why we systematically validate the majority of our customers, which is necessary in case of control by the competent authorities.
Offer the whole Dorcel universe in a Gift Card!
Where to buy the gift card?
The Dorcel gift card is only available in our DorcelStore (see article: Our shops.)
Unfortunately it is not possible to buy a Dorcel gift card on dorcelstore.com, but great news, this option is coming soon.
Credit the Dorcel gift card with the amount of your choice.
Validate the gift card:
The Dorcel gift card is valid for 1 year from the date of purchase in DorcelStore shops in France.
It cannot be exchanged or refunded, even partially, in the event of loss, theft or damage to the card, or if the card is no longer valid.
Custumer service.