Girls at work - the agency
Privilege price

€26.99
!
Benefit from 10% now and all year round on ALL products by subscribing to the Privilege Service and many other advantages!
As the boss of a communications agency specialising in fashion, Alexis Crystal is ready to do anything to eliminate the competition and achieve her goals.
ALEXIS CRYSTAL, A VERY DEMANDING BOSS
In the world of fashion, models are in constant competition to be able to parade for the greatest designers, pose for the best photographers and have their photo in the most famous magazines on the planet. Alexis Crystal is the head of one of the most influential communications agencies in the country and the magazine she publishes each month is also the most widely read in the industry. So her days are busy. On top of all this, Alexis also has to deal with all the whims of these fashion stars. Even internally the competition is tough. Who of her personal assistant, make-up artist or star model will know how to win her favours?
Every day, Alexis has a busy schedule and little time to relax or take care of personal business. Also, as soon as she has five minutes between two appointments, she takes advantage of the presence of Raul Costa, her private chauffeur and handyman. The young man loves this very special relationship he has with his boss. His salary is good and the benefits in kind are very appreciable. It must be said that Alexis has a body to die for and sexual skills that would make anyone fall for her. Today is no exception. Before locking herself up at the office for her countless meetings, Alexis decides to have a little fun on the agency's terrace, even going so far as to abandon foreplay and let him sodomize her without any restraint.
THE EMPLOYEES TAKE PLEASURE WHERE IT IS
To run her agency, Alexis can count on all her employees. Even if the general atmosphere remains very professional, it is not uncommon to see couples getting closer. Sasha Rose, the make-up artist, has been working with Totti and Thomas Stone, the studio photographers, for some time now. Until now the two men had managed not to crack but how to resist in front of this pretty brunette with very advantageous curves? While waiting to prepare the next photo shoot, the trio finally decides to get down to business. Sasha is not a shy girl and she intends to show them that she knows how to handle something other than her make-up brushes. Expert of fellatio, she likes it just as much when her partners take her by all the orifices, even the narrowest.
Today, Cherry Kiss and Vince Karter, the two "home " models are participating in an outdoor photo shoot. The collection they have to showcase is so important that exceptionally Alexis comes to check for herself that everything is going well. Even though she hasn't tried anything with Vince yet, the young woman appreciates him very much and takes a dim view of his relationship with Cherry Kiss, the pretty blonde she recently hired to represent her agency. Once the photo shoot is over and Alexis has left, the couple meets in the rented house to get to know each other better. Their boss's doubts are quickly confirmed when Cherry takes her partner's already hard sex in her mouth. Since the house is rented for the day, they have plenty of time to enjoy it until the final orgasm.
THE BOSS LIKES TO VARY THE PLEASURES
On her way back to the agency, Alexis Crystal can't help but watch Summer Pixi, her brand new assistant. Behind her uptight look, Alexis is convinced that the newcomer hides a whole new personality. Left alone in the car with her boss, Summer has no choice but to prove to her that she made the right choice by employing her in such an important position. In addition to managing Alexis' busy schedule, the pretty brunette now has to take care of her extravagant libido. After tender caresses and languorous kisses, the two young women let loose completely with the sextoy that Alexis takes everywhere with her. Alexis likes anal sex, even when it is her assistant who takes care of her anus.
After this very busy day, Alexis takes advantage of the fact that the agency is empty to show Cherry the cover of the next magazine. With her on the cover, this issue will certainly be the best selling of the year. What better way to celebrate this than with a glass of champagne and a special moment between girls. While the two young women were planning to enjoy this girls' night out, they were surprised by Vince who came to pick up a few things. A little surprised by the show, Vince doesn't hesitate very long before joining them for an impromptu threesome. Who could resist the charms of the two blondes and, above all, what would refuse to enjoy the dream bodies of the star model and his boss ... at the same time?
More Information

| | |
| --- | --- |
| Playable | Worldwide |
| Director | Franck Vicomte |
| Studio | Marc Dorcel |
| Year of production | 2021 |
| Duration (min) | 120 |
| Language | International version |
| Casting | Alexis Crystal, Cherry Kiss, Sasha Rose, Summer Pixi |
| SKU | 84344 |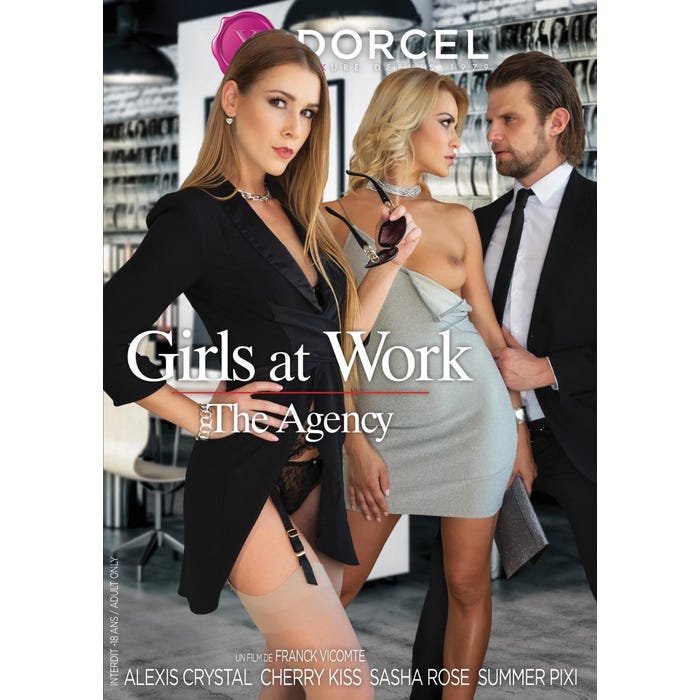 Girls at work - the agency
-0%
Add to Cart
For a total minimum of purchase of €99.00