Liya and Stefany escorts deluxe
Privilege price

€31.49
!
Benefit from 10% now and all year round on ALL products by subscribing to the Privilege Service and many other advantages!
For Liya Silver and Stefany, sex is a way of life, but what they love most is sharing their experience.
LIYA SILVER AND STEFANY KYLER ARE TRUE SEX EXPERTS
Don't be fooled by their innocent looks and wise-cracking college girl looks. Liya Silver and Stefany Kyler are two experts of pleasure. Their mission is to satisfy all the fantasies of the men or women who call upon their services.
Today, the two young women have an appointment with Kristof Cale, a rich businessman from the region. He is not very demanding, but Liya and Stefany know exactly what turns him on. To raise the temperature they start by undressing and caressing each other while waiting for their host to join them. After having excited him well, the two pretty brunettes move on to more serious things and inted to take full advantage of his rock hard cock. The expert blow jobs of the two escorts would have made any man cum in seconds but Kristof's experience allows him to make the pleasure last and to share it with his two guests of the day.
THEY TAKE PLEASURE WHERE IT IS
Shalina Devine takes advantage of her new life as a single woman to try new things. It must be said that her ex companion was not really inclined to sex. So she decides to go through a specialized website to meet two men who should satisfy her beyond her expectations. Kristof Cale and Totti are going to realize one of her biggest fantasies by playing the role of two detectives with whom she will have to negotiate in her own way to avoid paying a ticket. With her dream physique, Shalina has no difficulty convincing them not to make her pay anything. On their side, the two men intend to enjoy playing with her body, especially when she offers them all her orifices. As a true blow job expert and anal sex adept, the pretty blonde will certainly call upon their service quicker than expected.
Stefany Kyler knows that the men who call upon her very special skills all have different fantasies. Some, more shy than others, prefer to observe her from a distance. It is the case of Totti who asked her to film herself making love with Raul Costa. Arrived in advance in the hotel room that is reserved for her, Stefany begins to film herself while waiting for her partner of the evening. Once Raul arrives, she grants him a blowjob he will remember for a very long time. The young man will return the favor with a cunnilingus which will turn her on like never before. Still watched by Totti, the couple will share a long moment of pleasure before going their separate ways. According to this scene, making love knowing that one is being watched seems to multiply the desire.
DESIRE AT ALL COSTS
Shalina Devine likes men but girls give her a totally different kind of pleasure. To relax a little she asked Liya Silver to join her to spend the afternoon together. Even if her clients are mostly men, Liya never says no when it comes to giving pleasure to another woman. At first a little surprised to see her client waiting for her while caressing herself, Liya quickly takes off her coat to reveal her perfect body before joining Shalina. Between kisses and languorous caresses the two women also like to play with nice sized sex toys to take a maximum of pleasure.
Mia Trejsi and Vince Karter are very much in love with each other and live an almost perfect relationship. At least, that's what the young woman thought until she discovered that her companion calls on professionals from time to time to change him a little from the daily routine. On his side, Vince has the surprise to discover that the escort with whom he has an appointment today is none other ... than his wife. Once the shock is over, the couple realizes that this situation is very exciting for both of them and that it would be a shame not to take advantage of the moment. Acting as if nothing had happened, the two lovers made love again as they had on the first day. What if this experience allowed them to spice up their sex life?
More Information

| | |
| --- | --- |
| Playable | Worldwide |
| Director | Franck Vicomte |
| Studio | Marc Dorcel |
| Year of production | 2021 |
| Duration (min) | 110 |
| Casting | Liya Silver, Stefany Kyler, Shalinda Devine, Mia Trejsi |
| SKU | 84520 |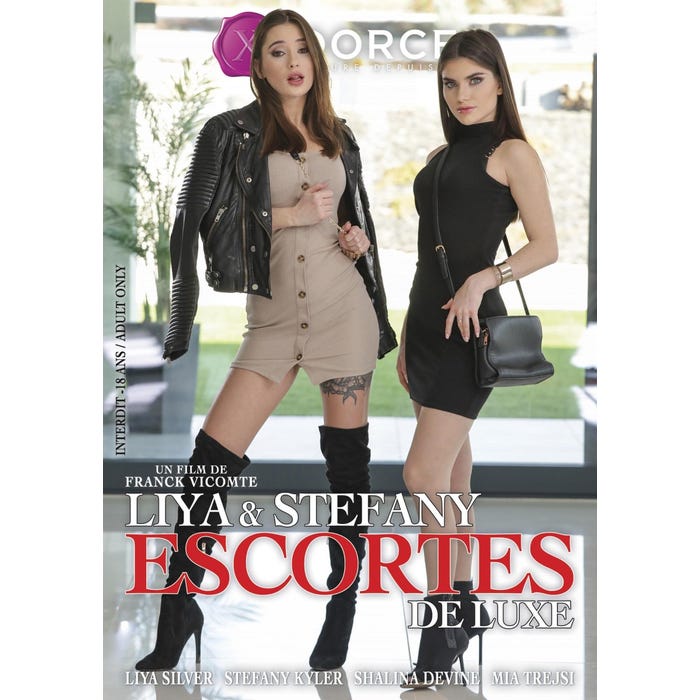 Liya and Stefany escorts deluxe
-0%
Add to Cart
For a total minimum of purchase of €99.00