These couples have a fulfilling sex life, but why not spice it up a little more by inviting other play partners. A new opus of the Luxure series directed by Hervé Bodilis.
CHERRY KISS ET CLÉA GAULTIER AIMENT PRENDRE DU PLAISIR ENSEMBLE
Cléa Gaultier descend d'une voiture de luxe, à moitié nue. Simplement vêtue d'une veste qui ne cache rien de sa généreuse poitrine, d'une culotte et d'une paire de bottes en cuir, elle suit son chauffeur dans une villa somptueuse perdue au milieu de la campagne. Ricky, son chauffeur et hôte, l'invite à la suivre dans la villa. Ils retrouvent Cherry Kiss, la maîtresse de maison qui les attend patiemment dans son jacuzzi. Maintenant que leur invitée est arrivée, les choses sérieuses peuvent commencer. En attendant que Cherry les rejoigne, Ricky commence à embrasser Cléa.
C'est la première fois qu'elle participe à un plan à trois avec un homme et une femme qu'elle connait à peine. Ricky et Cherry sont en couple depuis quelques temps déjà et leur vie sexuelle est au beau fixe. Pourtant, de temps en temps, pour éviter que la routine ne s'installe, ils invitent des femmes et des hommes à partager leurs ébats. Toujours prête à vivre de nouvelles expériences, Cléa ne pouvait décemment pas refuser une telle invitation. Aussi excitée par le corps de Cherry que par les caresses de Ricky, la jeune femme voudra certainement remettre le couvert assez rapidement.
CLARA MIA SAIT RECEVOIR SES INVITÉS DE LA MANIÈRE LA PLUS EXCITANTE QUI SOIT
Clara Mia et son mari sont heureux en amour mais leurs emplois du temps respectifs les tiennent séparés l'un de l'autre bien plus souvent qu'ils ne le voudraient. Heureusement, ils ne sont jamais à court d'idée pour prendre du plaisir et le partager avec l'autre, même lorsque des milliers de kilomètres les séparent. Ce soir, Mia est un peu déçue que son mari ne puisse par la rejoindre comme prévu. Pour se faire pardonner, ce dernier à invité deux hommes à venir prendre soin d'elle. Un peu surprise, la jeune femme se détend un peu lorsqu'elle comprend que son mari pourra la voir jouir grâce aux caméras de sécurité installées dans leur appartement.
Après avoir revêtu un ensemble de lingerie qui ne laisserait aucun homme indifférent, Mia n'a plus qu'a attendre ses deux invités. Bien qu'elle ne les connaisse pas, rien ne l'excite plus que d'imaginer son mari en train de la regarder prendre du plaisir. Le couple est assez friand de jeux sexuels en tous genres, mais c'est la toute première fois que Mia fait l'amour à deux hommes en même temps alors que son mari est absent. Voilà une expérience qu'ils ne sont pas près d'oublier de sitôt.
POUR CHERRY, C'EST TROIS HOMMES SINON RIEN
Cherry et Ricky ont la chance de vivre une histoire d'amour quasi parfaite tout en gérant ensemble leur société d'immobilier. Ricky s'occupe de la partie commerciale tandis que Cherry gère toute la partie décoration pour leurs clients fortunés. Très ouverts sur leur relation, leurs amis connaissent presque tout de leur vie privée et de leurs divers jeux sexuels. Ce soir, ils sont invités à un plan à quatre par une de leurs relations de travail. Très excitée à l'idée d'avoir trois hommes rien que pour elle, la jolie blonde propose même de les inviter à venir directement chez eux. Cherry a toujours une tenue adaptée à chaque situation.
Ce soir, elle a décidé de mettre le dernier ensemble de lingerie noire que son mari lui a acheté. Ainsi vêtue, elle est certaine de l'effet qu'elle aura sur ses invités. A peine arrivés, les deux hommes ne perdent pas de temps et commencent à caresser la jeune femme tandis que son mari les regarde. Pour Cherry, le sexe doit être vécu pleinement et bien vite, elle laisse ses inviter la pénétrer, allant même jusqu'à leur demander de la prendre en double pénétration, son petit plaisir personnel. Que ce soit dans leur vie professionnelle ou privée, Cherry Kiss et Ricky savent parfaitement recevoir.
LANA ROY ET ALBA LALA, DES EXPERTES DU PLAISIR PARTAGÉ
Pour Lana Roy, le sexe est un véritable art de vivre qu'il ne faut pas prendre à la légère. Aucun homme ne lui résiste et elle arrive toujours à les faire jouir comme aucune autre femme. Avec son amant, elle a invité un homme qu'elle connait à peine à partager leurs jeux sexuels. A peine arrivé, elle prend le sexe de l'inconnu dans sa bouche pour le préparer à la pénétrer. Rien ne l'excite plus que de faire l'amour à un homme alors que son amant les regarde en se masturbant. Une fois les préliminaires passés, la jeune femme ne perd pas de temps en discussions inutiles. Elle veut que cet homme la sodomise tandis qu'elle suce son partenaire. Il faudrait être fou pour refuser une telle invitation et leur invité ne se fait pas prier. Le plaisir ne vaut que s'il est partagé et dans le cas présent, il est clair que la jolie brune et ses deux partenaires du soir ont largement profité de ce long moment de désir partagé.
Ce soir, David a réservé une surprise très excitante à sa compagne Alba Lala. La jeune femme sait qu'un inconnu doit les rejoindre mais elle ne connait pas en détail le programme de la soirée. Les yeux bandés, à moitié nue, elle attend patiemment l'arrivé de leur invité. Suivant les indications de son mari, Alba commence à sucer le sexe tendu de cet homme qu'elle ne voit toujours pas. Les deux hommes caressent ensuite le corps et le sexe trempé de désir de la jeune femme avant que celle-ci ne retire son bandeau pour enfin profiter pleinement de la situation. Voilà une soirée placée sous le signe du plaisir que le couple voudra bientôt renouveler.
More Information

| | |
| --- | --- |
| Playable | Worldwide |
| Director | Hervé Bodilis |
| Studio | Marc Dorcel |
| Year of production | 2022 |
| Duration (min) | 113 |
| Language | English, French, German, Italian, Polish, Spanish |
| Subtitles | Dutsch, Greek, Portuguese |
| Casting | Clea Gaultier, Cherry Kiss, Clara Mia, Alba Lala, Lana Roy |
| SKU | 84575 |
Anonymous customer published 05/14/2022 following an order made on 04/25/2022
Excellent épisode de la série ! Très apprécié par un couple candaulisrte…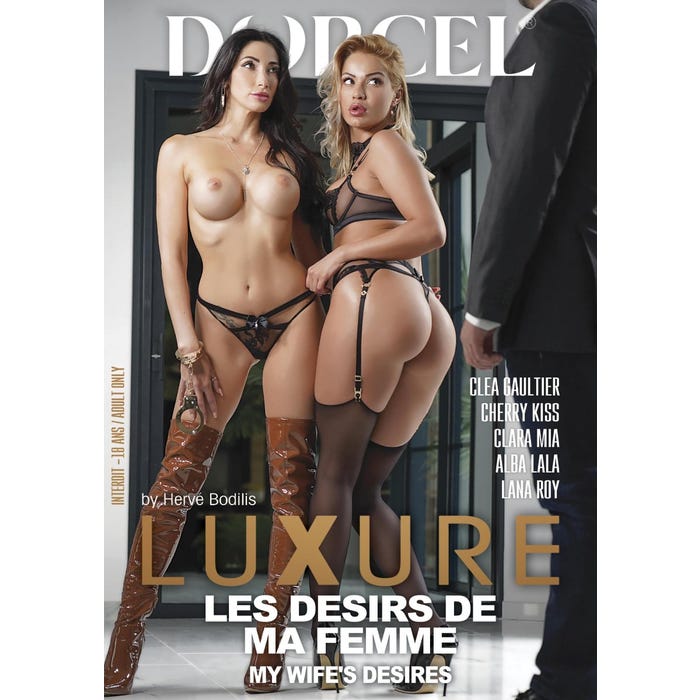 Luxure my wife's desires
-50%
Add to Cart