Non privilege price

€29.99
!
Benefit from 10% now and all year round on ALL products by subscribing to the Privilege Service and many other advantages!
Bella, Ginebra and their friends are true pleasure seekers. They have only one requirement to reach the ultimate orgasm: to share it.
THESE COUPLES ARE VERY GOOD AT AVOIDING ROUTINE
Over the years, most couples fall into a certain routine. They continue to love each other, but the excitement and passion of the early days tends to fade. In this new part of the LuXure series, you will discover that routine and boredom are not part of the vocabulary of these young women and their partners.
Lola Bellucci met a stranger on the street who asked her for a drink. As a thank you she found nothing better than to follow him home to thank him in her own way. So that her husband Tony Carrera does not miss anything of this impromptu meeting, she even sent him a video inviting him to join her to share this moment of intimacy with him. On his arrival, Lola waits patiently on the bed, ready to offer herself to both men at the same time. Tony knows that nothing excites Lola more than making love with a stranger, the only condition being that he can watch or better, participate. After this impromptu threesome, it's a safe bet that Lola and Tony will return home more in love than ever. Happiness is ultimately a matter of few things.
THEY SHARE THEIR FANTASIES AND DESIRES WITH STRANGERS
Tonight, Bella Tina and Ricky Mancini have a very special guest. The couple has made it a rule to have new sexual experiences with strangers as often as possible. A few days before, they met Axel Reed during a dinner with friends. The young man's physique immediately made him the ideal candidate for one of their very private parties. While Bella Tina takes things in hand, and in mouth in front of her husband, this one knows that in a few moments, his magnificent woman will give herself entirely to them for the biggest pleasure of all. For her part, Bella Tina knows that her husband has a knack for choosing partners who will make her come for sure.
Although they are madly in love, the beautiful Ginebra Bellucci has always been under Ricky's control. Until now, it is always him who led the dance of their fantasies and their desires. Tonight, the young woman decided to reverse the roles. Attached on a chair, Ricky does not know yet what she reserved him but a thing is sure, the evening announces itself very exciting. Dressed in a lingerie not hiding anything of her generous curves, Ginebra begins to excite her companion when someone rings at the door. At first a little surprised and embarrassed that someone discovers him in this situation, Ricky changes his mind when his wife and the unknown woman begin to kiss and caress each other in front of him. Still tied up, he can only watch from a distance as the two young women give each other pleasure in their own room. Finally, Ginebra invites him to join them to finish this evening in the most beautiful way.
MULTIPLY THE PARTNERS TO MULTIPLY THE PLEASURE
Anna Polina and J.P.X form a very free couple. They have the habit of telling each other about all their extra-marital encounters and sometimes they invite strangers to live all their fantasies together. Anna finds men on dating websites and invites them to join them at home for threesomes. Tonight, Anna wants to be dominated and lets herself be tied up while waiting for their guest to arrive. On his side, J.P.X. cannot refuse anything to this woman who allows him to live all his desires, even the most unavowable ones, to the full. A little surprised by the scene he sees when he arives, Axel Reed does not delay to obey the injunctions of the young woman. Tonight, no long presentation or useless discussion, Anna wants sex, just sex. The two men are going to give her everything she wants, even an anal session which the young woman is so fond of.
Tonight, Megane Lopez is a little nervous. She has always had the fantasy of making love to her husband and another man at the same time, but is going from fantasy to reality as easy as that? The couple has always had a very open relationship but until now, it's been on their own. As soon as their guest arrives, Megan sets about turning him on while her husband watches them. It won't be long before he joins them and the pretty blonde's worries disappear. Making love with a stranger in front of her husband was only a fantasy until now, but now it's a reality. What if she liked it?
More Information

| | |
| --- | --- |
| Playable | Worldwide |
| Director | Hervé Bodilis |
| Studio | Marc Dorcel |
| Year of production | 2021 |
| Duration (min) | 104 |
| Language | English, French, German, Italian, Polish, Spanish |
| Subtitles | Dutsch, Greek, Portuguese |
| SKU | 84453 |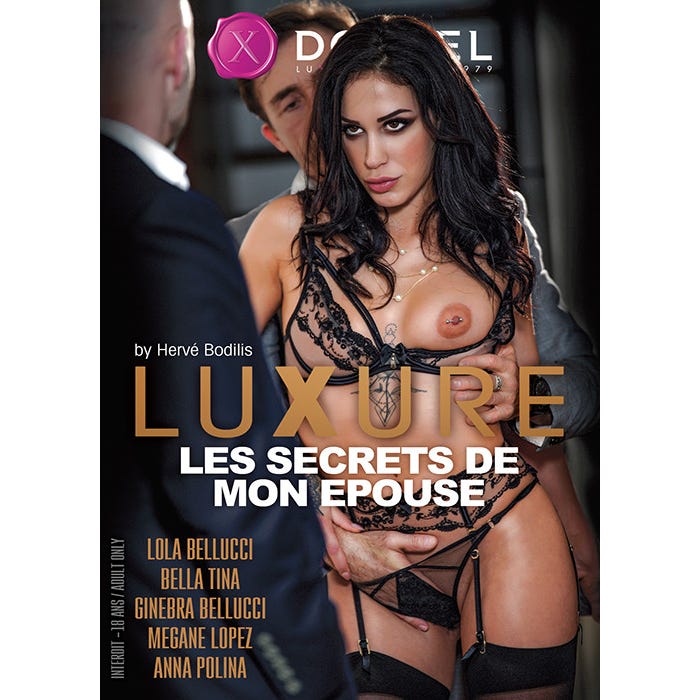 Luxure my wife's secrets
-0%
Add to Cart
For a total minimum of purchase of €99.00