Romy has only one night to regain control of her life... After Paris and Budapest, Dorcel takes us to Barcelona for one of the most intense nights...
ROMY INDY WILL DO ANYTHING TO FULFILL HER MISSION
Romy Indy is a charming and resourceful young woman. She has less than 24 hours to retrieve some very important documents for her and she intends to use this time to complete her mission, whatever it takes. As soon as she arrives at the Barcelona airport, she meets Juan Lucho, the private driver she hired to drive her to her different appointments.
For her first appointment, Romy joins Nick Ross in his sumptuous apartment. The young man works for one of the most important banks of the country. His professional activity does not leave him the occasion to go out very often so he regularly calls upon escorts to keep him company. What he doesn't know is that the pretty brunette has hacked into his phone and intercepted his conversations with the young woman with whom he regularly "does business". By pretending to be a pleasure professional, Romy Indy wanted only one thing, to access confidential documents he has in his possession. Caught by surprise in his office, the young woman is obliged to play her role until the end, which is finally not to her displeasure. Nick is handsome and seems to know how to deal with women. Why not combine business and pleausre? On his side, her partner is very happy to be able to benefit from her perfect body. Her first mission completed, Romy joins Juan so that he can drive her her to her next meeting place.
WHY SEPARATE WORK AND PLEASURE?
Her second appointment takes place in a sumptuous villa outside the city. Cléa Gaultier and Tommy Cabrio, the owners, have organized a small party to celebrate their anniversary. To enter the house without arousing suspicion, Romy will have to pretend to be a waitress specially employed for the occasion. While she thinks she can hack the computer of the Master of the house with impunity and delete all the compromising files that are there, the young woman is caught red handed by Clea. Clea offers her a special deal in exchange for her silence. The couple has the habit of inviting other people, men or women, to share their sexual frolic. The opportunity is too good, tonight it is Romy who will play the role of the third partner in this improvised threesome. Why miss out on such an experience?

After having carried out her first two missions, Romy intends to allow herself a moment of rest before her third and last appointment. She asks Juan to drive her to the port where she meets Ginebra Bellucci, one of her oldest friends whom she hasn't seen in years. The last time they saw each other was during their girls' vacation in Thailand. This short stay in Barcelona is the perfect occasion to meet for a drink to remember this trip so rich in sensations. Even if Romy prefers men, she never refuses to take pleasure, alone with a woman. It is necessary to say Ginebra has a body that would make any person fall for her so why should Romy not take advantage of the situation? And if this short reunion was only an excuse to erase any trace of her presence in town?
BARCELONA, CITY OF PLEASURE
While she thought she could leave, Romy realizes that she forgot some documents at Nick's. Whereas she thought she would find him asleep, she discovers that he called upon another escort, Lina Luxa, to help him finish the night. In front of this small unforeseen problem, Romy has no other solution than to join the couple is she wants to go back in Nick's office and to recover the last elements she needs. Too happy to have to deal with two escorts for the price of one, the man does not sulk his pleasure and completely lowers his guard. Exhausted by this surprise threesome, Nick finally falls asleep, leaving the way free to Romy to recover all the documents she wanted. Exhausted by her night adventures, Romy falls asleep like a mass in Juan's car on the way to the airport. Once awake, and to thank him for driving her all night long, the young woman offers herself entirely to him, without any restraint before flying back home. It was the least she could do...
More Information

| | |
| --- | --- |
| Playable | Worldwide |
| Director | Alis Locanta |
| Studio | Marc Dorcel |
| Year of production | 2021 |
| Duration (min) | 170 |
| Language | English, French, German, Polish, Spanish |
| Subtitles | Dutsch, Greek, Portuguese |
| Casting | Romy Indy, Clea Gaultier, Ginebra Bellucci, Lina Luxa |
| SKU | 84338 |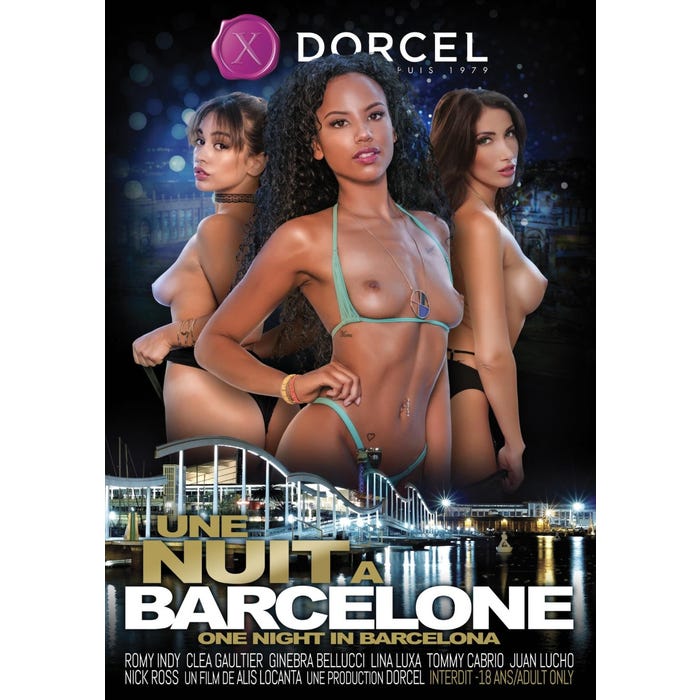 One night in Barcelona
-50%
Add to Cart