Store Address :
201 bis avenue du Grand Sud
Chambray-lès-Tours, 37170
Mainland France

Contact
Telephone :
02 34 60 63 63
Find your
Tour
Dorcelstore to live your pleasure experience.
All our teams ensure the best of welcomes in compliance with the following sanitary instructions.
Here are the instructions: limitation of the number of people in the store, obligation to wash your hands with the hydroalcoholic gel available at the entrance of the store, obligation to wear a mask and respect a minimum distance of 1 meter.
Tours welcomes its Dorcelstore
With a 280m² Loveshop dedicated to naughty and sensual pleasures, you will easily find all the intimate objects imaginable.
With an experienced team at your disposal, you will inevitably, thanks to their wise advice, the product that suits you: sextoy, sexy lingerie, sexual wellness...
Your Love Shop
Since its opening, Dorcelstore Tours is the reknown place of the region for the sexy grea. a very wide choice of intimate products. Whether you are entertaining, curious or experienced & oacute; with the world of sexy, Dorcelstore promises to meet you! all your expectations.
Your favorite deparments
Sextoys
Lingerie
Erotic games
Sexual Wellness
Aphrodisiacs
DVD XXX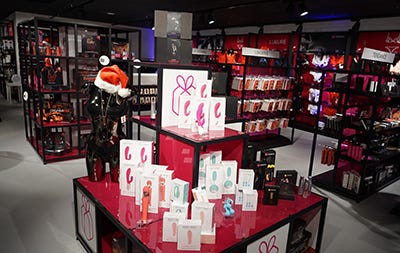 Sexy dresses and Lingerie