Non privilege price

€29.99
!
Benefit from 10% now and all year round on ALL products by subscribing to the Privilege Service and many other advantages!
During 9 nights, two strangers will live the most intense love story. Bella Tina lets herself go in a sensual and sexual experience of the most intense.
9 NIGHTS OF DESIRE AND PLEASURE, EACH MORE EXCITING THAN THE LAST
This morning, Bella Tina is late for a very important job interview. Recently arrived in the city she is still lost but luckily for her, a stranger will help her find her way. Bella rarely trusts men she doesn't know, but John seems different from the others. A few days later, while she is jogging with her friend Clara Mia, Bella crosses paths with the young man by chance. And if, for a reason that she still ignores, their destiny was linked?
To get to know each other better, John has invited the young woman to the most sumptuous villa she has ever seen. Charmed by this man that she did not know a few days ago, the pretty brunette decides to give him a chance. After a long languorous kiss on the terrace, the couple decides to get serious. Without knowing it, Bella has just started an adventure made of desire and pleasure which will last 9 nights... Blindfolded, half-naked, she offers herself completely to the caresses and to the sexual games that John has decided to make her live.
TO THE DISCOVERY OF NEW FANTASIES
On her way home, Bella Tina is surprised to discover that John has left her a gift and specific instructions. Every night, at the same time, she will have to masturbate while thinking about him. To make it easier for her and to start in a very exciting way, a projector broadcasts a scene in which two women with dream bodies give themselves pleasure without any restraint. In front of the sexual intensity of this show, Bella cannot resist the temptation and starts masturbating.
Alone in the kitchen of what must be a dream villa, Carollina Cherry and Josephine Jackson discover each other. After kissing passionately, they end up exploring their desire-soaked sex with tongues and caresses until they reach their final orgasm.
BELLA TINA REDISCOVERS HER OWN SEXUALITY
The following weekend, John decides to take his relationship with Bella to the next level by inviting her to his villa for brunch. To make sure everything goes smoothly and to better discover his new conquest, he also invited her best friend, Clara. Clara knows everything about Bella's life and will certainly have some interesting anecdotes to tell him. On his side, John has other ideas in mind and while Bella waits quietly on the terrace, he gets ostensibly closer to Clara. And if this maneuver was finally only useful to him to propose a new experience to Bella?
Although they've known each other for years, the two young women had never had a sexual relation. Very excited by the situation, and by the fact that John observes them, Bella cannot resist the kisses of her best friend. After this appetizer, they join their host in his bedroom to enjoy an improvised dessert for three. When they accepted John's invitation, Bella and Clara didn't expect to have such a sensual experience. From now on, John and Bella will never leave each other and will make the most of this unlikely story.
AND IF ALL THIS WERE TO END ONE DAY?
A few days later, while Bella is walking in town, John proposes to take her to see a show as surprising as exciting. In a discreet street, Bella recognizes Josephine, the young woman whom she saw the first evening on the lesbian video. The young woman with the imposing chest is in company of the lucky Paulo who intends to benefit from all the charms of his new conquest. Josephine seems to be a real blow job expert, which is a pretty good thing. After this appetizer, Josephine proposes to her partner to show him that he can also take her to the seventh heaven. Mission accomplished.
Bella realizes that she has had extraordinary experiences with John, but she also realizes that she is losing herself in this whole story. To regain her freedom, she decides to visit her lover one last time. To her surprise, he is not alone when she arrives. This is clearly not the right time to talk about their relationship but before Bella could turn around, John insists that she stays with them for a last drink.
The young woman then realizes that the game isn't over and that this proposal was just an excuse to give her a new sexual experience that she won't be able to forget. Whereas John leaves in the kitchen to seek another bottle, Bella cannot resist the charm of his guest. John does not seem surprised by this sudden approach and intends to enjoy his conquest one last time. On her side, Bella also wishes to put an end to this adventure on a positive note and abandons herself completely to the caresses of the two men. In the morning, whereas she wakes up alone in her bed, Bella realizes that these 9 nights allowed her to rediscover herself and to take again in a positive way the course of her life.
More Information

| | |
| --- | --- |
| Playable | Worldwide |
| Director | Alis Locanta |
| Studio | Marc Dorcel |
| Year of production | 2022 |
| Duration (min) | 150 |
| Language | English, French, German, Italian, Polish, Spanish |
| Subtitles | Dutsch, Greek, Portuguese |
| Casting | Bella Tina, Clara Mia, Josephine Jackson, Carollina Cherry |
| SKU | 84712 |
Anonymous customer published 12/02/2022 following an order made on 10/06/2022
Très déçus, ne correspondait pas à nos attentes.
Response from dorcelstore.com the 11/29/2022
Bonjour, Nous vous remercions grandement pour votre avis et sommes navrés de lire que vous avez vécu une expérience décevante. Nous vous invitons à visionner nos bandes annonces sur notre site www.dorcelclub.com avant d'effectuer vos achats. Nous pensons que cela vous aidera davantage. Nous restons à votre disposition par téléphone ou directement par email depuis notre FAQ. Cordialement, Le service client Dorcel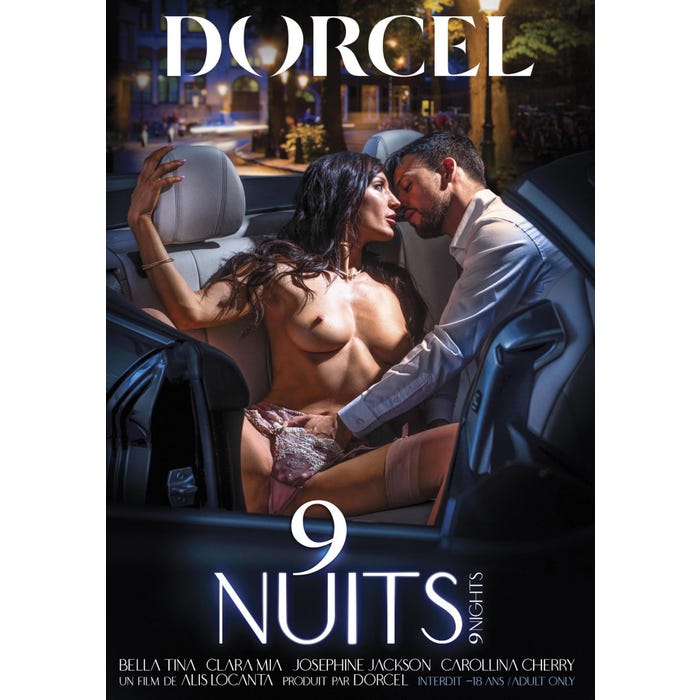 9 nights
-0%
Add to Cart
For a total minimum of purchase of €99.00