Non privilege price

€29.99
!
Benefit from 10% now and all year round on ALL products by subscribing to the Privilege Service and many other advantages!
Between reality and the virtual world, Bella Tina prepares to live out her deepest fantasies. A new part of the series L'indécente by director Alis Locanta, which goes even further in the realization of fantasies.
A NEW LIFE FOR BELLA TINA
Bella Tina is trying to recover from a painful separation and make a fresh start. A new home, a new life, a beach nearby, and a ton of memories to forget. To take her mind off things, Bella tries to occupy her free time as much as possible. Even though she feels like something is missing from her life, she never wants to think about her past again. What if something as "simple" as a virtual reality headset she was given allowed her to escape from her daily life to discover new sensations, new pleasures? In this world, there are no more limits, no more taboos.
For her first attempt, Bella finds herself on the terrace of a sumptuous villa with a stranger. Here, no need for long discussions and false pretenses, the couple goes directly to serious things. Very athletic, the young woman has sculpted a dream body that would make any man crack in real life. Imagine what can happen in a virtual world in which she can control the least of her desires, the least of her fantasies. Having sex with a stranger, no strings attached, no questions asked, is an ideal situation to take control of her life.
HER MOST EXCITING FANTASIES COME TO LIFE
The next day, just as she finished shopping, she caught a couple kissing passionately in the parking lot. To her surprise, a second woman joins them and starts kissing the couple. Very quickly, the blonde bends down to suck her partner. Very excited by this situation, Bella begins to caress herself in her car before hurrying home. Once again, her virtual reality headset will allow her to stage what she imagines. Thus, the brunette Aya Benetti, the blonde Mégane Lopez and the lucky Ryan Benetti magically find themselves in her living room. The two young women offer all their orifices to the young man for a very exciting threesome.
Barely recovered, Bella Tina decides to continue this experiment which seems to take control of her life much more than she would like. Without really knowing how or why, she finds herself in the same room as Katrina Moreno, a very pretty brunette with impressive breasts. Until now, Bella had only had sexual relations with men. What if this new freedom allowed her to try new things? Between sensual caresses and languorous kisses, here is a scene, even virtual, that she will not forget soon.
AND IF ALL THIS WAS JUST A DREAM?
Bella's new neighbor, Cindy Shine, has regular problems with her plumbing but Tommy Cabrio, the best plumber in town, is rarely available. Also, for once she could arrange an appointment with him, she intends to take full advantage of the situation. The young man is very seductive and there is a strong bet that he largely takes advantage of his charms to seduce his female customers. Bella decides to give a small help to the destiny by imagining how this meeting could take place. Apparently, the young man is as skilled with his hands as with anything else.
It's been a month since Bella Tina moved into her new home and she seems to have become totally addicted to her new toy. She wanted a change of environment, and now she has it. Before taking a break, why not treat herself one last time by inviting John and Tommy to join her in her own fantasies? Two men just for her... nothing better to forget a failed love story. What if this whole story wasn't really Bella Tina's?
More Information

| | |
| --- | --- |
| Playable | Worldwide |
| Director | Alis Locanta |
| Studio | Marc Dorcel |
| Year of production | 2022 |
| Duration (min) | 174 |
| Language | English, French, German, Italian, Polish, Spanish |
| Subtitles | Dutsch, Greek, Portuguese |
| Casting | Bella Tina, Megane Lopez, Katrina Moreno, Cindy Shine, Aya Benetti |
| SKU | 84370 |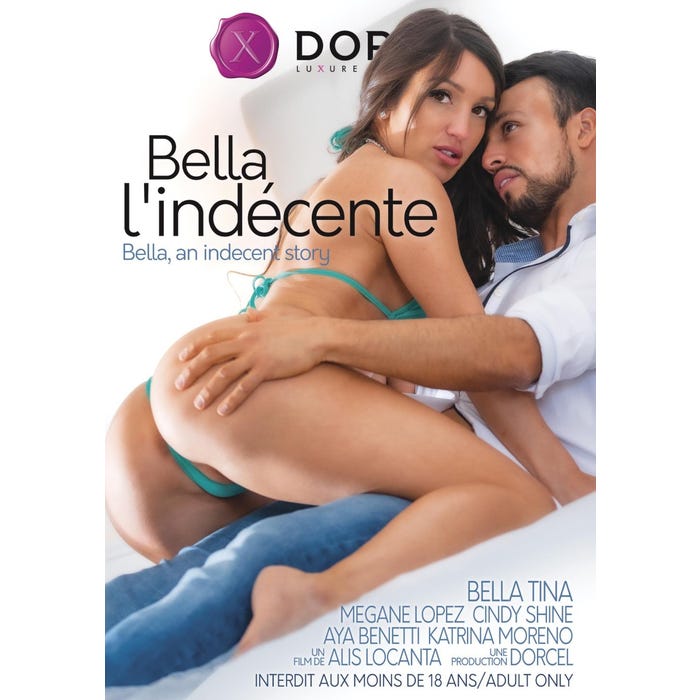 Bella, an indecent story
-0%
Add to Cart