CelineMax 4 Soluble Sachets
Perfect for

Woman

Beginners

Initiated
Boost your sexual appetite, physical performance and concentration in less than 30 minutes with CelineFeline by Claude Aphrodisiacs. Take one sachet 30 minutes before sex and watch your libido increase tenfold! Ideal for women who need a little boost for romantic evenings.
CélineMax is a 100% vegan and organic food supplement.Each ingredient is an aphrodisiac plant, whose properties are known to improve your concentration, and boost your physical performance.
A sachet that will allow you to reveal your sexy and devouring side.
Its almost immediate action allows you to observe an increase in libido and sexual desire in less than 30 minutes, without side effects.
This food supplement made in France is formulated with 100% organic ingredients of agricultural origin.
Properties
Cinnamon: Few people know it but Cinnamon has an action on the libido! It also helps to reduce fatigue.
Maca: Well known, maca is a sexual desire stimulator.It participates in the well-being of the body but also of the mind.
Safran: Uncomfortable? Cold? Saffron soothes mood-related disorders.
Use
Take 1 sachet about 30 minutes before making love.
Mix the powder with any type of drink, cold or hot.
Do not exceed the dose of 1 sachet per day.The sachet can be taken on an occasional basis (no recommended duration of intake).
Composition
For 1 sachet:
Cinnamon ORGANIC* / Lauraceae Cinnamomum verum J.(bark): 2.25 g; Maca ORGANIC* / Lepidium meyenii Walp (root): 1.5 g; Saffron ORGANIC* / Crocus sativus L.(stimate): 28 mg.
Organic* Safflower extract: 1.5 mg.(stimate): 28 mg.
More Information

| | |
| --- | --- |
| Made in | France |
| Dosage | punctual |
| Desired effects | boost libido |
| Number of capsules | 4 |
| Composition | Pour 1 sachet : Cannelle BIO* / Lauraceae Cinnamomum verum J. (écorce) : 2,25 g ; Maca BIO* / Lepidium meyenii Walp (racine) : 1,5 g ; Extrait sec de Safran BIO* / Crocus sativus L. (stimate) : 28 mg. |
| Brand | Claude Aphrodisiacs |
| SKU | 98382 |
| For who | Woman |
alain s. published 04/11/2022 following an order made on 03/17/2022
Fonctionne pas
Response from alain s. the 07/07/2022
Merci 🤣🤣
Display exchanges
Anonymous customer published 04/02/2022 following an order made on 03/08/2022
Aucun effet, nul
Response from dorcelstore.com the 07/07/2022
Bonjour, Nous vous remercions grandement pour votre avis et vous prions de bien vouloir nous excuser pour cette mauvaise expérience. La satisfaction de nos clients étant notre priorité numéro un, nous aimerions vous conseiller correctement lors de votre prochain achat. C'est pourquoi, nous vous invitons à prendre contact avec notre service client par téléphone ou directement par email depuis notre FAQ avant de passer votre prochaine commande. Cordialement, Le service client Dorcel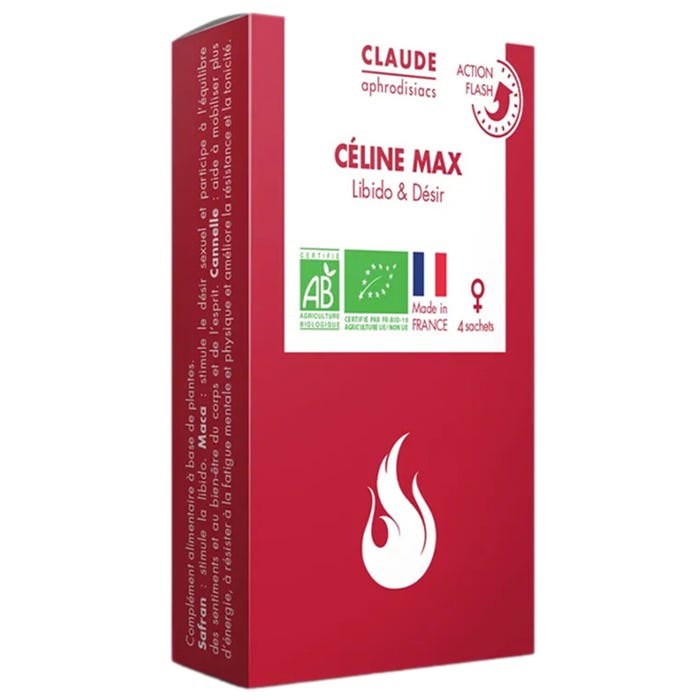 CelineMax 4 Soluble Sachets
-15%
Add to Cart
For a total minimum of purchase of €99.00