Non privilege price

€34.99
!
Benefit from 10% now and all year round on ALL products by subscribing to the Privilege Service and many other advantages!
Clara Mia has finished her studies, she can finally enjoy life and meet new people. The Frenchwoman reveals herself under the camera of Alis Locanta...
CLARA MIA IS READY TO LIVE ALL HER FANTASIES
Clara, 22 years old, is a young French student who has decided to finish her studies in sociology at the University of Barcelona. To finance her studies, like many of her friends, she was forced to take on a series of odd jobs. Barmaid, DJ or "sandwich lady", she did everything or almost. For the past few weeks, she has been working for a cleaning company that manages hotels as well as private homes.
Today, Clara has to go to Tommy's sumptuous home. When she arrives, the young woman is amazed by the luxurious villa. It is by far the largest house she has been in since she started working. Its owner is a young wolf of finance who at first sight does not leave her indifferent.
After cleaning everything up, Clara thinks it would be a shame to leave without taking a chance with the young man. Thus, she presents herself in front of him half-naked while he is still working on his files. In front of Clara's perfect body, Tommy decides that it's time for him to take a well-deserved break and to get to know the pretty tattooed brunette better.
A FRIENDSHIP UNDER THREAT
Every Saturday night, Clara spends the evening with her best friend Chloe. The girls have had the same ritual for the past three years. Chloe comes over, they order pizzas and watch a movie together, and then they sleep in. It's the perfect opportunity to tell her about her naughty date with Tommy. The next morning, while Clara is still asleep, Chloe starts to look through her phone... but for what reason?
Behind her angelic appearance, pretty Chloe has decided to put her own interests ahead of her friendship. After getting Tommy's number, she decides to pay him a visit, posing as a financial advisor and offering him the biggest investment of his career. When she arrived, Chloe didn't expect the young man to be in the company of James, one of his partners.
When the two men discover Chloe's stratagem, she finally decides to come clean. To make up for her intrusion and the time she made them waste, she suggests they take a break and relax with her. A little surprised, Tommy and James have a hard time keeping their composure when Chloé starts to undress in front of them. After all, it is not the first time the two associates make love with the same woman so they might as well enjoy the moment.
AN UNEXPECTED ENCOUNTER
Today, Clara starts a new mission in one of the hotels of the city. Contrary to the villas which are generally rather well arranged, the customers of the hotels do not absolutely consider the work of the cleaning ladies and leave their rooms in a dirty state. While she starts to tidy the room, the pretty brunette realizes that there is still someone in the bed. Deeply asleep, Candie did not hear her when she knocked. Clara was sure she saw the sign asking to do the room hanging on the door handle. As she was about to go out again, Candie offered her to stay.
Despite the unusual circumstances, the two young women begin to get to know each other better. Clara learns that her new friend accompanies her husband on his business trips but spends her days alone until he finishes his meetings. After her day's work, Clara offers Candie a tour of the area. These few hours spent together have allowed the two young women to get to know each other better and a certain attraction has brought them closer than they expeced. Until now, Clara had never had the opportunity to make love with another woman. Finally, she doesn't regret having entered that room by mistake.
A NEW LIFE BEGINS
Since that day, Clara has found it hard to forget the experience and would love to do it all over again. Unfortunately, Candie and her husband have to leave soon, and they won't have the opportunity to meet again. Faced with Clara's disappointment, Candie suggests a little game. When Alex, her husband, finally comes home, the young woman discreetly films their lovemaking while Clara watches them on her phone. Even if she can't participate, this is a very exciting way to have fun, alone in her room while her friend makes love with her husband. We can imagine that knowing that her girlfriend is watching them has greatly increased her own desire.
The following Saturday, as usual, Clara and Chloe spend the evening together. However, Chloe's attitude has changed. She admits to her friend that she has been looking through her phone to get closer to Tommy. Since then, she even started dating James, his associate. To make amends, Chloe offers to meet James. Clara accepts, on the one condition that she can also get down to business with the two lovers. The two young women had never really made love together, here is the perfect opportunity...
More Information

| | |
| --- | --- |
| Playable | Worldwide |
| Director | Alis Locanta |
| Studio | Marc Dorcel |
| Year of production | 2022 |
| Duration (min) | 140 |
| Language | English, French, German, Italian, Polish, Spanish |
| Subtitles | Dutsch, Greek, Portuguese |
| Casting | Clara Mia, Candie Luciani, Chloe Duval |
| SKU | 84854 |
Anonymous customer published 11/04/2023 following an order made on 10/17/2023
Clara est tellement belle bon film
Thierry B. published 09/28/2023 following an order made on 09/11/2023
Sublime film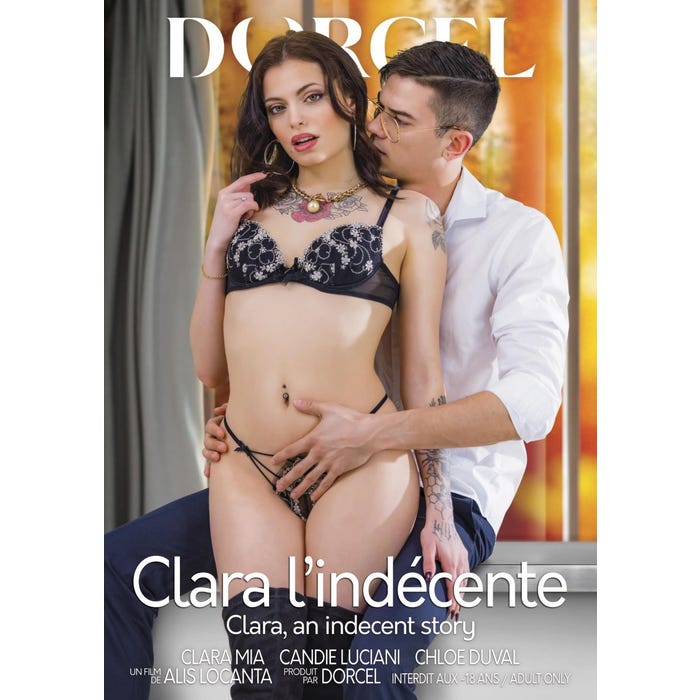 Clara, an indecent story
-0%
Add to Cart