Non privilege price

€34.99
!
Benefit from 10% now and all year round on ALL products by subscribing to the Privilege Service and many other advantages!
Lana has two passions in life: making the best coffee possible and fantasising about her customers. A film by Liselle Bailey for Dorcel starring Lola Bellucci and Mariska.
PREFACE
Lana (Lola Bellucci), an aspiring writer and barista, has two passions in life: making the best coffee possible and fantasizing about her customers. As the manager of one of the most renowned cafes in town, she spends most of her time behind the counter, preparing the coffee that her most loyal customers crave, or in the back room, managing her supplies. Whenever she has a free moment, Lana also tries to write an erotic novel, but the manuscript isn't progressing, and no publisher trusts her enough to publish it. Her inspiration mainly comes from the people she encounters on a daily basis. Whether it's her customers or, like every morning, the handsome deliveryman James Duval, Lana tries to imagine their lives and incorporate them into her story.
CHAPTER 1 : MISS REESE
Miss Reese (Carollina Cherry) is a teacher. Every morning, she arrives impeccably dressed, her arms loaded with her textbooks. But who is she really when her day ends? Is she as shy and reserved as her attire and demeanor suggest, or does she meet her lover once the classes are over? What are her fantasies, and most importantly, why does she have red marks on her wrists? And what if Miss Reese were a practitioner of BDSM pleasures? Does she enjoy being restrained before her lover takes her, at her request, without mercy?
CHAPTER 2 : THE HANDSOME STRANGER AND THE UNLIKELY COUPLE
He may not come every day, but with each of his visits, Lana can't help but fantasize about the muscular, dark hair stranger (Max Deeds). When he arrives, Lana loses all her composure. Being single for too long, she no longer knows how to react when she's attracted to a man, and with him, it's even worse. Without his knowledge, she always reserves the same table to be able to watch him while working. Studying psychology, he spends all his time between the university and the café. Lana knows nothing about his personal life, but she can perfectly imagine dedicating an entire chapter to him and, most importantly, incorporating her own desires into it.
Among the regular customers, there is an unlikely couple, a stunning blonde with a dreamlike body (Alexis Crystal), always on her phone, and an older man. They never speak to each other and seem to dislike each other more than they love each other. Clearly, nothing is going well for them, and yet, they don't part ways. For Lana, the blonde is too beautiful for this man; she must be interested only in his bank account, there's no other explanation. And what if this man's fantasy is simply to watch his partner make love with other men?
CHAPTER 3 : THE BOSS
Among her regular customers, Lana is fascinated by the one she nicknamed "The Boss" (Mariska). Always well-dressed, seemingly confident, and busy, this customer always takes the time to visit Lana to get her morning coffee before heading to the office. Lana has also noticed that every time, this stunning brunette is accompanied by a different man. A colleague? A lover? In any case, if the rendezvous doesn't go as planned, "The Boss" always has a backup plan. An urgent call, a meeting... This morning, to change things up, she arrived with another woman, a tall blonde with a shy smile (Alice Martin). Tonight, Mariska has a meeting at a private club with a friend. This is the perfect opportunity for her new employee to get to know her better...
EPILOGUE
What excites Lana the most is not so much the physical appearance of her protagonists or partners, but rather the situations. By encountering and fantasizing about all these different people during her long workdays, Lana almost forgets about her private life. Until now, she had been living her romantic and sexual life through others. Now that her manuscript is finished and she has sent it to various publishing houses, all she has to do is wait for a response and focus on her personal life. And what if love is much closer than it seems?
More Information

| | |
| --- | --- |
| Playable | Worldwide |
| Director | Liselle Bailey |
| Studio | Marc Dorcel |
| Year of production | 2023 |
| Duration (min) | 175 |
| Language | English, French, German, Italian, Polish, Spanish |
| Subtitles | Dutsch, Greek, Portuguese |
| Casting | Lola Bellucci, Mariska, Carollina Cherry, Alice Martin, Alexis Crystal |
| SKU | 84894 |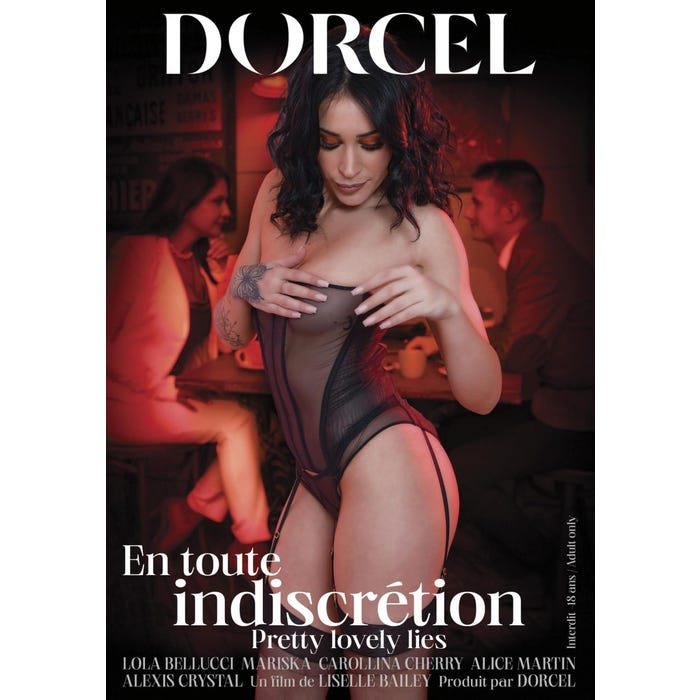 Pretty lovely lies
-0%
Add to Cart