Privilege price

€31.49
!
Benefit from 10% now and all year round on ALL products by subscribing to the Privilege Service and many other advantages!
Liya is found unconscious and amnesiac on a beach. She must now remember and rediscover all the forgotten pleasures.
LIYA SILVER, AMNESIAC BUT NOT AS INNOCENT AS IT SEEMS
Alberto, is a handsome Spanish man who pleases women and maintains his body. To keep in shape, he jogs every morning on the seashore. This morning, while he is running like every day, he notices a young woman who passed out on the beach. As no one seems to care about her, he decides to go to her aid and take her home.
A few moments later, the young woman wakes up but seems to have completely lost her memory. After having taken a shower and put on the clothes that the young man prepared for her, Liya Silver joins him in the kitchen to thank him. Although he is in a relationship, Alberto cannot resist the dream body of his surprise guest and gives in to temptation. Who could say no to such an invitation to pleasure and debauchery?
Anastasia Brokelyn and Nick have been together for almost a year and everything seems to be going well. Busy with their own work, they don't get to spend much time together, but that doesn't seem to bother them.
Today Nick is at Katrina Moreno and Tommy's house trying to sell them some good investment solutions. As a financial advisor, his job is to give his clients the best advice so that everyone wins. Unfortunately for him, the day doesn't start out well because despite all his arguments, the couple doesn't seem to be interested. As the meeting comes to an end, the young woman seems to have been much more interested in the salesman than in what he had to sell.
To prove it, she comes back to the salon in an outfit that leaves no doubt about her intentions towards him. Tommy and Katrina have a very free relationship and for once they have some time and a partner, they are not going to let their chance to have a good time pass. A little surprised, Nick thinks that if he's going to lose a contract, he might as well take advantage of the fringe benefits that are offered to him on a platter.
ANASTASIA BROKELYN, A SHRINK WITH VERY PARTICULAR METHODS
Still not having recovered her memory, Liya spends her days at Alberto's. Sometimes she has flashbacks but they are only details. She has no clear memory of her old life. This makes her unhappy, so she decides to seek help from a psychologist in the hope that she will be able to put her life back together. Anastasia is the best professional in the area and through her secret relaxation techniques, Liya begins to relax and regain control of her memory. To thank Anastasia, the pretty Russian offers to show her the full extent of her talents. There is no doubt that she loves men as well as women.
EVERYONE HAS THEIR LITTLE SECRETS
Despite appearances, Anastasia and Nick's relationship isn't as perfect as it seems. But neither of them is ready to reveal their secret to the other. That same night, while his wife is sleeping, Nick finds Ariana Van X, a pretty brunette willing to do anything to spend the night with her lover, even if it means breaking into his house in the middle of the night. Surprised to see that her husband is no longer in bed, Anastasia discovers his terrible secret but lets him enjoy the moment, herself being very excited by the situation.
As the days go by, even though her condition has improved, Liya still hasn't recovered her memory. To her surprise, Anastasia comes to visit her and seems to know Alberto very well. The way she looks at him makes it clear that they are more than friends. The two young women reminisce about the fun times they had in Anastasia's office and decide to show Alberto all the progress they've made together. What better way to start the day than with an impromptu threesome with these two beautiful ladies? And what if these adventures help Liya regain her memory?
More Information

| | |
| --- | --- |
| Playable | Worldwide |
| Director | Alis Locanta |
| Studio | Marc Dorcel |
| Year of production | 2021 |
| Duration (min) | 175 |
| Language | English, French, German, Italian, Polish, Spanish |
| Subtitles | Dutsch, Greek, Portuguese |
| Casting | Liya Silver, Anastasia Brokelyn, Ariana Van X, Katrina Moreno |
| SKU | 84522 |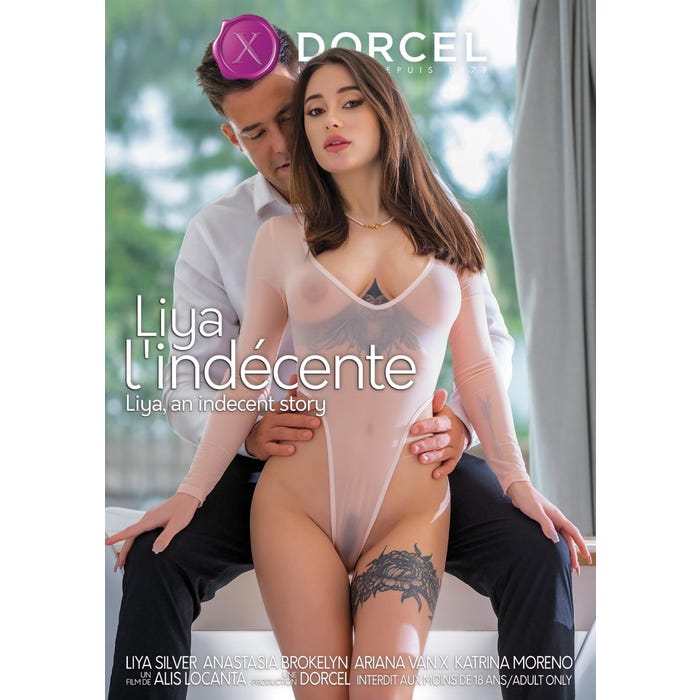 Liya, an indecent story
-0%
Add to Cart
For a total minimum of purchase of €99.00