Luxure my wife's impulses
Whether with a man or a woman, nothing excites these couples more than sharing all their fantasies.
PLEASURE AT ALL COSTS
For all these couples, desire and pleasure have no limits. What excites them more than anything else is sharing their intimacy with strangers, men or women, to increase their sensations and live new experiences, each more exciting than the next.
Lana Roy and Freya Mayer have been friends for some time and although Freya is married, the two young women love spending time together and having new experiences. Tonight, while waiting for husband Ricky to come home, the two young women decided to spice up their relationship a bit by throwing a leather, chain and lingerie party. After Freya ties up her girlfriend for some sweet and very hot foreplay, the blonde and brunette get ready for their partner's arrival.
After turning him on together, Freya leaves the field open for her husband to take care of her girlffriend. Nothing turns her on more than watching Ricky take pleasure in another woman. Lana, on the other hand, is a true expert in anal sex and is determined to give her the best show of her life. Satisfied with what she sees, Freya wants to have the last word and comes to replace her friend between the arms of her man. She likes to watch, but she also wants to participate. It is often said that pleasure is only worthwhile if it is shared. This threesome is the perfect proof.
THEIR SECRET: KEEPING THE DESIRE ALIVE
Cléa Gaultier and Paulo Bangkok are lucky enough to live in a huge villa and enjoy the sun and their pool every day. They regularly invite friends to make the most of this exceptional place. Today, Paulo has reserved a surprise for Clea by inviting the pretty Lola Bellucci to join them for an afternoon of relaxation and shared pleasures. Blindfolded, Clea discovers her surprise of the day and intends to thank her companion in her own way. Eager for new sensations, the two young women are determined to take advantage of the situation and to give as much pleasure to their partner as they will take.
The day after their adventure with Lana Roy, Ricky Mancini and Freya Mayer decide to change the rules of the game. Ricky had enjoyed the charms of two beautiful women, tonight it's Freya's turn to have two studs all to herself. After having raised the temperature with Mike Hilton while her husband watches, the latter does not delay to join them for a passionate and intense threesome. It was a fun-filled evening they'll never forget.
UNLIKELY ENCOUNTERS
Cherry Kiss and Tony Carrera have a habit of choosing their playing partners together and today is no exception. While consulting a specialized site, they select the profile of Tommy Cabrio. The same evening, the young man joins the couple for a very particular dinner. Cherry Kiss knows what pleases men and she is well decided to show them all the extent of her capacities. Giving pleasure to others is a good thing, but if she can also take some while being sodomized, it's even better.
Tiffany Leiddi and Ricky are in the back of a car. The couple has just reunited and they just want to make love. The presence of the driver does not seem to disturb them. The young woman, half naked, sucks her companion while knowing that their driver does not miss a crumb of what happens on the back seat. Finally arriving home, they invite the man to join them and finish what was started in the vehicle. This is a proposal that any man would be unable to refuse. It is necessary to say that the curves of Tiffany would make crack anyone. Here is a driver who has largely earned his day.
More Information

| | |
| --- | --- |
| Playable | Worldwide |
| Director | Hervé Bodilis |
| Studio | Marc Dorcel |
| Year of production | 2022 |
| Duration (min) | 118 |
| Language | English, French, German, Polish, Spanish |
| Subtitles | Dutsch, Greek, Portuguese |
| Casting | Freya Mayer, Lana Roy, Cherry Kiss, Clea Gaultier, Lola Bellucci, Tiffany Leiddi |
| SKU | 84634 |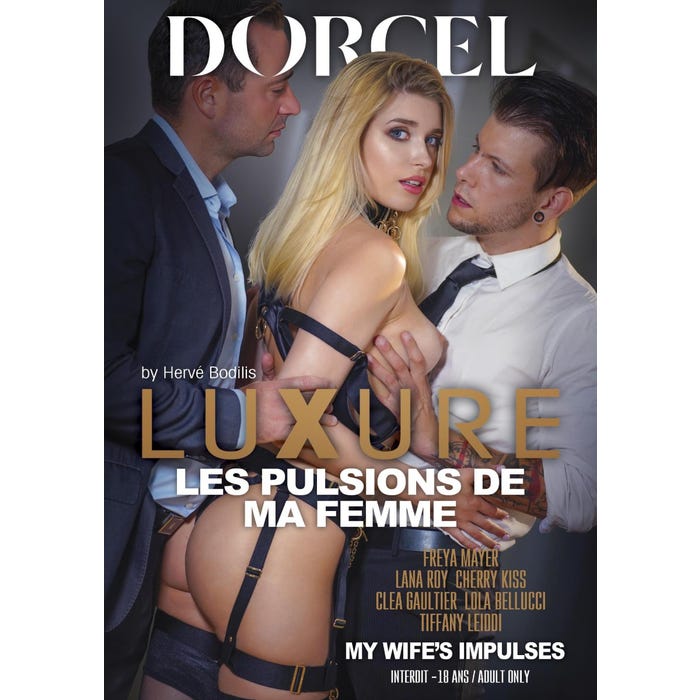 Luxure my wife's impulses
-57%
Add to Cart