Luxure my wife's obsessions
For these couples, pleasure is only worthwhile if it is shared, whether with another man, another woman or even several partners at once.
PASSION AND DESIRE ARE THE RHYTHM OF THEIR LIVES
Ginebra Bellucci and Ricky Mancini are madly in love with each other and although they have been a couple for a long time, passion and desire are always present. They have indeed managed to find solutions to prevent routine from settling. Varying the pleasures is one of them. Tonight, the beautiful Spanish woman put on a set of lingerie that Ricky offered her especially for a very particular occasion. While the young thought they'd spend a romantic evening together, Ricky tells her that he had a small surprise for her. While she waits for him on the bed caressing herself, Ginebra discovers with envy that another man was invited to share their frolic. Here is what to spend an excellent evening. Axel Reed, the guest of the evening, discovers with pleasure that apart from her talents in fellatio, the young woman is also a real adept of anal sex and double penetration.
On their side, Bella Tina and John love to give presents to each other. The day before, John invited a stranger to join them for a totally improvised threesome. To thank him for this attention, Bella Tina brings him breakfast in bed as well as a small surprise. It's been months since her friend Clara Mia, whom she met in yoga class, has been flirting with her and the fact that the pretty brunette is already in a relationship doesn't seem to bother her at all. Knowing that John would never refuse such an opportunity, Bella TIna has already taken the lead by inviting her friend to join them that evening. Clara, who was just waiting for this, dressed especially for the occasion with an outfit that left little doubt about her intentions. John, who certainly did not expect that his two partners were so complicit during this long moment of pleasure waited patiently that Clara left to thank Bella Tina as it should be.
THEIR FANTASY: MAKING LOVE TO OTHER PARTNERS
Tonight, Tiffany Leiddi discovers with pleasure the set of lingerie that Ricky Mancini offered to her without any apparent reason. However the young woman is not dupe and suspects that her husband has another surprise in store for her. The couple has the habit to invite other partners to share their moments of intimacy. Today, it is Joss Lescaf who has the chance to join them. By way of preliminaries, Tiffany takes the sex of her guest in mouth for a fellatio for which she has the secret. Very excited by this scene, Ricky cannot be satisfied just looking at them joins his wife and her lover for a very intense threesome. It should be said that the curves of his partner and her exacerbated libido are such invitations to the pleasures of the flesh that any man would make a duty to satisfy her the way she deserves.
Tina Kay and Luke Hardy are a very free couple. This relationship allows them not to fall into a routine and to live their unbridled sexuality to the fullest. Tonight it's the young woman's turn to realize one of her greatest fantasies: to make love with several men at the same time. Of course, she already tried the experience with two men but it is the first time that she offers herself to three studs. Simply dressed in a set revealing her perfect curves, the English beauty quickly takes the initiative. To make the most of this experience, she then lets the three men take her, each in turn, through all her orifices, even letting them sodomize her deeply before letting them cum on her magnificent body.
THEY ARE ENJOYING THE MOMENT TO THE FULLEST
Because of her husband's regular business trips, Ginebra Bellucci doesn't spend as much time with him as she would like. However, the couple has made it a habit to make the most of their long moments of separation while pleasing each other. Tonight is almost a night like any other but the young woman decided to take pleasure on her side while thinking of the desire of her boyfriend. So that he does not miss anything of the frolics of his girlfriend, Ginebra thought of filming absolutely everything that was going to happen in his absence. Their sexual games often involve other partners and today the pretty Spanish girl invited Luke Hardy and Axel Reed to comfort her in their way during this long moment of solitude. The two men, met in a bar a few hours earlier did not suspect for a moment that they would have the opportunity to share the body of this beautiful "bachelor". You can bet her boyfriend will find a way to make it even.
More Information

| | |
| --- | --- |
| Playable | Worldwide |
| Director | Hervé Bodilis |
| Studio | Marc Dorcel |
| Year of production | 2021 |
| Duration (min) | 125 |
| Language | English, French, German, Polish, Spanish |
| Subtitles | Dutsch, Greek, Portuguese |
| Casting | Ginebra Bellucci, Bella Tina, Clara Mia, Tiffany Leiddi, Tina Kay |
| SKU | 84452 |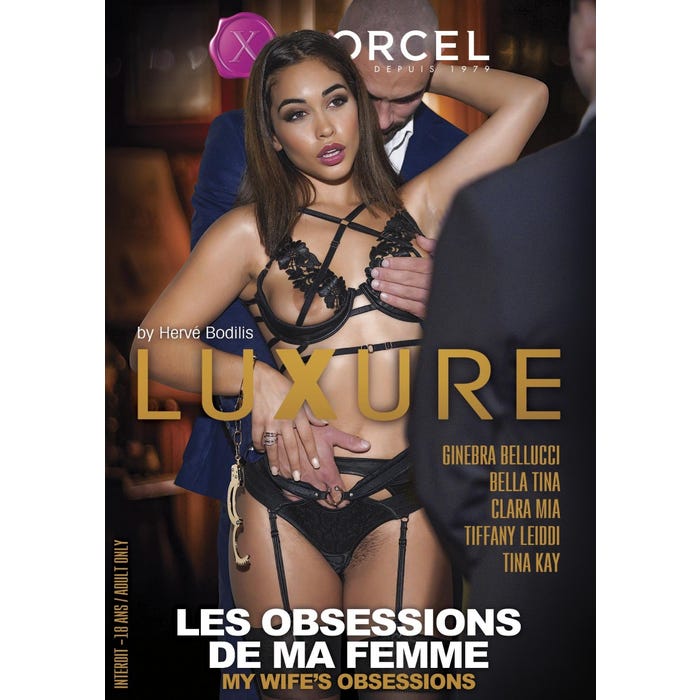 Luxure my wife's obsessions
-67%
Add to Cart