Non privilege price

€34.99
!
Benefit from 10% now and all year round on ALL products by subscribing to the Privilege Service and many other advantages!
Their sexual urges are so strong that they will do anything to satisfy them. A film directed by Franck Vicomte, which offers you the opportunity to discover the delightful Clemence Audiard.
THEY LIVE THEIR DESIRES TO THE FULLEST
Today, Linda Leclair decided to play her favorite game. She loves to go out of town on weekends but hates to commute alone. For some time now, she's registered with a carpooling website and regularly takes passengers with her. This saves her money and allows her to meet new people. This afternoon, she gave Totti and Charlie Dean a ride on her route. However, on this beautiful sunny day, the pretty blonde decided to make an unexpected stop in a quiet place to enjoy the presence of these two men. The latter are a little surprised when Linda starts caressing herself in front of them while driving. All their doubts fly away when she stops on a deserted road and orders them to take care of her otherwise, she will leave them without any remorse on the side of the road...
For some time, the pretty redhead Clémence Audiard has had her eye on her new neighbor but has never had the opportunity to approach him. He is often away on business trips, and she has not yet found a valid reason to talk to him. This morning, however, everything may change. While she's showering, a delivery man rings her doorbell to ask if she can take a package for her neighbor. This is the perfect opportunity to finally get to know each other better. When she saw him leave this morning with a simple attaché case, she knew he would be home later that day. So she decided to leave a note on the door for him to come and pick up the package. When she opens the door for him, the outfit she wears hides nothing of her body... nor of her intentions.
WHY RESIST TEMPTATION?
A gym is a great place to meet new people with at least one common interest. As she finishes her daily session with her coach, Alika returns to the locker room and discovers with surprise that she is not alone after all. Mary Bambola, a brunette with more than perfect curves, is undressing to take a shower after her session. Until now, Alika had never fallen under the charm of another woman at first sight but her previous meetings were done in public places, in other circumstances. Why not take full advantage of the current situation and offer her to take a shower together and more if all goes well?
Kristof Cale and Natalie Grace have been in a relationship for a few years and their sex life is in good shape. To maintain the flame one or the other always manage to surprise their partner. Tonight, while they're having a good time at a select club in the city, Natalie has a little surprise for Kristof: a vibrating remote-controlled sextoy that she decides to test on the spot despite the crowd. Kristof barely has time to play with the remote control when his girlfriend, too excited by the situation, drags him to a quieter corner of the club to get down to business. Why settle for an object when you can have a man on hand?
THEIR URGES ARE STRONGER THAN ANYTHING
Candee Licious and Veronica Leal are both office mates and best friends. Their special relationship helps them overcome the almost daily problems they have with their superiors. To unwind a bit after work, Veronica asks her friend to join her that evening on a date with a man she's been seeing recently. At first a little surprised by this impromptu threesome proposal, Candee ends up accepting. Although they know each other by heart, the two friends had never done anything serious together before. This is the perfect opportunity for them to have new experiences that neither of them would soon forget.
More Information

| | |
| --- | --- |
| Playable | Worldwide |
| Director | Franck Vicomte |
| Studio | Marc Dorcel |
| Year of production | 2023 |
| Duration (min) | 122 |
| Language | English, French, German, Italian, Polish, Spanish |
| Subtitles | Dutsch, Greek, Portuguese |
| Casting | Clémence Audiard, Candee Licious, Linda Leclair, Mary Bambola, Alika, Natalie Grace, Veronica Leal |
| SKU | 84881 |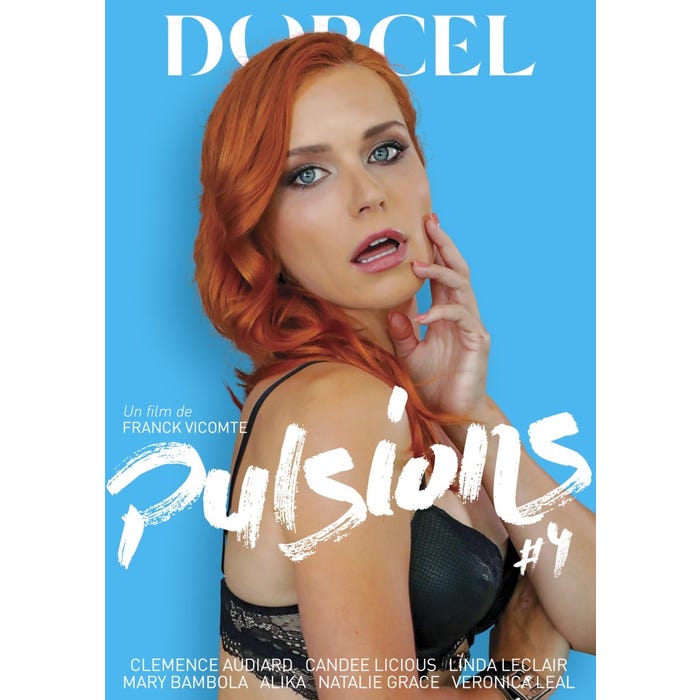 Impulses 4
-0%
Add to Cart