Satisfyer Pro 2 Next Generation
Privilege price

€51.26
!
Benefit from 10% now and all year round on ALL products by subscribing to the Privilege Service and many other advantages!
Perfect for

Clitoral

Woman

Beginners

Initiated
The must-have contactless clitoral stimulator, the reference in clitoral stimulators with 11 vibration modes. Thanks to its pressure waves, it allows multiple and intense orgasms in just a few minutes. It is fully waterproof, which allows you to use it in the shower or bath.
THE SATISFYER PRO 2 NEXT GENERATION IS THE REFERENCE FOR CLITORAL STIMULATORS.
Complementary to vibrators, the Next Generation is the latest sextoy in the generation of clitoral stimulators.
Stimulate your clitoris like never before with innovations. The Satisfyer Next Generation brings its share of new features. It's much quieter than its predecessors. There's no need to alert the neighbours when you're enjoying yourself. Only your screams of pleasure will be likely to alert your neighbors!
Now you have easier access to the button to manage the intensity of the Satisfyer waves. The handling is much easier and faster. According to your desires, you can raise or lower the intensity of the pulse waves and suck around your clitoris. You will then be able to manage more easily the rise of your orgasm!
THE CLITORAL STIMULATOR AT THE CUTTING EDGE OF TECHNOLOGY!
WAVES OF SOFTNESS
Its interchangeable oval tip is specially designed for even more comfort. This new technique of stimulation by suction waves, combined with pulses, guarantees multiple orgasms and tenfold pleasure.
11 MODES TO REACH 7TH HEAVEN
The intuitive handling of the Satisfyer reveals control buttons to play with its 11 pulse modes. Feel like softness, quiet strength, intermittent or wild pressure? It's up to you to take control, until you lose it completely... and on purpose.
A WATERPROOF PLEASURE
The Satisfyer materials are perfectly waterproof, allowing you to explore new horizons... Make the atmosphere of your Valentine's Day wet by slipping into a hot bath, a jacuzzi or under a hot shower: with your Satisfyer nearby, the waves will multiply tenfold underwater and propagate within you. More powerful orgasms guaranteed thanks to the patented technology deployed by the Satisfyer. To try it is to ask for more.
Adjustment button
Simplicity and efficiency
A sextoy easy to use
Adapted head
Interchangeable tip
Safe silicone tip
100% waterproof for wet naughty games
A SMALL BUT VERY POWERFUL SEXTOY!
Be careful not to come too fast, the Satisfyer Pro 2 Next Generation is very powerful!
Another important detail, the size of the silicone head, which is placed around your clitoris, has been reworked and increased. More comfort, for even more pleasure! All you have to do is settle down comfortably, take your new sextoy in your hand, place it around your clitoris, press the on button and give yourself over to intense pleasure. Naughty games for clitoral women, or for those who want to discover the intensity of a clitoral orgasm.
EXPERT OPINION: THE SATISFYING PRO 2 PROMISE
The Satisfyer Pro 2 clitoral stimulator takes up the crazy challenge of making us come in a few moments.
For those who don't know it yet, it is a 17 cm long clitoral stimulator, with a rather rounded handle, a shape that I find very pleasant. The charger simply magnetizes itself at the end of the handle and connects to a computer or a plug (for me it's much more practical than batteries!) and recharges in about 2 hours and a half.
Two buttons are within our reach on the back of the handle: the power button to turn on and off with a press of about 2 seconds and a slightly larger button that allows us to change programs and choose the one that suits us. I found it very quiet, and it changes a lot of sextoys that spoil everything by the engine noise they make!
The head of the device is made of high-end silicone for a hypoallergenic use which corresponds to all skin types, sensitive and more neutral. As for the rest, a rigid plastic that is pleasant to the touch makes it easy to use and wash. Moreover, I used a cotton swab which allowed me to clean it deeply but delicately. I recommend this trick!
So, we ask ourselves: how does it work? It's simple! No direct contact on the clitoris, no tension but just a light suction and pressure waves, sensations provoked by the various vibrations.
To explain it even better: I delicately place the satisfyer between my legs at the level of my genitals so that the tip surrounds the clitoris. To power up the beast, press the power button for a few seconds. It will be the same action to turn it off.
The Satisfyer Pro 2 does not need to touch your clitoris, it just has to encircle it, its opening being made for it. The contact of these impulses, aspirations provoke an intensity that makes you cum in no time. As far as our differences are concerned, the 11 programs will do the rest! They are from the softest to the strongest, recognizable from each other. A friend of mine told me that the vibrations proposed with the satisfyer pro 2 were even more precise and strong. All the better!
In fact, these programs correspond perfectly to the sensitivity of our clitoris, all different as we are. The only important thing to note is not to move too much: the sensitivity is so strong that a crooked Satisfyer pro 2 could ruin all your pleasure (well... before starting again of course).
It's crazy how in less than 20 seconds you can reach orgasm under the blanket or in the bath: you've read correctly, the Satisfyer is totally waterproof! You may find me hard to believe but once you try it, this incredible object is very quickly adopted.
The only question we can ask ourselves about the Satisfyer pro 2 is: how is it possible? Before you even get an answer, you will have cummed for the second time, so... Because in your couple or alone, at the bottom of the bed or in the shower, you will be surprised to rediscover or make others discover orgasms so intensely.
More Information

| | |
| --- | --- |
| Composition | Silicone |
| Length in cm | 15 |
| Diameter in cm | 4.5 |
| Résistance à l'eau | Waterproof |
| Battery Type | USB Charger - cable included |
| Adapté pour | beginner, intermediary, expert |
| Stimulation of | Clitoris |
| Stimulation by | pressure wave/sonic wave |
| Vibrating or manual | Vibrating |
| Color | Pink |
| Brand | Satisfyer |
| SKU | 95831 |
| For who | Woman |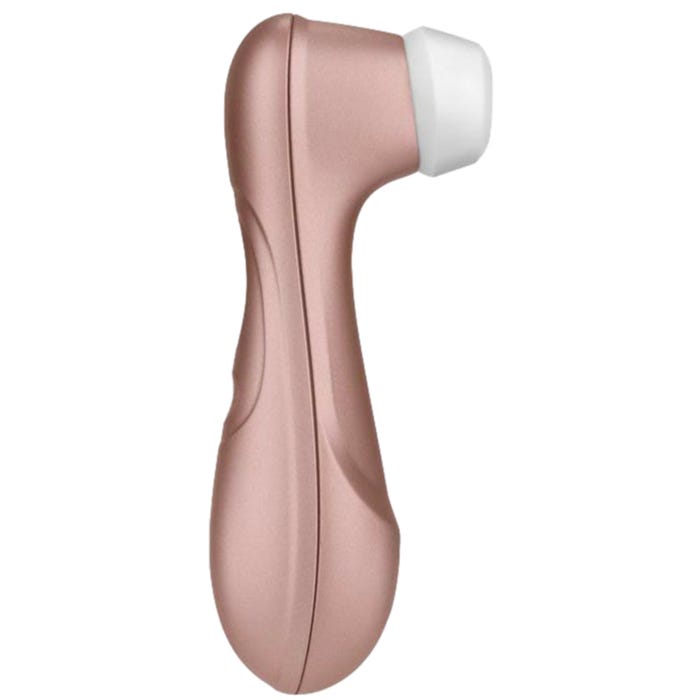 Satisfyer Pro 2 Next Generation
-0%
Add to Cart
For a total minimum of purchase of €99.00