Non privilege price

€29.99
!
Benefit from 10% now and all year round on ALL products by subscribing to the Privilege Service and many other advantages!
Anna Polina's first directing movie for Dorcel. After a painful breakup, Alexandra decides to do everything she can to regain control of her life.
CAROLLINA CHERRY'S FIRST MAJOR ROLE FOR DORCEL
At the dawn of her thirties, Alexandra (Carollina Cherry) seems to be in full bloom. She has a nice career, party friends, a physique that turns heads and a wonderful fiancé with whom she shares her love life and her professional life... Her life seems to be all set. But that's without counting on fate... One morning, Gabriel (Ricky Mancini), her fiancé and partner, leaves her, without any qualms, drawing a line under the last five years spent together. From then on, Alexandra will have to rebuild herself, intellectually and sexually.
Everything had started well. The couple was leading their real estate agency, and to celebrate the signature of a big mandate, Gabriel had organized a very romantic dinner which did not let anything guess of his intentions. To end the evening on a high note, the couple didn't even wait until dessert to make love like they rarely have before, right on the dining room table. Sex was always a cornerstone of their relationship. They had no taboos and the young woman was open to all proposals. The next day, when the day should have started under the best auspices, Gabriel emptied his bag and revealed his true personality. For him, Alexandra is not the woman of his life, their relationship is at a standstill and he does not see himself spending the rest of his life with the pretty blonde.
After this totally unexpected breakup, Alexandra crosses by chance the path of Laura (Cléa Gaultier), a pretty yoga teacher who lives her life day by day, without taking too much into account. Laura introduces her to her group of friends and invites her to join her roommate in her large apartment.
DISCOVERING HER OWN HAPPINESS
The first night, as Alexandra gets up to drink a glass of water, she hears noise coming from her new friend's room. Intrigued, she discovers her in her underwear accompanied by a man (J.P.X) and another young tattooed woman (Clara Mia). Although very liberated sexually, Alexandra had never dared to share her boyfriend with another woman. She decides to let the trio go about their business but can't help imagining them making love in the next room. Although she is very zen in everyday life, Laura shows here that she also knows how to put her dream body at the service of others.
The following day, Laura proposes to Alexandra to come to attend one of her yoga classes. On her side, Lena (Ania Kinski) offers her to come and work as a waitress in her restaurant. After the group yoga class, Laura offers to give her new friend one of her secret relaxation techniques. This session allows Alexandra to empty her bag and to take stock of her life. She also admits that what she saw the night before excited her and that she finally felt the desire coming back to her after her violent break-up. It does not need more so that the two young women take advantage of the occasion to discover themselves more intimately.
After her first service at Lena's restaurant, Alexandra is invited by her new boss to a special party. That evening, she meets Lena in a very private club whose members seem to have very free morals. While visiting the place, she watches couples making love while other guests watch and in the last room, she has the surprise to discover her roommate transformed into an S&M Mistress. She suspected that her friend was a bit whimsical but she would never have imagined that she would find her dressed in leather and giving orders to a man.
ANNA POLINA'S FIRST DIRECTING JOB FOR DORCEL
To Laura and Lena's great surprise, it didn't take Alexandra very long to regain control of her life. It must be said that with such friends, it is easy to find all the positive aspects of life. Just the opposite of what she could feel with Gabriel. Thus, one evening, without warning anyone, Alexandra returned by herself to the libertine club to spend some good time with David Perry and Axel Reed. From now on, the young woman is happy, and that's all that counts.
For her very first directing job for Dorcel, Anna Polina delivers a touching story that is very close to reality. She presents us the life of a young woman in her thirties for whom a breakup is not a fatality and who has only one desire, to give a second chance to her own happiness.
More Information

| | |
| --- | --- |
| Playable | Worldwide |
| Director | Anna Polina |
| Studio | Marc Dorcel |
| Year of production | 2021 |
| Duration (min) | 135 |
| Language | English, French, German, Italian, Polish, Spanish |
| Subtitles | Dutsch, Greek, Portuguese |
| Casting | Carollina Cherry, Clea Gaultier, Ania Kinski, Clara Mia |
| SKU | 84595 |
NICOLAS P. published 10/28/2022 following an order made on 10/09/2022
Agréablement surpris, une belle histoire, de belles scènes de sexe!!!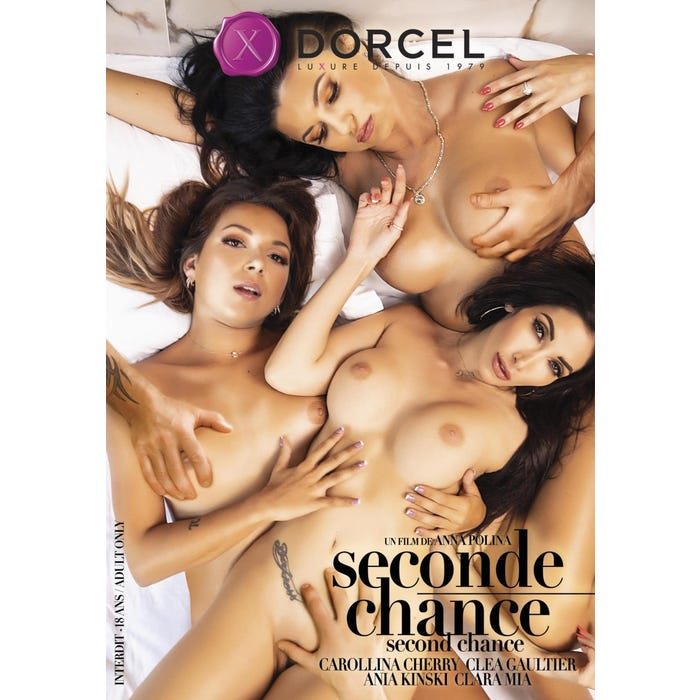 Second chance
-0%
Add to Cart