Non privilege price

€29.99
!
Benefit from 10% now and all year round on ALL products by subscribing to the Privilege Service and many other advantages!
Tina and Justin form a very liberated couple whose libertine morals might surprise you... A film directed by the American Kay Brandt with a delicious cast...
WHITNEY WRIGHT RENCONTRE UN COUPLE SEXUELLEMENT TRÈS LIBRE
Tina (Emma Hix) et Justin (Jay Smooth) habitent une magnifique villa dans un quartier cossu de Los Angeles. Très libérés sexuellement, ils partagent souvent des moments intimes très intenses avec leurs amis. Tous les deux très pris par leurs activités professionnelles, ils ont décidé de faire appel aux services d'une cheffe à domicile pour s'occuper des repas et leur laisser ainsi du temps libre pour leurs activités privées. Aujourd'hui, ils ont convoqué la séduisante Mia (Whitney Wright) pour tester ses compétences durant le weekend d'anniversaire de leur meilleure amie Jenna (Paige Owens). D'abord un peu déstabilisée par les mœurs de ses nouveaux employeurs, Whitney va se révéler très excitée par la situation...
Tina et Jenna entretiennent une relation très particulière. Ce sont les meilleures amies du monde depuis des années et en parallèle, elles ont développé une relation spéciale basée sur le sexe et des jeux de rôle très excitants. Aujourd'hui, Tina joue le rôle d'une professeur très sexy qui doit punir Jenna car cette dernière n'a pas rendu son exposé à temps. Et si cette dernière avait « oublié » de rendre son devoir volontairement ? Pour bien lui faire comprendre son erreur, Tina ne tarde pas à la caresser et à l'embrasser avant que les deux jeunes femmes ne terminent leurs ébats dans la salle de bain. Entre caresses intimes et baisers langoureux, il y a fort à parier que Jenna oubliera de rendre ses devoirs beaucoup plus souvent.
Peu de temps après, Justin, le mari de Tina rentre d'une longue journée au bureau. Quoi de plus excitant que de trouver deux magnifiques femmes nues dans la chambre pour oublier tous ses tracas du quotidien ? Encore toutes excitées par leur jeu de rôle, les deux jeunes femmes décident de lui offrir un spectacle lesbien qu'il n'oubliera pas de sitôt. Très excité, Justin les rejoint et compte bien profiter de l'occasion pour offrir son premier cadeau d'anniversaire à Jenna. Cette dernière adore faire l'amour avec les filles mais elle dit rarement non lorsqu'un homme bien membré lui propose de la sodomiser. C'est d'autant plus excitant que sa meilleure amie la regarde prendre du plaisir en se masturbant. Voilà un weekend d'anniversaire qui commence plutôt bien.
UNE SPÉCIALISTE DE LA CUISINE APHRODISIAQUE
L'entretien de la jolie Mia ayant été plus que concluant, le couple lui a demandé d'emménager dès le lendemain. Une fois installée, la jeune femme part explorer sa nouvelle demeure et va de surprise en surprise, surtout lorsqu'elle découvre Tina et Justin en pleine action dans leur bureau. D'abord un peu choquée, Mia se rend vite compte que même si le mode de vie de ses nouveaux patrons est particulier, elle devrait pouvoir s'adapter rapidement à la situation.
Ses précédents employeurs avaient également des mœurs très ouvertes et Mia fantasmait beaucoup sur eux. Le couple ayant remarqué que Mia les regardait souvent avec insistance, ils lui ont proposé un plan à trois improvisé. Comment résister au corps parfait de la jolie Emily Willis et au sexe tendu de son mari Robby Echo. Derrière son air prude, Mia se révèle finalement être aussi délurée sexuellement que les couples que l'emploient, pour le plus grand plaisir de ces derniers. On dit que la cuisine peut être aphrodisiaque, c'est d'autant plus vrai lorsque que la cheffe y met tous ses fantasmes les plus enfouis.
LE SEXE À PLUSIEURS EST BIEN MEILLEUR
Alors que Mia pensait préparer le dîner tôt et être tranquille, elle apprend que Tina, Jenna, Justin et Ramon ont d'autres plans pour ce début de soirée. Encore un peu intimidée, Mia se réfugie dans sa chambre pour se masturber en écoutant ce qu'il se passe dans la chambre d'à côté. Deux hommes, deux femmes, tellement de possibilités de s'amuser entre adultes consentants. Cela faisait trop longtemps que Tina n'avait pas été prise par deux hommes à la fois. Autant dire qu'elle a bien l'intention de rattraper le temps perdu sous les yeux de sa meilleure amie.
Dans la chambre d'à côté, tout en se caressant, Mia commence à s'imaginer que le plus beau cadeau d'anniversaire de Jenna, c'est finalement elle. Elle s'imagine que Tina et Justin ne l'ont pas seulement embauchée pour cuisiner, mais également pour participer activement à tous leurs ébats libertins. Cette orgie finale permet ainsi à tous les protagonistes de finir ce weekend d'anniversaire en apothéose. Et si Mia emménageait définitivement ?
More Information

| | |
| --- | --- |
| Playable | Worldwide |
| Director | Kay Brandt |
| Studio | Marc Dorcel |
| Year of production | 2021 |
| Duration (min) | 175 |
| Language | English, French, German, Italian, Polish, Spanish |
| Subtitles | Dutsch, Greek, Portuguese |
| Casting | Emma Hix, Whitney Wright, Emily Willis, Paige Owens |
| SKU | 84457 |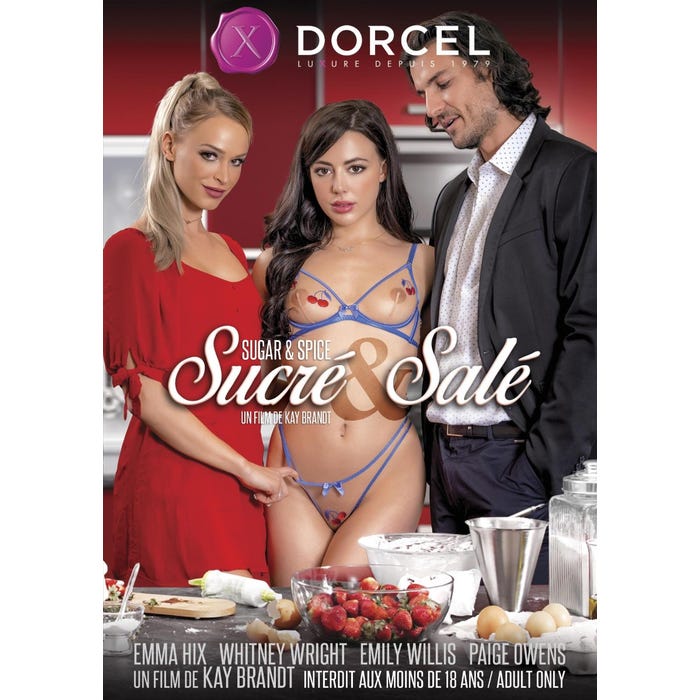 Sugar and spice
-0%
Add to Cart