Privilege price

€31.49
!
Benefit from 10% now and all year round on ALL products by subscribing to the Privilege Service and many other advantages!
Sumptuous villas, luxury cars, yachts, VIP parties... Clea takes care of everything... but what happens in Ibiza stays in Ibiza...
IBIZA, THE ISLAND OF ALL PLEASURES
Since she moved to Ibiza, Cléa Gaultier's business has been booming. When rich clients want to have a good time on the island, they know that the young woman is THE person they need to make the most of their stay. Sumptuous villas, luxury cars, yachts, VIP parties... Clea takes care of everything.
Paulo Bangkok is a young footballer with a bright future whose manager wanted to keep him away from journalists and paparazzi before announcing the signing of the biggest contract of his young career. What better way to relax than to spend his days with two gorgeous girls in a beautiful villa away from prying eyes? Like every year, Lola Bellucci and Cherry Kiss spend their vacations together in the sun. When they met "by chance" the young sportsman, they jumped on the opportunity to combine business with pleasure. It is thus in the swimming pool that the two young women decided to test the endurance of their new play partner. As much to say that to pierce the defense of these two pretty adversaries, Paulo had to prove that he had a well above average cardio.
TIFFANY LEIDDI, CLARA MIA AND CANDIE LUCIANI, THREE INFLUENCERS TO FOLLOW
As soon as the athlete left, Cléa and her partner Tony have to manage the arrival of Tiffany Leiddi, Clara Mia and Candie Luciani, three influencers whose presence and number of followers on social networks should give a lot of visibility to her activities. As soon as they arrive, the three young women realize that this dream location will allow them to offer quality content to their followers and maybe even gain new ones.
Candie and Clara waste no time in meeting new people. On their first night out at one of the island's most famous clubs, they bring home two handsome studs who certainly weren't expecting to end the night so beautifully. After having danced all night, and before resuming their professional activities, the two young women take advantage of this short moment of respite to give themselves body and soul to their two new friends. While they give the impression to be as wise as pictures on social networks, Clara and Candie totally let go when the screens are turned off.
On her side, Tiffany spent the evening alone with a man but everything did not go exactly as planned. She was so excited that she couldn't wait to get to his place. In the middle of the night, in the middle of the forest, she asked him to stop the car to offer him a striptease by the light of the headlights. No man could have resisted to such a show. Once the pretty blonde is completely naked in front of him, Ricky joins her to fuck her without any care on the hood of the car. Everything was going well... until the local police surprised the couple and put an end to their little game.
THEY KNOW HOW TO COMBINE BUSINESS WITH PLEASURE
After their night of debauchery, the three young women decide to rest a little before their photo shoot of the afternoon during which they will have to put forward a new collection of bathing suits. On his side, Tony also tries to take advantage of these few hours of rest until Candie asks him to come to put some sunscreen on her. Although it is not part of his duties, how could he resist this request. To put sunscreen on the pretty brunette's butt in exchange of a moment of pleasure at the edge of the swimming pool, here is a rather fair deal. At Candie's request, the massage becomes a little more intimate than expected and quickly, the couple exceeds the boundaries they had set for themselves.
A few hours later, Clara and Candie meet on a luxury boat for their brand-new sponsor's photo shoot. Very excited to see each other in ultra-sexy swimsuits, the two young women resist all the same until the end of the shoot before being naked together under the shower. Even if they prefer men, the two young women never refuse to take pleasure with another woman when the opportunity arises.
Once the three influencers are back in their plane, Tony discovers with surprise that Paulo, the soccer prodigy is back. It seems that the young man has become addicted to the very special activities on the island. In the absence of Lola and Cherry, Cléa has decided to discover for herself all the sexual abilities of the sportsman. To organize the stay of the others is a good thing, but from time to time, the boss has the right to enjoy herself a little. And then what happens in Ibiza remains in Ibiza...
More Information

| | |
| --- | --- |
| Playable | Worldwide |
| Director | Hervé Bodilis |
| Studio | Marc Dorcel |
| Year of production | 2022 |
| Duration (min) | 90 |
| Language | English, French, German, Italian, Polish, Spanish |
| Subtitles | Dutsch, Greek, Portuguese |
| Casting | Tiffany Leiddi, Clea Gaultier, Clara Mia, Candie Luciani, Lola Bellucci, Cherry Kiss |
| SKU | 84594 |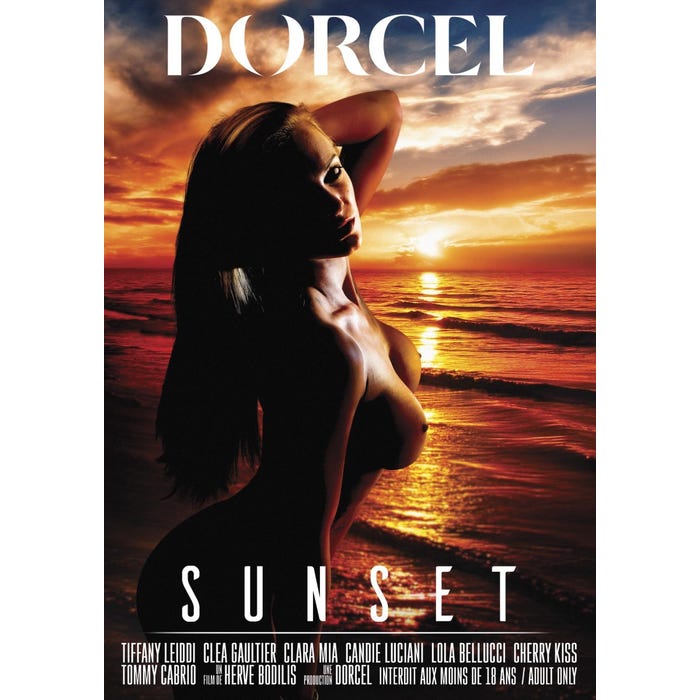 Sunset
-0%
Add to Cart
For a total minimum of purchase of €99.00