Tiffany and Nelly escorts deluxe
For these 5 luxury escorts, if nothing is more important than the pleasure of their partners, they don't forget their own!
TIFFANY TATUM AND NELLY KENT ARE TRUE PLEASURE EXPERTS
Today, Tiffany Tatum has an impromptu meeting with Totti, one of her regular partners. They have known each other for a long time and the rich businessman calls upon the services of the pretty blonde whenever he has the opportunity. It must be said that the young woman is a pleasure expert who knows perfectly well how to satisfy her every desire. While some people like a bit of a fancy scenario, Totti wants only one thing, to make love as if he were with his own wife. The two occasional lovers know each other so well that it doesn't take much more for them to achieve ecstasy. Never knowing when they will have the opportunity to see each other again, they make the most of every moment of pleasure.
For her part, the French Angel Emily does not yet have regular contacts, so she goes through a specialized application to choose her future partners. Tonight, she has set her sights on Kristof Cale, a handsome and well-equipped man. The latter, wishing to share this moment of intimacy with a friend, invited one of his colleagues to join this little evening. They don't have to wait very long before Angel takes their hard cocks in hand... and in her mouth. Although she is a blowjob Expert, the young woman hides other much more intimate qualities. Even if she has two partners at the same time, as long as they can take advantage of all her orifices at the same time. Between anal sex and intense double penetration, the two men will certainly not regret this threesome and there is a good chance that they will recommend the pretty blonde to their other male colleagues.
SEX IS THEIR BEST WEAPON OF MASS SEDUCTION
Although Zazie Skymm never refuses to have fun with a man, nothing excites her more than making love with a woman. Alone at home waiting for her husband's return from a business trip, she decides to call upon the skills of Lulu Love to have a good time. According to her profile, Lulu is an expert in sapphic games and knows perfectly all the techniques to make a woman come. Between caresses, tongue games or sextoys, the two young women will allow themselves all possible pleasures... until the next time.
Totti having had to extend his stay, he proposed another appointment to Tiffany. To his great surprise, the latter did not come alone. Accompanied by Nelly Kent, a beautiful brunette with imposing breasts, Tiffany is determined to show her partner that he will always obtain satisfaction by calling upon her special skills. In front of the spectacle which is offered to him, the man cannot remain marble for a long time before joining the duet. Tiffany having always refused him her anus, Totti is pleasantly surprised to see that her girlfriend is a true adept of anal sex. It did not take more than that to transform this unforeseen appointment into a memorable memory for the three partners.
LUXURY ESCORTS: PLEASURE AT ALL COSTS
Barely back from her first trio, the pretty brunette joins Vince Karter, a French businessman passing through town. Simply dressed in a coat as red as her lingerie, Nelly doesn't waste time in useless discussions. Might as well get straight to the point. To make sure he is not disappointed, the young woman offers him all her holes for a long moment of pleasure. To finish the evening in beauty, she lets him sodomize her deeply and proves to him that despite the size of hissex, she is capable of taking pleasure, and of giving it, to any man.
For this new episode of the Escort Deluxe series, director Franck Vicomte has called upon some of the most exciting actresses of their generation, for the pleasure of their partners, and above all, yours.
More Information

| | |
| --- | --- |
| Playable | Worldwide |
| Studio | Marc Dorcel |
| Year of production | 2020 |
| Duration (min) | 125 |
| Language | International version |
| Casting | Tiffany Tatum, Nelly Kent, Angel Emily, Lulu Love, Zazie Skymm |
| SKU | 84306 |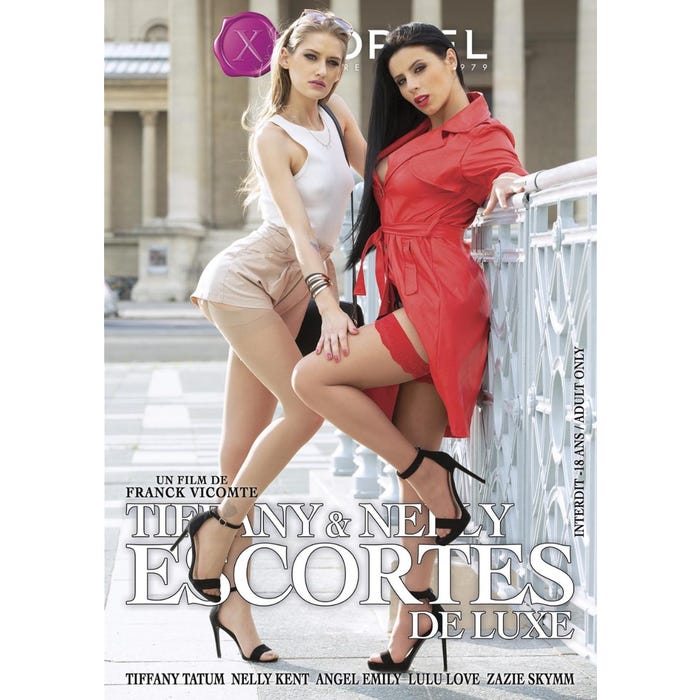 Tiffany and Nelly escorts deluxe
-60%
Add to Cart
For a total minimum of purchase of €99.00