Non privilege price

€29.99
!
Benefit from 10% now and all year round on ALL products by subscribing to the Privilege Service and many other advantages!
Lana Roy has all the qualities needed to be the perfect au pair. She also has a knack for getting along with ALL the members of her new host family.
A NEW LIFE FOR LANA
Like many young women her age, Lana Roy found a job as an au pair to pay for her education fees. The only catch is that she has to change host families regularly. Today, Lana goes to live with Shalina Devine and Kristof Cale, a couple with a reputation for taking good care of their employees. Despite their appearance as a perfect couple, Shalina and Kristof each have their own little secrets and a very liberated sexuality.
When she arrives at the couple's home, Lana is welcomed with open arms by the hostess who gives her a tour of the house. Meanwhile, Kristof is having a good time with his assistant. Linda Leclair has all the skills needed to do her job perfectly, but she has proven to her boss that he can also benefit from her knowledge of pleasure. Why waste time in boring meetings when a one-on-one with this beautiful blonde gets things done just as fast? Linda is an expert in many areas, but fellatio and sodomy are among her most developed skills.
SHALINA AND KRISTOF, A COUPLE WITH VERY FREE MORALS
Shalina and Kristof are no fools. Each knows that the other likes to have a good time with other partners. In an attempt to save their relationship, they allow themselves a date night every now and then, especially since Lana came into their lives. One evening, while the couple is out, Lana invites her boyfriend Josh to join her. If you're going to live in a lavish house, you might as well make the most of it. With the busy schedule of the young woman, the two lovers do not have any more time to see each other and to take advantage of each other. All these evenings spent away from each other have at least one positive side: their libido is at its peak when they see each other.
After a very boring dinner, Shalina decides to take her time before going home, alone, without her husband. Instead of going straight home, she goes to David's, a long-time friend with whom she likes to have a good time when her husband has upset her. Tonight, the pretty blonde is lucky as David was to spend the evening with his best friend Totti. As Shalina sucks David off, Totti joins them to end the night in style. Shalina needed to relax before returning to her busy life. Both men know exactly what will make their partners go to heaven. Adept of all the pleasures of the flesh, the pretty blonde has a very particular preference for anal sex and double penetration. Knowing that, the two men intend to enjoy the time spent in her company.
LANA ROY, AN AU PAIR WITH VERY SPECIAL SKILLS
The next day, as they have breakfast together, Lana understands that something is bothering her boss. So when Kristophe leaves for the office, Lana goes to Shalina's room to try to comfort her. It will be enough of some caresses and kisses more and more supported so that the two women approach in a much more personal and physical way. At first a little hesitant, Shalina is quickly seduced. Even if both women are usually more attracted to men, they never refuse when the opportunity to take pleasure in the arms of another presents itself. With her body tense and her sex soaked with desire, Shalina quickly forgot her worries under her new friend's agile tongue strokes. And if this experience allowed her to finally save her couple?
A few hours later, when he returns from the office, Kristophe discovers with pleasure that his wife is waiting for him in their room, simply dressed in a lingerie set that hides nothing of her intentions. Since their marriage, it had been a long time that she had not reserved him such an exciting reception. Whereas he thought he would spend a hot evening alone in company of his wife, this last reserved him a surprise which he is not ready to forget. Lana, herself very little dressed, joins them and begins to kiss his wife. After some caresses as preliminaries, the two women finally come to take care of him. As expert the one as the other, they offer him a threesome which will be certainly not the last one. What if the couple had found the perfect employee and offered her a full-time job?
More Information

| | |
| --- | --- |
| Playable | Worldwide |
| Director | Franck Vicomte |
| Studio | Marc Dorcel |
| Year of production | 2022 |
| Duration (min) | 110 |
| Language | International version |
| Casting | Lana Roy, Shalina Devine, Linda Leclair |
| SKU | 84682 |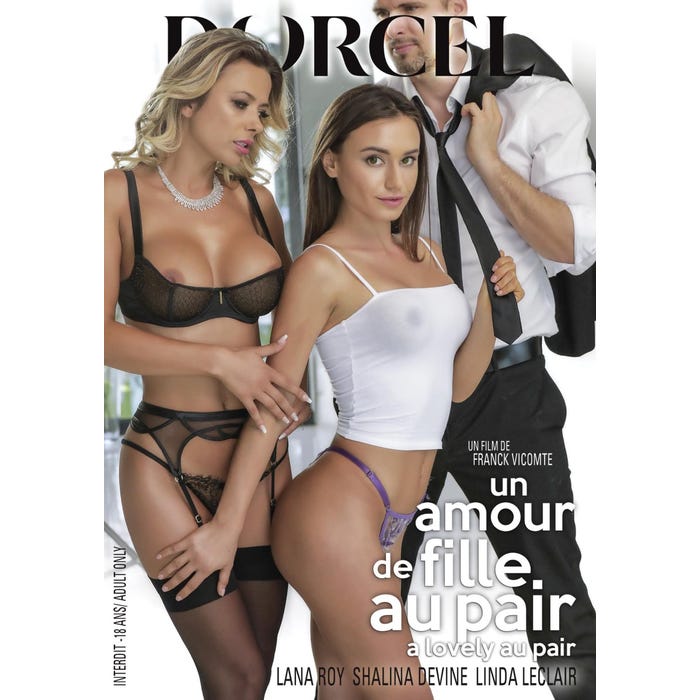 A lovely au pair
-0%
Add to Cart