Do you want to discover new sensations? Forget about your favourite vibrator for a while and try something new with the Wand. This device, which was originally used to massage the back and legs has become one of the world's most popular sex toys. The reason? Its amazing vibrating effect and its unparalleled performance for the orgasms that we all love so much. For intense clitoral pleasure, solo or with a partner, this sex toy promises you multiple orgasms!
The Wand promises powerful and quick orgasms
25 years after it was first developed, the Wand has finally arrived in Europe! This device, unloved for so long, has become the new darling of sex toy lovers. You will love its shape and design, and some models are cordless, ideal for trying out in any position. The Wand lets you stimulate your clitoris, whether for solo use or with someone else, and guarantees you intense and highly pleasurable orgasms to start off a night of passion. Some models even promise you an orgasm in less than 90 seconds! Perfect for a quick thrill that will put the smile back on your face.
A high-tech sex toy for intense thrills
Have a look on DorcelStore to choose the Wand that suits you and your desires. For example, discover the Original Wand Body Massage, available in a range of colours, for the perfect introduction to this type of sex toy. With its vibrating 6 cm head and 10 vibrate modes adjustable by remote, this very easy to use product will give you intense pleasure on your clitoris. Stimulating the clitoris is very easy thanks to its silicon texture and also its 3 hours of battery life. Its rounded shape will give you pleasurable sensations while its vibrations will stimulate your erogenous zones until you reach orgasm.
Vibrator and Wand: a winning combination for explosive orgasms!
For two-in-one use, the Smart Wand Vibrator by Lelo will be your perfect companion. Shaped like a vibrator with a round Wand head it will give you fast pleasure as well as intense pleasure with more advanced use and it comes in a range of sizes to suit everyone. Versatile and stylish, this product will help to release any tension from your legs, back or neck thanks to its innovative SenseTouch™ technology that reproduces professional massage techniques. For a sexier approach, the 8 massage modes guarantee you powerful clitoral and vaginal orgasms. Want to know what the added bonus is? It is waterproof, so perfect for use in the bath, whether solo or with company!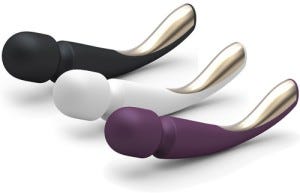 Although the Wand is thought of as a solo use sex toy, there is nothing to stop you using it with your partner during foreplay. The possibilities are endless with the Wand, and you can change from stimulating your clitoris to helping you relax by simply placing the round head on other parts of your body. Explore every part of you and your partner's body to discover, share, arouse and transform your sex life.
The Wand can also be used with a range of products to increase pleasure. Whether it's massage oils and creams for a gentle introduction, flavoured and edible oils for adding some fun to your sex life, or even massage candles for a sexy and chic ambiance, there are a host of products to choose from for your own pleasure and that of others. For an even gentler sensation and the ultimate pleasure aid, why not try clitoris and G-spot stimulant gels to go with your Wand. This product is ideal for prepping the area when using the Wand on your clitoris.