Our special G-spot selection brings together sex toys that have been specifically designed to find and stimulate your G-spot. No need for GPS, these adult toys have been made with a perfect curve for extreme pleasure. Solo or with a partner, never neglect your G-spot again! Whether with an orgasmic stimulator or a special G-spot vibrator, this mythical spot will become a reality! The G-spot is located a few centimetres from the entrance to the woman's vagina and close to the man's prostrate. It's a famous spot that everyone talks about, but that only few have managed to find and enjoy. If you are one of those who have yet to try it, don't give up, our special G-spot range will soon solve that.
Clitoris and G-spot stimulators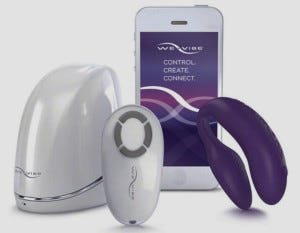 With vibrators, dildos, and even double dildos, you are certain find something to introduce you to any and all new sensations!
Starting with orgasmic stimulators for the G-spot and clitoris which will be a hit with singles and couples alike. These include the We Vibe, which is the most popular and bestselling vibrator for couples. Fully multifunctional, the We Vibe is the sex toy that does it all. It stimulates both the G-spot and the clitoris and has been designed to stay in place during penetration. So this toy isn't just for foreplay and can spice up all your sex play by giving you a truly unique experience. The latest version, We Vibe 4 Plus, has gone all high-tech and can be used in online mode thanks to a smartphone app. Even on the other side of the world you can share complete sexual intimacy and enjoy great moments of pleasure. Fitted with two powerful but silent motors, the We Vibe is similar to a vibrating love egg and can be used anytime, anywhere. So you can let your imagination and fantasies run wild when you use this next generation vibrator.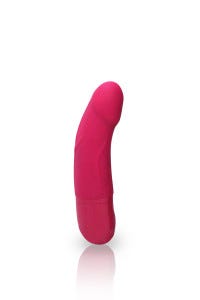 Stimulate your G-spot with a vibrator
For the more conventional, the Special G-Spot Vibrator G is the perfect partner for orgasm after orgasm. For solo and couple use, it can satisfy the lady or the gentleman by titillating the G-spot of either.
As ever, Dorcel puts its experience at your service with a range of special G-spot sex toys. Tested and approved, they are fun and easy to use. With a variety of shapes and sizes, Dorcel gives you adult toys to suit all tastes and desires. Beginners can try the Real Vibration S vibrator. Small and semi-realistic, it is discreet and effective and perfect for beginners. Those in the know will love the So Dildo with an ergonomic curve and generous length.
Unisex sex toys for his pleasure
The more forward-thinking can opt for the Lelo range and its quasi-futuristic designs. Stylish as ever, Lelo also offers you the Special Ida G-spot vibrator. Designed to be worn during sex, it will give the woman new sensations by rubbing the area around the G-spot in a circular motion. The man can also enjoy powerful vibrations for a spectacular orgasm.
After using it, always remember to clean your sex toy. This is vital for your health and hygiene and also key to ensuring it lasts for as long as possible. If you have some, you can use a special cleaner for sex toys with a cloth. If not, you can use soap and warm water.