For self-confidence and unrivalled performance penis pumps from Bathmate will get you fired up for action. World leader in this field with several leading products such as the Hercules pump or Goliath pump, Bathmate guarantees you fast results and pleasing effectiveness for a larger and more powerful penis.
Bathmate penis pumps, the perfect combination of performance and design
Want to perform better in bed? With Bathmate,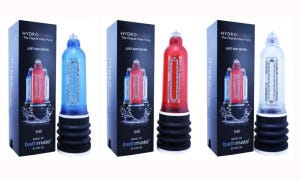 you now can! Treat yourself to one of its range of penis pumps that will leave you feeling satisfied. With regular use, Bathmate penis pumps will considerably enlarge the length and also girth of your manhood. Choose the pump you need based on the size of your member! For all men with an erect penis longer than 7 inches, the transparent Goliath penis pump with Bathmate ruler will be just what you need. For those with an erect penis measuring less than 7 inches, the Bathmate Hydromax x40 pump would be the best fit. In any case, Bathmate penis pumps deliver performance and design with high quality products that harness the latest penis enlargement technology. You will be amazed at how easy they are to use and with the visible results after 6 weeks! Unlike basic penis pumps, Bathmate pumps can be used with water. For the first few times, we recommend using it for 15 minutes a day and at least 3 times a week. Results: Several centimetres gain in length and a 30% increase in the girth of your penis. Success guaranteed!
A stronger erection with Bathmate penis pumps
As well as enlarging your penis, Bathmate penis pumps also increase your abilities in terms of your erection. These products make your penis fuller and perform better, for quickly seducing your partner or partners. Bathmate penis pumps guarantee you intense and prolonged pleasure thanks to its Hydromax technology. As well as boosting your performance, Bathmate penis pumps can easily be used in the bath or shower. Being able to use it with one hand is real bonus as is being able to measure the results using the built-in ruler that comes with each Bathmate penis pump. A larger penis, stronger erection and increased stamina, what more could you ask for?
Tailored accessories for Bathmate penis pumps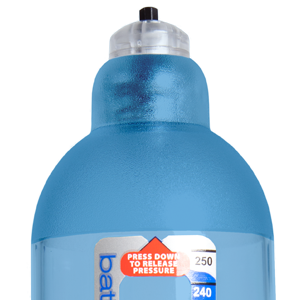 To make things easier for you and look after its penis pumps, Bathmate have thought of everything! In fact, you can find several accessories for this type of product on the Dorcel Store. These include the Bathmate cleaning kit with a sponge brush to keep your penis pump clean and in good condition. This kit also contains a soft cloth that can easily be carried round in a small bag and will protect your Bathmate penis pump. Likewise, the Bathmate hands free kit is sure to get the thumbs up from many as it is simple and easy to use in the shower.
With the varied and tailored range of accessories, you will soon be an expert in Bathmate penis pumps and will have the know-how to increase your performance and the size of your penis. Despite how easy they are to use, Bathmate products don't skimp on the latest technology to cater for your penis enlargement needs while at the same time improving your sexual stamina.