The bed is the ideal place to make love.
Everybody knows, everybody does.
But why restrict ourselves to those 3.5m2 – the average size of a good bed – when the world around us is vast and welcoming.
There is no shortage of places to accommodate fantasies.
Some are even openly made for it! Today, a trip to a libertine place has become almost commonplace for the most conventional couples. After all, when you decide to make love here only with your usual partner, your wife or your husband, it doesn't bind you to anything! To prepare yourself for what you are likely to see, take a look at the DVD Club Libertin, the immersion show that takes you into the hottest places of France. Guided tours of incredible sex parties, truthful swinger interviews without any taboo, the film reveals the secrets of these parties in which you never get bored. Especially since it is a special stars report with Anna Polina, Candice Jacobs, Luna Rival or Ania Kinski. It is not sure that you would ever make such beautiful encounters.
But beware: swingers clubs are strange places where women must be well dressed, according to local requirements, when they go there with the intention of being naked. Miniskirt, neckline bodice… And be ready when it's time to get into action. You'll be wearing a high waist, low-cut panty designed by Luxure by Dorcel. Because it hides a little secret, located at the crotch with its delicious opening. You won't need to take it off to get nailed here, doggy-style, on one of the club's lounge benches. Everyone will see you.
And here's a fantasy come true, making love in public.
Making love in the wilderness is one of the most common fantasies of men and women when asked about their desires. They are quite right; making love outside is simply pleasant, terribly exciting, a new adventure, the gateway to thousands of different situations and sensations, bringing spice and diversity to your lovemaking. The same positions, the same caresses, the same gestures take on another dimension when you make love leaning against a tree trunk in the depths of a forest, when you lie down on the warm sand, when you hide behind a rock in the mountains…
Most "outside lovemaking" positions are acrobatic, usually standing positions, which sometimes require you to lift your lover at arm's length. You'll need to be in shape.
You should also be prepared for it, choose loose clothing, small open panties, or no panties at all for women. And maybe one or two accessories.
Sometimes the feeling of danger can make you feel out of control, less excited than you should be. It's time to use the Discreet Pleasure Pleasure Stimulator. It's a tiny sextoy, 7 cm by 1.8 cm in diameter, it can be slipped in anywhere and when the time comes, it will bring you to the state you need to welcome your partner. For more safety also slip a small bottle of PURE, an ultra-slippery water-based lubricant.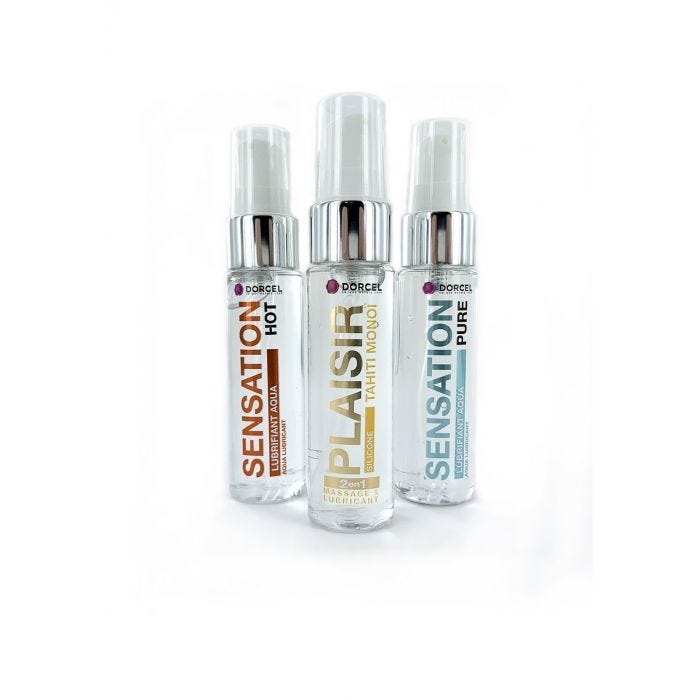 Dorcel Lubricants
Travel with peace of mind with Dorcel's travel kit and 3 essential lubricants:
– The Lubricant Sensation Eau Neutre water-based
– The Lubricant Sensation Hot water-based
– The Lubricant and Massage 2 in 1 Plaisir Tahiti Monoï silicone-based
Show On Dorcelstore
It brings you maximum comfort and pleasure during sexual intercourse. Thanks to this, you will be able to consider everything during your expeditions. Why would you give up on the pleasures of sodomy deep in the woods?
Then you can choose if you want to hide or show yourself to the passer-by by taking the example of Nora Luxia, Alice Axx and Tiffany Leiddi, the heroines of the film Jeunes Campeuses Exhibitionistes. It's not without danger.
But there are even more dangerous, and therefore more exciting possibilities. Making love at the office, with your regular partner or a colleague… Every man dreams of it, ever since they saw Secretaries Without Panties, one of Brigitte Lahaie's first films. She started the movement, since libertine secretaries and the atmosphere of offices after closing time have been the theme of dozens of films. Might as well choose Secretary Best of. Wearing glasses, with their hair pulled back and always hiding beautiful fine lingerie, secretaries are at the same time strict, introvert and sexy, they all have the same qualities for deep throat, sodomy and even double penetration if you need to motivate an important client… Today's businesswomen and executives also have appetites to satisfy with their younger colleagues.
In real life, this is a fantasy that is more difficult to fulfil. Only a few isolated places, the storage rooms, the places where the archives are stored, allow for a few brief hugs. It will have to be done quickly, it will be a little worrying, but it is the cost of the achievement of a fantasy…