If you are looking to add a touch of romance to your foreplay, you will find everything you need in our selection of massage products. The most indulgent can fill their senses with flavoured and edible oils while beginners can have a gift set for their first experiences.
Treat yourself to a romantic moment with a sensual massage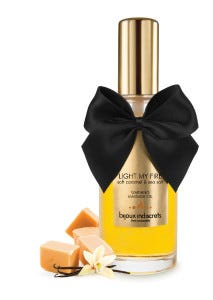 As we all know, massage is always an undeniable moment of relaxation and pleasure. When it is done by our lover, massage becomes a romantic shared moment that all couples like to enjoy.
For the ultimate in romantic massage, treat yourself to massage oils or massage candles.
The oil will help you give a proper massage. Put a drop in the palm of your hands and then gently run them over your partner's body. You will feel them relax with each caress and you will be able to gradually arouse them as you get closer and closer to their sensitive spots. The smell of the oil will take both of you on a sensory journey that will delight you.
Is your partner a little sensitive to the cold? Go straight for a warming sensation oil which will give him highly pleasurable and relaxing sensations.
Do you want to create a romantic atmosphere right down to the smallest detail? Chose the fragrance you like from our wide range of massage candles. With its flickering flame and enchanting fragrance, the candle will set the scene for a romantically-charged atmosphere. Once the wax has melted, it can be used as a massage oil for exploring your lover's body. But don't worry, as the candles are specially designed for this purpose and there is no danger of burning yourself if you follow the instructions carefully.
To get even more out of the fragrance of your favourite massage oils, treat yourself to a mask or blindfold. This will develop your sense of smell and you will be able to savour even more of your oil's sumptuous fragrance.
Taste your partner's body with flavoured oils
Taste every square inch of your partner's skin with flavoured and edible oils. Developed for your pleasure, they are non-greasy, non-sticky and do not leave marks. All you have to do is choose the flavour that tickles your fancy and devour your partner. From more traditional flavours such as vanilla, strawberry or chocolate, to more daring choices such as pina colada, mojito or tiramisu, treat yourself to indulgent foreplay that will arouse your partner's naughtiest sides.
You can also raise the temperature with warming flavoured oils , for moments of pure pleasure.
As well as your partner's sense of touch, smell and taste, you can also awaken their sense of sight using glittery flavoured oils that will highlight your curves to give his eyes a feast before he samples you in the flesh.
Have it all with massage gift sets and kits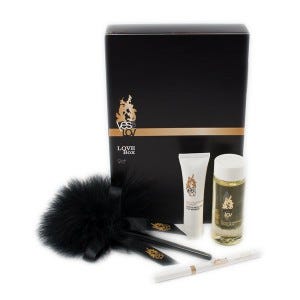 Can't decide what to pick? Treat yourself to a complete massage gift set that will have your senses in a flutter. Savour naughty and indulgent moments with your partner. From the simplest gift box with several massage oils to the most complete with extra accessories, our range has everything you need for making a foray into the world of naughty massages.
For example, treat yourself to the complete Yes For Love gift box that includes an intimate hide-and-seek kit, titillating massage oil, an arousal gel for women, two unscented wipes, two doses of moisturising intimate lube, fantasy heads or tails, a black satin blindfold and a caressing feather. This gives you the means to explore every part of your partner's body and put all your senses to the test.