It takes only a little, just the drawing of an ivy leaf wrapped around an ankle, a rose petal seen in the hollow of a cleavage, the strange tribal-shaped drawing that can be seen when she leans a little too much, revealing the lower back…
And there you have it! You know you fantasize about tattooed women.
When they are still dressed, the few snippets of drawings that decorate their bodies catch the eye and make the imagination work. "How far can this garland of flowers that starts just above the low waist of her jeans go down? And what is this strange divinity figure that can be seen between her breasts?" Tattooed women, like all women, but even more so, know how to trigger the desire to see them naked.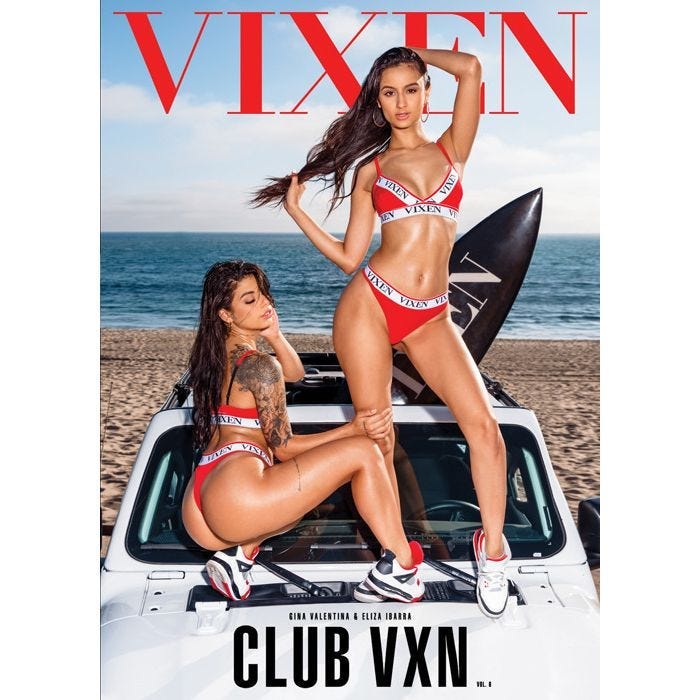 Club VXN 6
Director Greg Lansky has brought together some of the prettiest actresses in these four scenes that you won't soon forget.Featuring Valentina Nappi, Kenna James, Gina Valentina, Eliza Ibarra, Little Caprice and Marley Brinx in ultra-exciting scenes.
Show on Dorcelstore
Naked and make love.
A tattooed woman making love offers a strange, incredibly erotic spectacle, especially when her tattoos decorate her breasts, her buttocks, her genitals… The female body is so made, all curves, curves and secret folds that it offers a magnificent exercise ground to tattoo artists.
The most widespread tattoo has an unequivocal name, "the doggy tattoo" on the lower back, to give ideas to those who don't have any yet. The brunette Lou Charnelle – the heroine of L'Initiation de Lou Charnelle – wears a drawing of a bunch of branches on her lower back, to better grab her before sliding between her buttocks.
Others prefer to draw attention to the upper part of their bodies, their shoulders and their arms, like the redhead Amber Ivy, who is seen from all angles, even the most indiscreet ones, in "Tatouées et Bien Baisées 2". She wears flowers on her arms and a heart tattooed on her left breast. Like most of the heroines in Axel Braun's movies, her friend Leigh Raven, with a Gothic look, is less discreet. Her body is a real picture book. You shouldn't be distracted by the skull she wears tattooed on her abdomen or read the texts that decorate her thighs. But that's impossible, her explosive temper, when she unleashes herself in lesbian scenes or triolism, would almost make you forget her multiple tattoos.
Some adult entertainment performers have made tattoos almost a uniform, like a second skin. Many actresses have had their pubis decorated or the area around their genitals, a quote, a heart, a rose or cute animal, you can meet everything there. Enough to make you want to take a closer look.
The body of the actress Bonnie Rotten is covered with more than thirty tattoos. The most visible ones cover her voluminous chest, with two spider webs surrounding her areolas, but the most attentive viewers of her erotic videos will notice that she wears the image of a zombie straight out of the Night of the Living Dead and a portrait of Frank Sinatra on her leg.
More surprisingly, a star of the Dorcel movies has decorated a part of her body as a tribute to her profession. Brazilian actress Juelz Ventura described for the Dorcel blog the tattoo that covers her entire left arm: "It's a tribute to the adult movies industry… it's kind of hard to explain. It's a mix of pretty women, faded roses, skulls, there's also a wasp, a Phoenix, the whole thing is just one set. It's just to remind me that not everything is glamorous in this business."
And what to do when you meet a woman, or a tattooed man in real life?
What to do especially when you discover this only at the very last moment, when it is too late to back out, when the floor of your room is littered with hastily removed underwear? Don't cry out in horror, even if some of the drawings surprise you! But exhale a nice Hooo of surprise and admiration. Most tattooed people are proud of what they have engraved on their bodies.
If by chance you have in your bed a woman whose pubis is decorated, don't hesitate to play with this image, covering it with kisses, as if it were a path drawn to attract your mouth to her vulva and clitoris.
Then you might meet, if you do it right, a girl like Lily Lang, tattooed to the limit of her labia majora, or Kleio Valentien… These are the stars of a movie to discover on the Dorcel Store , "Femmes Fontaines Tatouées".