Models who can fit into size 2 jeans are good for magazine covers, girls as thin as vines, without buttocks or breasts, are a feminine ideal only for a few fashion designers in need of inspiration…
In bed, men prefer round girls, voluptuous flesh, opulent breasts, the softness of a skin stretched by curved and soft shapes. According to obviously very serious studies, in France more than a third of women are size 14 and over. Don't show this survey to a dietician, they would say that we live in a country full of obese women. And what about the American women who show off their curves, like Kim Kardashian or Mariah Carey, with their unusual appearance?
The plus-size model Ashley Graham exposes her voluptuous forms on the fashion week catwalk and her fans are on the lookout for the slightest photo of her in a bikini or half-naked.
Jessica Drake has anticipated everything, in her sexual handbook, Guide to Wicked Sex: Plus Size 101, she stated that full-bodied, fleshy, plus size, generous, plump, fleshy, strong, voluptuous, or opulent, curvy women are appealing to men…
They love them in bed, when they undulate their phenomenal buttocks during spectacular doggy styles. They love them when they find a lightness of gazelle to ride them, offering the unforgettable spectacle of their voluminous swaying breasts.
You have to see it up close! "Gros Seins Sinon Rien" is a DVD series released by Dorcel. The huge breasts of Layla London, Ivy Rose or Natasha Nice will make all the lovers of opulent shapes fall in love. And when you see Lena Paul's breasts, you'll understand why her most famous movie is called "Quelle Paire"!
Whether they are classified as round, chubby or BBW, adult movies movies allow us to see these plus-size pleasure queens from every angle. Could one dream of being more beautiful and sexier than Rebecca More, the 43-year-old large-breasted heroine of Married Woman: The Call of Lust.
The curves must be highlighted.
Being naked is obviously the simplest and most radical solution, that's how it will end anyway, but you have to arouse the desire… the desire to undress.
Dorcel has exactly what you need, a large size nightie from the Dreamgirl product line, "specially designed to highlight the assets of each woman". And especially of you, round, pulpy, blooming beauties.
"The Dream Girl sexy baby doll is transparent just where it is needed! Your breasts will be supported by underwires to ensure optimal support of your beautiful chest. The baby doll comes with a matching lace thong."
And why stop there? Quit hiding yourself, hiding your treasures behind "camouflage lingerie" that conceals your body. On the contrary, draw from the Dorcel catalogs to choose colorful Basques and lace thongs. Dare to wear a plunging neckline, a sexy night-dress, a fishnet jumpsuit…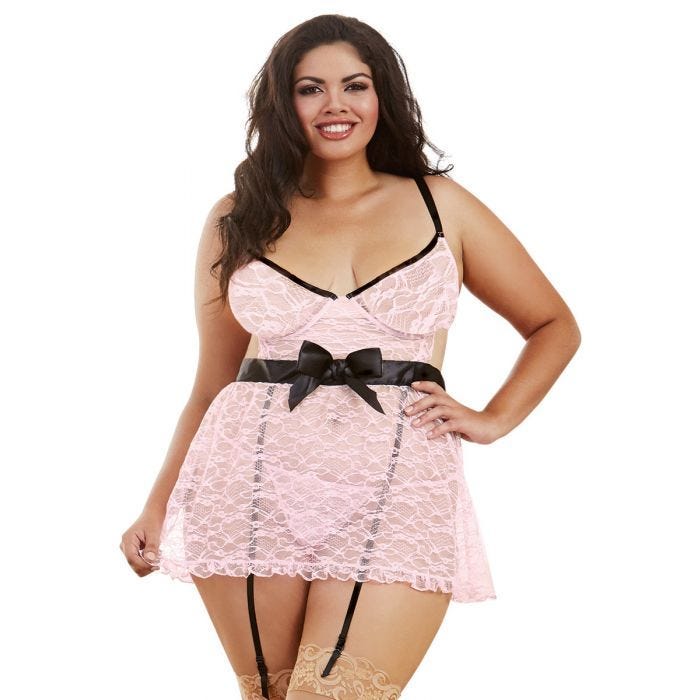 Babydoll Large Size Pink
Enhance your shape with Dreamgirl large size lingerie! Discover the large size collection of the sexy lingerie brand Dreamgirl, specially designed to highlight the assets of each woman.
Show on Dorcelstore
It will attract the eye towards what you have of more spectacular, your breasts, your voluptuous thighs. And you will discover very quickly that these small bulges which sometimes give you complexes attract the glance and the caress.
Then you'll just have to show yourself! Choose a position that highlights what men instinctively look for when they slip into the bedroom of a woman with generous curves: beautiful buttocks! Unveil it with elegance, by choosing our black Luiza elastic thong, which will be almost forgotten, marking the waist while emphasizing your curves. When you're lucky enough to have that bouncy butt, you've got to show it off, peeking out from under the pink lace of your plus size nightdress. It's not usually polite, but there are times in life when you have to turn your back!
Your lover has watched a lot of movies featuring the luscious Sarah Vandella – one of the Dorcel movies offers to contemplate in action, "the most beautiful ass of the adult entertainment industry". Seeing you, half-naked, offering your charms to his eyes, he will remember the title of one of his favorite movies and will say enthusiastically: Son cul c'est d'la bombe.