Want to spice up your sex life? Try Fetish accessories to stimulate your pleasure in unique ways. With a large range of Dorcel Fetish products to choose from, discover a world of pleasure options for two or more. Feel free to whip your love life into shape, in both the literal and figurative sense, for continuous pleasure during your Fetish nights. Whether you are a beginner or connoisseur, Dorcel Store has a wide range of accessories to choose from: whips, cuffs, ball gags, bondage kits or even Fetish lingerie… For guaranteed thrills!
Fetish accessories for beginners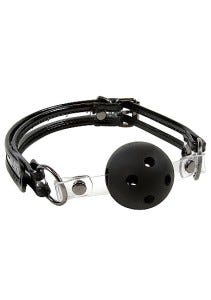 Whether a beginner or experienced, you won't be disappointed with the host of products available for your Fetish nights. Forget your favourite vibrator and try out new sexual practices with Fetish products. Play with textures, colours and shapes for even more pleasure and unusual sensations in this new take on sex. Whether you want to punish, put a mask on or tie up, you will find something to suit you and then it's up to you or your partner to decide what to do with it. Combine pleasure and role play with SM Soft Kits or Beginner's Kits for a gentle introduction to Fetish before going the full monty with more sophisticated accessories. Cuffs, masks and mini whips will help spice things up for unforgettable moments. Don't be afraid of a little lash of the whip or of using handcuffs, it might just surprise you and take your pleasure to the next level. You can also have a taster of bondage with the Bondage Kit for beginners to surprise your partner while being gently introduced to the world of Fetish. The more experienced should look no further than the whips on our website, not to mention crops, or even Japanese love ropes to make all your partner's fantasies come true.
Domination Fetish: leather, masks and cuffs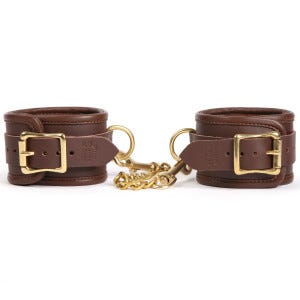 With our Fetish products, you can dominate and be dominated! Play the role you want and you can easily raise the temperature with accessories that are both stylish and fun to use. Between Ball gags, adjustable collars or even cock cages, your sex games will know no bounds and we guarantee you a hot and steamy night. If you fancy adding a little mystery to your sex life, look no further than our fantastic selection of lace or leather masks which are the perfect finishing touch for all your Fetish accessories. Don't be afraid to assert your dominance or submit to your partner as our Fetish products are there to bring your games and fantasies to life for guaranteed orgasms. Submit to the "50 Shades of Grey" collection which, as its name suggests, offers you intense and original erotic games to be enjoyed to excess.
Submit to Fetish lingerie: leather, latex and vinyl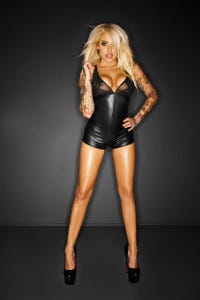 To quickly get into the Fetish spirit, don't overlook lingerie accessories for a gentle start to the evening's proceedings before having sex. Masks, corsets, leather thigh boots or S&M outfits, the choice is yours and it will be easy to mix things up to suit your desires. Change your identity in a matter of seconds with different wigs for an unusual accompaniment to your Fetish outfits. You can try out several types of material, such as latex, leather or even vinyl. At the Dorcel Store, you choose what you prefer and what excites you. You can fulfil your every desire as Fetish practices will open up a whole host of possibilities for exploring your sexual abilities and your deepest desires.
Submission or domination, the wide variety of accessories on offer will help you to satisfy your fantasies at any time. Succumb to the Fetish experience that no one is immune to. Open the doors to intense and shared pleasure with DorcelStore's Fetish products. You will not be disappointed…