Bondage!
You are still reluctant, of course.
Bondage is a practice consisting in impeding the body of a partner with ties, before – or not – taking advantage of their immobility to make love to them… Gala Fur, author of Osez… Tout Savoir sur le S.M., gives some basic bondage advices. "Learn how to tie a few knots before starting out. "The jersey" is a simple and safe bondage, which consists of creating a rope bra on the person standing in front of you, without tightening the breasts too much if it is a woman. "But she immediately adds: "Beware: the practice of bondage is really dangerous. No rope around the neck, nor too tightly tied. Watch for the slightest bruising of the skin and stay close to the person tied up with a pair of scissors within reach. When removing the ropes – very slowly – massage the areas that have been compressed to restore blood circulation. Bondage takes as long to undo as it takes to do."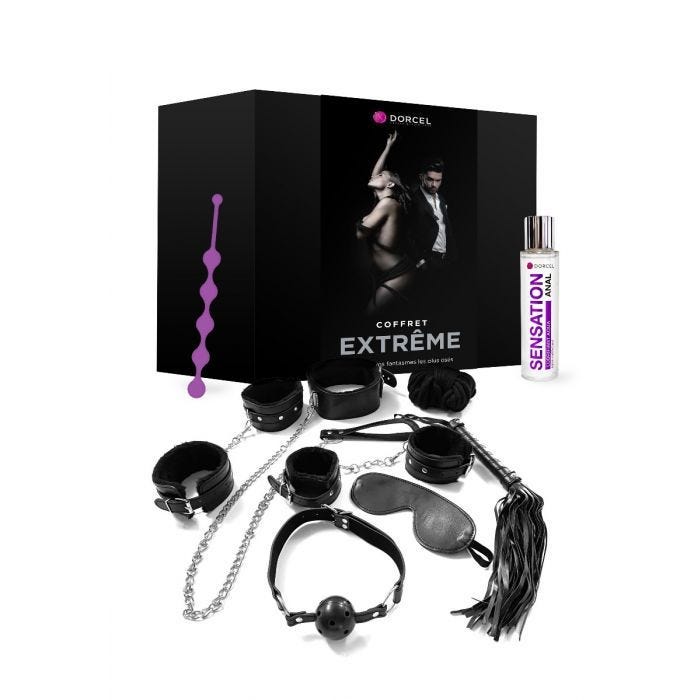 Dorcel Extreme Box Set
For those who want to go further in the search for extreme sensations… Initiate yourself gently to the pleasures of BDSM with the best tools used in bondage!
Show on Dorcelstore
You don't tie yourself with just any rope borrowed from friends who are sailors or mountaineers. You have to equip yourself with a nice bondage rope or a 2 in 1 satin headband Luxure by Dorcel Bondage is only one aspect of BDSM – bondage, domination, sadism and masochism… All tastes are in nature. It's just a game, we're just pretending! And the hits never hurt much, because after the burning of a spanking, there will always be caresses and hugs. But that doesn't stop you from taking these games very seriously and learning about them.
We will have to take inspiration from actresses Ashley Lane, Adria Rae and Alina Lopez, the stars of Deeper, Rituels Sexuels. Ashley describes the pleasure she feels when the ropes sink into the flesh of her breasts and the bondage ropes make her breasts spurt out. The film, like other Deeper studio productions, will introduce you to the subtleties of BDSM soft practices. In another production studio, Boss, blondes Gabbie Carter and Lena Paul indulge in debauchery and the most intense sexual eccentricities. "A seductive dominatrix lends her slave for the pleasure of her visitor. Two roommates play a game with a boyfriend caught spying, and finally, one woman pulls another towards her sexual limits by describing what a kiss could do." It's another lesson in bad behavior.
Now it's time to imitate them; all the necessary accessories are gathered in the BDSM initiation box, as well as in the BDSM Luxure by Dorcel collection, unless you choose a 7-piece bondage kit… Like game boxes or outfits to attend a masquerade, you will discover everything you need to play with your partners: handcuffs to fasten their wrists and ankles, a leather leash to lead them wherever you want, a "ball gag" to prevent them from talking or complaining. And, of course, a whip.
The whip is the base of all these outfits. The 24-strap whip from Luxure by Dorcel, or the leather whip. Luxure by Dorcel is a collection of high-end pleasure objects designed for games of submission and domination. You will find all the items you need for your games.
And then there is the costume!
The most sophisticated young adventurers will be inspired by Catwoman or the leather suits of Madame Peel, the heroine of The Avengers TV show. The dresses or suits in latex immediately give a form of authority to those who wear them. The submissive will be happy to be almost naked, their breasts and buttocks will be highlighted by the leather of their microscopic panties or a harness bra like the beautiful harness with chains Luxure by Dorcel.
A naked woman is sexy, and she gets sexier and more naked as her body gets decorated with a body-style harness "for hot BDSM sessions".
These beautiful women dressed in leather will have only one idea in mind: to be inspired by Yasmine, who for her film L'Histoire de Yasmine "decided to try all the experiments, to fulfil all her fantasies in a sumptuous residence where experienced men and women will perfect her education".