Yes, but how to find them?
Dating websites provide a complete range of all the possibilities, everything is in store. But we still don't know what to choose, not more today than in the time of our great-grandparents, when they met at the ball or on the school benches.
Are you the ideal man?
It is still time to ask the question. Not always reliable polls in women's press say that French women prefer men who are caring, protective, and have a sense of humor. Women over 50 are more mindful of their partners' intelligence than young girls. Together, they dream of men with prestigious or lucrative jobs, and a little artistic. This perfect man must certainly not exist. As for virility, most surveyed women on how to define the "ideal man" prefer not to talk too much about it. However, some of them claim to have a strong taste for men in professions that embody virility, such as firefighters or the military.
The ideal would be to combine the qualities of "man of the world" for the day and those of "men who will rock you" in bed. As when doctors have the physique and the taste for performance of the hardy Manuel Ferrara, hero of the movie Le Docteur 2. His partners Allie Haze and Jessica Bangkok appreciate this mix of genres.
Unless one prefers the grayish charm of Mike Blue, hero of nearly three hundred films, one of which could become his motto: Au Service de Son Cul…
And if the ideal man turns out to be a poor lover! Before sending him back home and waiting to find better, you can always play with this realistic SilexD dildo! Featuring thermo-reactive technology, its density adjusts according to the temperature! You think you're dreaming. With its suction cup you can put it on a smooth surface and have fun with it. It will offer you all the services of an ideal man. In the meantime. And when you have found the gem, nothing prevents you from playing with, alone or with the new – ideal – man of your life.
And the ideal woman?
She doesn't exist, since every man has his own ideal.
Is it really reasonable to go in search of your ideal, male or female, by visiting adult websites or by watching erotic DVD?
Well… But why not. After all, it's in this world that we have the best chance to meet them. Where is it possible to contemplate in the simplest device and in action – making love – women of all kinds? On adult websites, as in life, we meet round girls or even BBWs, like MILFs, "moms" or even "grannies".
The actresses in adult movies are blonde, brunette or ginger, they may be tattooed or fully waxed. However, you'll see others who, on the contrary, leave their pubis untouched. Whether you want to meet Asian, African, South American women or your next-door neighbor… they're all here, and they're naked.
And as for the Dorcel girls, Laure Sainclair, Priscilla del Sol, Mélanie Coste, Oksana, Yasmine, Mélissa Lauren, Anna Polina or Cléa Gaultier, each one more admirable than the last, the embodied feminine ideal.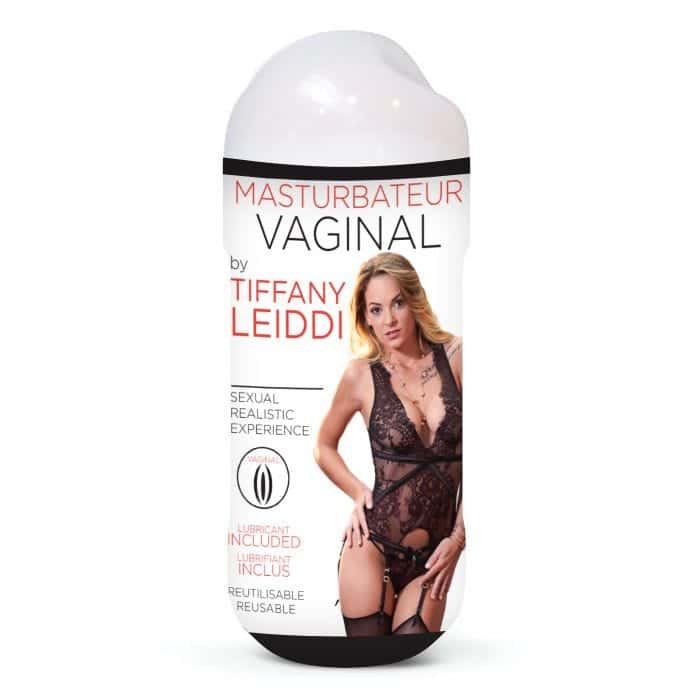 Vagina Masturbator Tiffany Leiddi
Want to discover an intense and explosive sexual pleasure? Why not try the Tiffany Leiddi masturbator?
100% natural capsules that will enhance the wow effect and increase your sexual performance.
Show on Dorcelstore
But they are inestimable.
We can still get an idea of the sensations that their happy lovers can experience in their company. Fans of Tiffany Leiddi have admired her in Les Vices de mon épouse, l'Ange pervers, or Lingerie & sodomie. One can learn her most intimate secrets. This young woman has chosen to offer her genitals in a show and a little more… The realistic vagina masturbator Tiffany Leiddi reproduces the smallest detail of it. "Its ergonomic shape and its realistic texture will give you sensations worthy of a real penetration. But especially it will allow you to discover the intimacy of the ideal woman.
But all this is not worth a real encounter in real life.
Not all men and women have the inexhaustible virility of Manuel Ferrara or the sculpture-like forms of Anna Polina.
You have to get used to it, but nothing prevents you from looking for the rare bird… to put it in its cage.