Good papyrus and bees were enough for Cleopatra to create her first sextoy. Why bees? Because they made the papyrus vibrate… Since the dawn of time, sextoys have been part of our society and benefit from the technology of their time to evolve and change the sexuality of women and men. The connected sextoys have arrived since a few years until today they are a real success and bring major evolutions to sexuality, at a time when we are all connected.
A little history of our dear sextoys!
Let's discover together this madness that is currently taking hold of human beings.
The history of sextoys goes back to the most ancient times and have always been part of humanity. Stone sextoys dating back to 28,000 BC have been found, at the very least rudimentary but a proof of their importance throughout history. One can imagine the unique experience in terms of sensation at the time, finally cavemen were doing something else than flints, and that's good news! We can find throughout the ages objects and sextoys created in each civilization.
We have to wait until the end of the 19th century to see the first innovation, with the vibrator with a steam engine… We don't know if there was an identical horn or the first railway locomotive, however this innovation was created for therapeutic purposes. Indeed, this vibrator was used to calm women suffering from "hysteria", to "cure" them, the family doctor kept them on the sextoy until they reached orgasm. A "practice" used manually since the 16th century by doctors, the steam engine then allows the good doctor to avoid wrist fatigue.
Innovation has led to the widespread use of sextoys
Later another major innovation, the access to electricity for all will allow sextoys to take place in the bathroom and in generalist catalogues, next to depilators and hairdryers.
The sextoys will remain discreet, it will be necessary to wait until 1983 and the creation of the Rabbit. This Japanese sextoy drawn in the shape of rabbit made it possible to circumvent the very strict Japanese laws and thus to distribute it. This sextoy was the first to stimulate the female sex both inside and outside.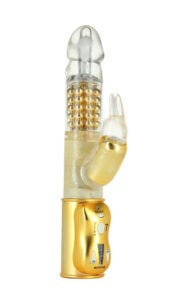 The years 2010 will be the years when the use and sale of sextoy will explode, in 2017 via an IFOP survey, one French woman out of two declares to have already used a sextoy.
Of course, the sex industry and the internet have always been a love story, sextoys had to evolve thanks to this technology towards connected sextoys.
If you could use your sextoy alone or in couple until now, thanks to the internet connection, it is with the whole world that this becomes possible.
Your partner will then be able to remotely trigger the vibration of your sextoy and surprise you, a revolution that opens up new perspectives. Because if you can do it with your partner, you can then ask a stranger to do it during a naughty webcam and thus the touch appears, in addition to the erotic discussion. A model that applies to paid webcam streams, where the hosts already report great success, offering their subscribers to activate their connected sextoys for additional tokens.
For you on a daily basis, let's mention some examples of usage such as, using your sextoy in any place, discreetly in a public garden, during your boring meeting, with the complicity of your partner during your Sunday meal at your in-laws' house or the 3rd trimester teachers' meeting.
You also have the exoticism and the possibility to let a perfect stranger on the other side of the planet take control of your sextoy… Here the sex industry is ahead of the rest and gives us a glimpse of the future opportunities with virtual and augmented realities.
Manufacturers of sextoys all turn to technology to meet the needs of all the naughty !
In this revolution, new actors and brands of sextoys are appearing such as LOVESENSE and its famous LUSH. This sextoy for women and couples stimulates the inner walls of the woman's vagina as well as her clitoris, it can be controlled remotely by her partner. At short distance, it is ideal for playing from the bedroom to public places and also via internet where you can be surprised by your partner or… Playing with a stranger at the other end of the planet.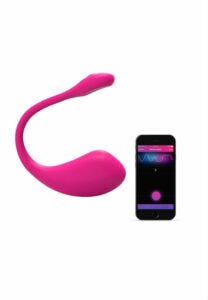 The ONYX 2 from KIIROO is a very good example of this, a real innovation. Remember that scene between Silvester Stallone and Sandra Bullock in Demolition Man? The latter hands him a helmet after offering to have sex with him? Make it a reality with the ONYX 2 connected masturbator, which your partner can control remotely. Better yet, if your partner uses the Pearl2 female vibrator, the two synchronize their vibrations to share a moment of pleasure with each other, remotely.
With such a level of interaction between objects, it's easy to imagine what the future holds with the development of virtual and augmented reality. Imagine putting on your augmented reality glasses tomorrow and seeing a hologram appear in the image of your dream partner. Your sextoy, be it a vibrator, masturbator, dildo will be synchronized to the programs managing the hologram and will reproduce the sensations of your virtual ebat.
The future promises to be hotter, more fulfilling and with global sexual relations between human beings, to make it simpler, we will be able to have sex all together, and it's not too early! Connected sextoys are an innovation that will have a major impact on the sexuality of women and men today and even more so on the next generations. Are you worried about a scarcity of real sex? Keep in mind that you have an experience and know-how that no one will have in the future, enough to make you a rare pearl.